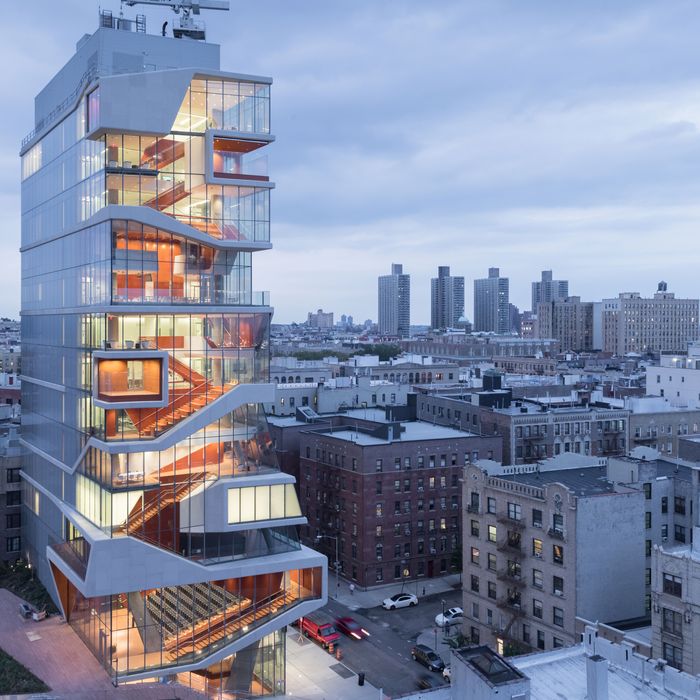 Columbia University's new medical-school building, on Haven Avenue at 171st Street, by Diller Scofidio + Renfro.
Photo: Iwan Baan/Please contact Iwan Baan before usage
I know little of a medical student's life, but I imagine it to be a time of sensual deprivation: skin sallowed by round-the-clock exposure to artificial light, eyesight sacrificed to 25-pound textbooks, the palate scoured by stale coffee. But the Columbia medical school's new Vagelos Education Center, designed by Diller Scofidio + Renfro, brings those Hippocratic voles blinking into the streetscape, spreading a sense of anatomical wonder out into the city beyond the lab. From the building's glass-walled lounges and sunlit stairs, students can look out onto the world and remind themselves that there is more to humanity than tissues, fluids, and doomed flesh. And the rest of us need only glance up Haven Avenue toward West 171st Street to see that whatever's going on in that melty tower with the bending floors and wooden walls that flow up into the ceilings, it must involve something more creative than rote memorization.
On this tiny, sloped site in a neighborhood of medical behemoths, the architects have inserted an exuberant sliver of architecture. During construction, the building resembled a Seussian agglomeration of ramps, stairs, and pods hanging in midair. Even now that the glass façade edges from clear to milky white, hazing over its innards, a slight whiff of inspired madness still clings to the design. A 13th-floor terrace (with an extra-high glass railing, to prevent stressed-out students from hurling themselves off) nudges out beyond the edge. A set of bleachers faces toward a glass-walled corner as precipitously as an indoor ski jump.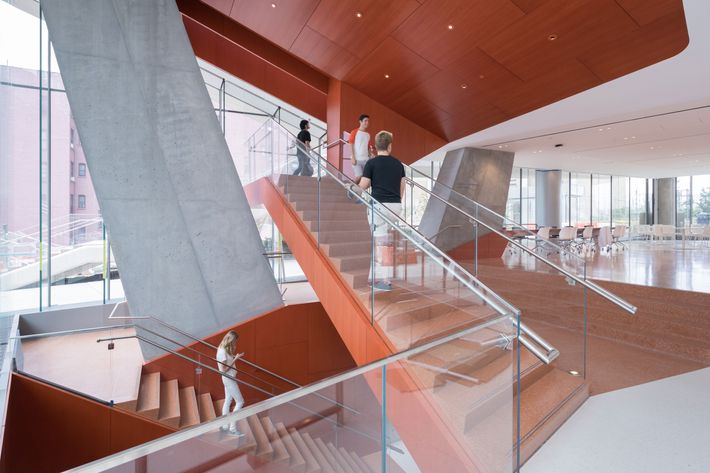 All that look-at-me showiness makes a statement in an institution where everything that matters happens out of sight. Columbia has a history of turning in on itself and regarding the world beyond its walls as an inconvenience and intrusion. McKim, Mead, and White designed the original Morningside Heights campus as a walled hilltop compound, and even its 2010 addition, Rafael Moneo's science building, stands guard at one corner like a metal-plated turret. Lately, though, Columbia has come to recognize that city and university are intertwined. Its Manhattanville campus, now under construction north of West 125th Street, promises a permeable neighborhood anchored by Renzo Piano's transparent Jerome L. Greene science center, now nearing completion. Fifty blocks uptown, the architects of the new medical-school building have placed their flirtatious towerlet in a pocket park planted on top of a garage. The structure seems to turn itself inside out, as if to show the neighbors that it means no harm. In valuing vulnerability, Diller Scofidio + Renfro seem to have absorbed less from Columbia's history of architectural aloofness than from the fluid and open Diana Center that Weiss/Manfredi designed for Barnard on Broadway at 117th Street. That building's rusty orange colors, wedges of terrace, lounge spaces that jut like shelves from a cascading staircase, the continuous vertical flow — all these qualities reappear, reinterpreted, uptown.
Walk inside the Vagelos Center and the logic becomes, if not exactly clear, then at least gripping, like a detective mini-series that goes hurtling from subplot to subplot without bothering to sort out every detail. "Not everything about this building is totally rational," Elizabeth Diller, one of the firm's co-founders, admits. The last two decades have turned unconventionality into cliché. Leaning columns and tilted walls have become global affectations, and Diller's firm has propagated some of its most distinctive mannerisms. You know the cantilevered box that sticks out above Lincoln Center's Alice Tully Hall? The new building has three. The High Line's bleachers with a view and peel-up floorboard, the flaunted staircase from the ICA in Boston, the Brasserie's wooden floor/wall/ceiling wrapper, the corner that lifts away from the sidewalk at the Broad Museum — with its Columbia project, the firm has checked off each of these items from an old stylistic menu. The idea for a building made not of stacked slabs but of floors that go ribboning their way from the street to the roof harks back to the firm's never-built design for the Eyebeam Museum. And yet the medical school looks and behaves differently from other DS+R works, thanks to the demands of a tight site and a client with a thousand competing needs. A certain amount of rigor can be good for the soul.
This is a building where cadavers get dissected, chemicals are vented, and safety is maintained. Hundreds of sleepy students need to get to class on time, and professors want to be able to grab an image from one microscope and share it on a network of giant screens. Whimsy can't interfere with the relentless hum of a building where students are learning to save lives. Diller and her team understand that, and their design makes a case for the efficiency of eccentric spaces.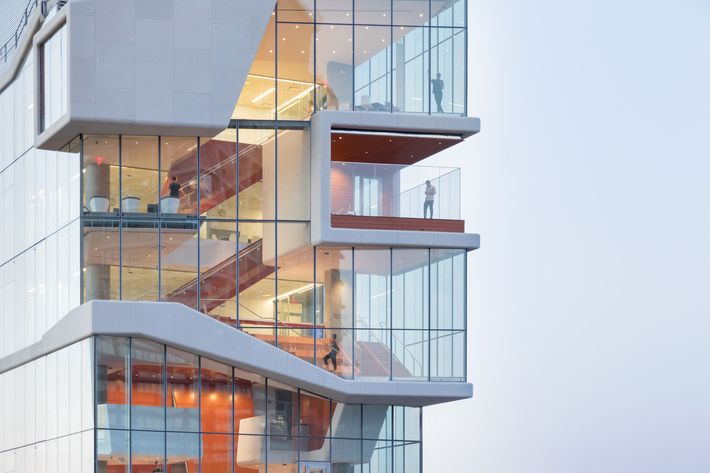 What this academic building offers budding doctors is a live-in lesson in balancing the scientific and the humanistic. They will remember the study group in a sunset-tinged lounge with a view of distant midtown skyscrapers, or a lecture in the wood-skinned auditorium that can nicely accommodate a recital on the resident Steinway grand. The warm palette of burnt-sienna panels, Douglas fir, and orange terrazzo lends a glow to the bleakest nights before exams. And how many medical students can look up from the dissecting table and see such a dramatic city view? To those who spend their waking hours in labs, wards, and hospital corridors, with occasional forays to the vending machine, architectural charm can seem like an irrelevant frill. And yet from now on Columbia will graduate physicians whose knowledge of the body is fused with a distinctive sense of place.