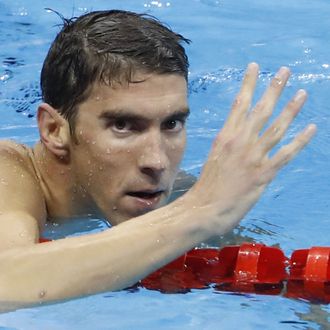 Photo: Odd Andersen/AFP/Getty Images/This content is subject to copyright.
Michael Phelps won his 10,000th (approximately) gold medal Thursday night in the men's 200-meter individual medley. That is, unless you were watching the race in Canada, where CBC announcer Elliotte Friedman got slightly confused about who was swimming in lane four and called the race, loudly, for Ryan Lochte.
"Finally, he's going to do it! Ryan Lochte is going to beat Michael Phelps in this event in the Games," Friedman shouted as Phelps (or Lochte, if you're Friedman) finished the race nearly a body length ahead of the second-place finisher. "And Phelps might not even make the podium!" This was true, except it was Lochte, not Phelps, who didn't make the podium.
Friedman isn't the first announcer to get a little tongue tied during the Olympics. Earlier this week, an announcer on NBC blurted out "Katie Ledecky" after Kerri Walsh Jennings and April Ross scored a point during their beach-volleyball match. Luckily, he seems to be taking it in stride. (And Canadian Twitter users seem like the nicest people on Earth.)