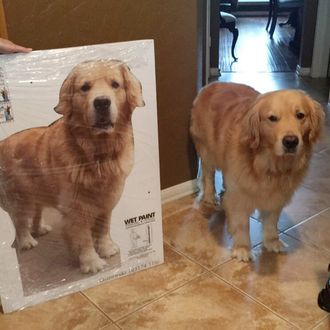 Photo: jostrowski12/Twitter
Most college kids leave their family pets behind when they pack up their books, bedding, and Pink Floyd The Dark Side of the Moon poster and head off to college. But not Jake Ostrowski. When the 19-year-old moves into his dorm room at Texas Tech this fall, his dog, Jesse, is coming along with him. Well, sort of.
After Jake mentioned how much he was going to miss the 4-year-old golden retriever when he went to school, his mom, Sharla, got an idea. If Jake couldn't take the real Jesse to college, she'd give him the next best thing: a life-size cardboard cutout of him.
"She brought it home yesterday," Jake told me via Twitter DM. "It was probably the best gift I've ever received." Jake said he'll have one roommate at college, but hasn't yet told him about the third, canine roommate he'll be bringing along. Since sharing a picture of the two Jesses on Twitter, Jake has seen nearly 2,000 retweets and counting. "I've had tons of people quoting the tweet saying that they're gonna do this now or telling their own mom to take note," he explained.
As for leaving his real dog behind, Jake says he's going to miss having Jesse snuggled up in his bed every night. "He's perfect," Jake said. Which may or may not have been prompted by me type-screaming "SUCH A GOOD DOG" when Jake sent me the following picture.
SUCH A GOOD DOG.