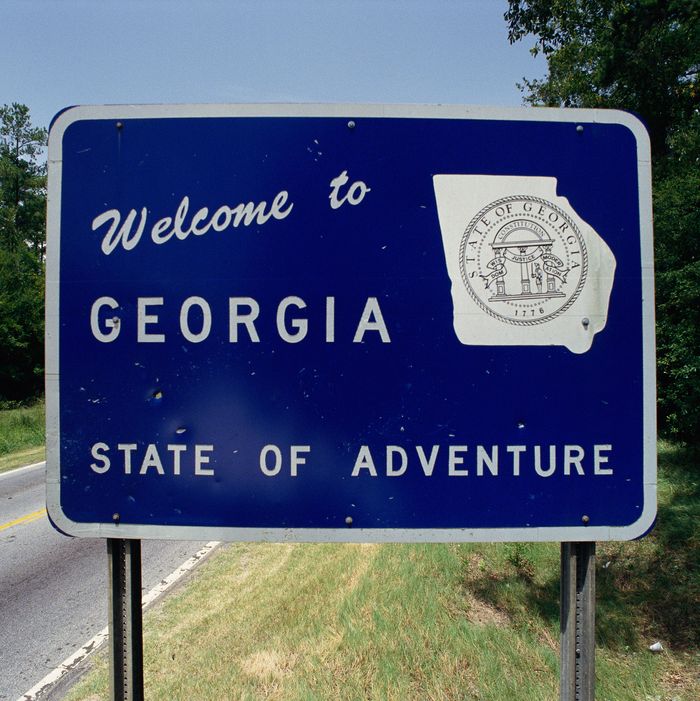 It may not happen this year, but demographics are pushing Georgia into competitive territory sooner or later.
Photo: Joseph Sohm/Visions of America
As a Georgian now living in California, I certainly paid attention when the leading political story in local newscasts in my part of the Golden State this past weekend was an Atlanta Journal-Constitution poll showing Hillary Clinton leading Donald Trump in a head-to-head contest, 44 percent to 40. This has come as a shock to a lot of observers.

But Georgia's position as a state that could go Democratic in a very good Democratic year is not terribly surprising. For years now, the Empire State of the South has been projected as moving toward Democrats in a path parallel to Virginia and North Carolina (and, more faintly, Texas), thanks to a steadily increasing nonwhite population combined with enough white metropolitan college-educated voters to approach a majority.

Still, it seems strange to think of this Deep South state as becoming "purple." Georgia was narrowly carried by Bill Clinton in 1992 (my most distinct personal memory of that election was a monster rally the weekend before balloting in the close-in Atlanta suburb of Decatur, in which a hundred thousand people waved American flags to the beat of John Lennon's "Power to the People" as Sam Nunn introduced the Big Dog). Democrats were still regularly winning down-ballot races in the state then, though. But in 2002, a switch seemed to be flipped, and since then no Democrat has won a presidential, gubernatorial, or Senate election in the Peach State.

What happened in the early 21st century was that the realignment of once-Democratic rural and small-town white voters to the GOP was consummated, while the suburban and exurban population in the sprawling Atlanta metro area boomed. But since 2000, metro Atlanta has become a mecca for upwardly mobile African-Americans (and also immigrants from Asia and Africa as well as Latin America). As Harry Enten notes at FiveThirtyEight, the African-American percentage of the Georgia electorate grew from 23 percent in 2000 to 30 percent in 2012.

That means the percentage of the white vote Democrats must obtain to become competitive is now relatively low. When I was cutting my teeth in Georgia politics, Democrats talked of a 40/90 rule: They needed 40 percent of the white vote and 90 percent of the black vote to win statewide. Now it's closer to 30/90, or maybe even 25/95. The AJC poll showing Clinton leading statewide gives her a mere 23 percent among white voters (compared to 60 percent for Trump). But she leads 83-5 among black voters. (In a four-way race that includes Jill Stein and Gary Johnson, Clinton leads Trump by three points and gets only 20 percent of the white vote.)

Similarly, a new robopoll of Georgia out today from JMC Analytics gives HRC a 84-6 lead among black voters (constituting 29 percent of the electorate) and only 25 percent of white voters; that combination is good enough for a 44-37-7-1 lead for Clinton in a four-way race.

The odds are the AJC and JMC surveys represent a moment of strength nationally for Clinton, and if the national race tightens up again, Georgia will lean Republicans (a SUSA poll taken immediately after the Democratic convention showed Trump up 46-42 in the state). But make no mistake, Georgia is politically more like North Carolina and Virginia than like Tennessee or Alabama these days. Before Barry Goldwater came along, Georgia was the most consistently Democratic state in presidential elections in the entire nation. Don't be surprised to see it back in the Donkey Party column again — if not this November, then perhaps in 2020 or 2024.