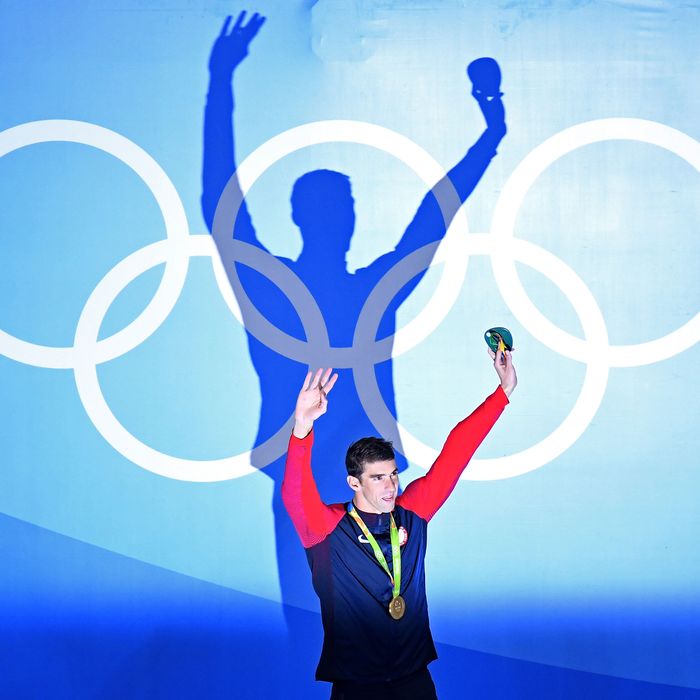 Photo: Richard Heathcote/Getty Images
Michael Phelps won his fourth gold medal in Rio Thursday night, and even though the most decorated Olympian of all time still has two races left in Brazil, attention is already beginning to turn to Tokyo, which will host the Games in 2020.
Might Phelps, who will turn 35 a month before Tokyo's Opening Ceremonies, actually swim in the Olympics for a fifth time?
He says no. "This is it. I'm swimming how I want to and this is a great way to finish," he told NBC. But he also says maybe. At the beginning of the Rio Games, he went out of his way to call this his "potential last Olympics," so the media doesn't "beat me to death if I come back."
Phelps has always had a lot of trouble with this subject. After the 2012 Games in London, Phelps "retired" and used the same explanation: He wanted to go out on top. Two years later, he was back in the pool with a goal of swimming in Rio. The same thing happened in 2008 without the charade of a retirement announcement. After the Beijing Olympics, Phelps became disillusioned with swimming and stopped training, but, before long, he made his way back in the pool. Will it happen again?
"I guarantee he will be there," Ryan Lochte said on the Today show Friday morning. "I think so. I really think so."
Lochte's been right about this before. After Phelps retired in 2012, Lochte said, "I think he will be back for Rio. We'll see, he'll miss the sport." Lochte might not know much, but he knows what it's like to be an aging swimmer unable to pass up another shot at Olympic glory.
On the other hand, there's Phelps's longtime coach Bob Bowman, who was asked about a potential Phelps comeback on Thursday night. "I just don't see it happening," he said. "He's in such a good place personally. He doesn't need it."
Bowman's been wrong about this before. Back to 2012 again, he said Phelps's retirement was legit. "I think he's ready to explore other things. He's done all he can do here."
The quotes are similar, but Bowman sees big differences in Phelps now and Phelps in 2012. For starters, he has a fiancée and 3-month-old son. And unlike 2012, when he went home from London, got bored, and decided to get back in the pool, Phelps has a plan for what he's going to do after Rio. Namely, raising his son and coaching with Bowman at Arizona State.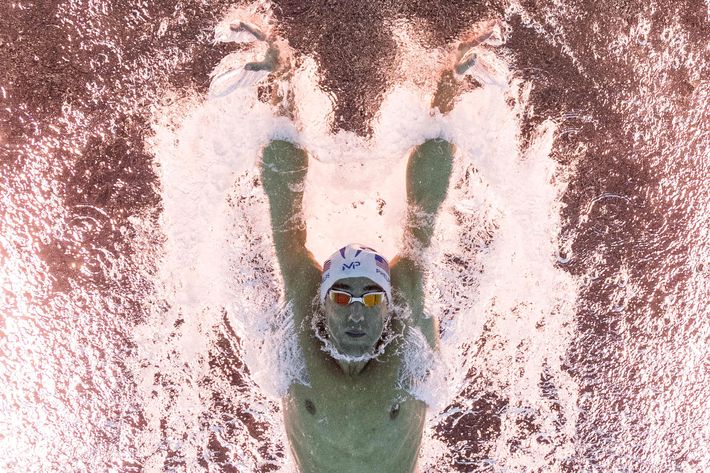 What seems clear after watching Phelps dominate in Rio is that the only thing that can prevent him from competing in Tokyo will be his choice not to. The talent is still there, and even his most bitter rival Chad le Clos thinks it'll still be there in four years. While 35 would certainly be old, it wouldn't be too old. Anthony Ervin is the oldest American swimmer in Rio, and he's 35 himself. He'll have a chance tonight to become the oldest swimmer to win an individual gold medal. Dara Torres, who won three silver medals in Beijing as a 41-year-old, is the record holder for oldest swimmer to medal at the Olympics.
Clearly, both Ervin and Torres are extreme outliers. But so is Phelps. That said, there's a big difference between the two old-timers and the not-quite-as-old-timer. Ervin and Torres were sprinters. Ervin's event in Rio is the 50-meter freestyle, and Torres has medals in 50- and 100-meter events. Phelps, meanwhile, specializes in middle-distance events, which are far more grueling and require harder training.
So if we do see him back in Tokyo, Phelps may be sticking to the shorter races and relays. Or maybe not. It's hard to compare him to other aging swimmers because there's never been anyone like him. The only thing we know about Phelps and Tokyo right now is that if he goes, we'll be asking the same question in 2020 that we're asking today. Because, as Phelps's former Olympic teammate Tyler Clary has already said, if the 2024 Games are in Los Angeles, Phelps will be there.