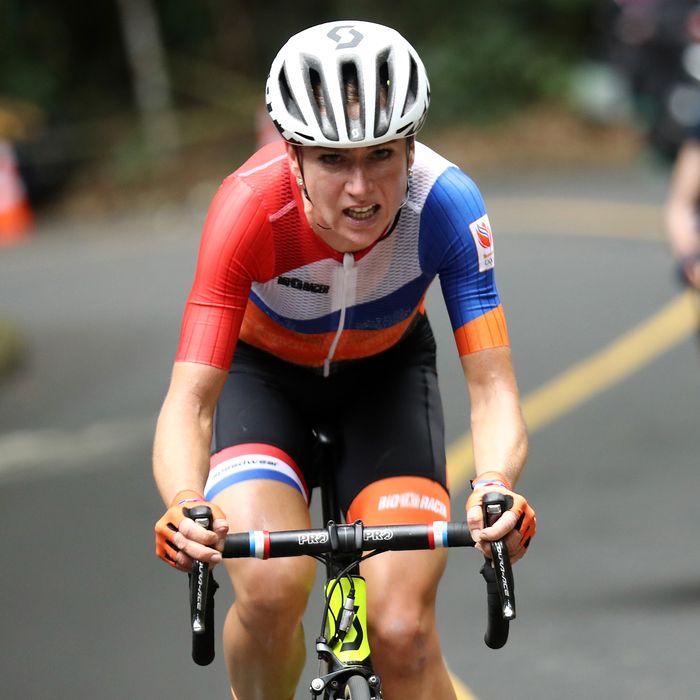 Photo: Bryn Lennon/AFP/Getty Images
The scariest Olympic moment of the weekend came not when a French gymnast's leg was turned into a croissant on his vault landing, but when Dutch cyclist Annemiek van Vleuten flipped over the handlebars of her bike and smashed to the ground with enough force to fracture her spine.
"I thought she was dead," her teammate Anna van der Breggen, who went on to take gold in the race, told The Guardian.
The 33-year-old cyclist, who was in the lead at the time of the crash, was descending a steep mountain road when her back tire appeared to skid. Her front tire then appeared to lock up, stopping the bike in its tracks and sending van Vleuten into a curb. She would lie there motionless as other cyclists cruised past before help finally arrived.
Van Vleuten, who has tweeted that she "will be fine," wasn't the first cyclist to eat it on this very descent. As Saturday's men's road race neared the end of Vista Chinesa, the mountain road that proved itself the most treacherous part of the course, two of three riders in the lead group crashed. Italy's Vincenzo Nibali and Poland's Rafal Majka both went down on a corner and sustained serious injuries. Nibali broke his collarbone, and Henao fractured his pelvis.
The carnage and its occurrence on the same road has led some to point fingers in the direction of Union Cycliste Internationale, cycling's governing body. "I'm actually quite angry about it because I looked at the road furniture and thought: 'Nobody can crash here and get up,'" former gold medalist Chris Boardman said on the BBC. "Road furniture" refers to the objects around the course such as street signs, fire hydrants, and curbs. And in van Vleuten's crash, the high curb on the side of the road appears to have worsened her injuries.
At least one rider complained about the course too. Ireland's Dan Martin said, "The downhill was quite dangerous. If it was raining I don't think anyone would have finished, there would have been crashes everywhere."
The UCI defended the course, though, chalking up the crashes to the nature of the sport. "The Rio 2016 road race course was carefully designed and was extensively tested at the test event and in training. We do our utmost to design safe, challenging courses but unfortunately crashes do sometimes occur due to a combination of factors."