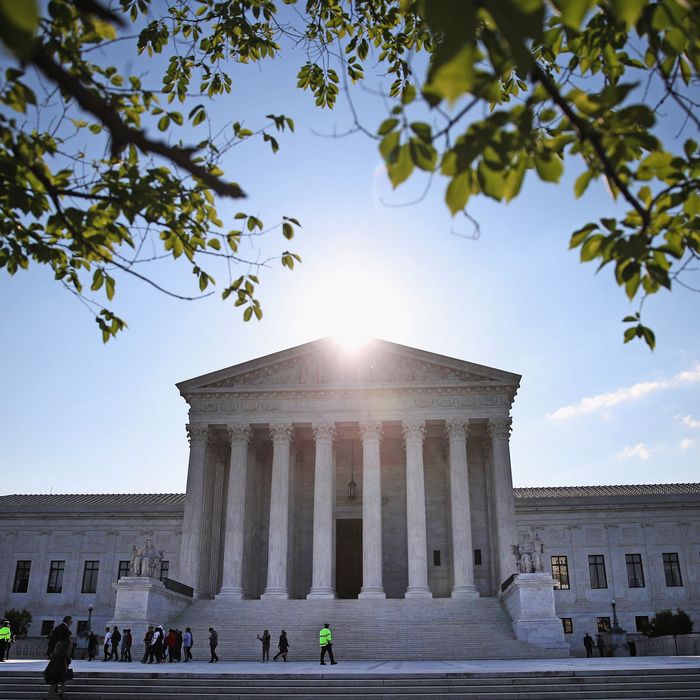 Once again, a evenly divided Court does nothing.
Photo: Mark Wilson/Getty Images
When Reuters broke the news on Twitter that the U.S. Supreme Court had "rejected North Carolina governor's bid to reinstate voter identification law for Nov. 8 elections," Twitter quickly filled with furious Trumpite talk about the High Court conspiring to open the door to widespread voter fraud (from Muslims no less!) aimed at stealing the election for Hillary Clinton.
You cannot attribute such immediate leap-to-the-conspiracy-theory thinking to Donald Trump or his campaign. But you can observe that it's the sort of thing that's going to happen when a presidential candidate warns his supporters that the election is "rigged."
As it happens, SCOTUS quite literally did not do anything. Thanks to a 4-4 vote of the sort we have become accustomed to seeing since Justice Scalia's death, the Court left in place a court of appeals ruling that the North Carolina law (which actually goes well beyond voter-ID requirements into efforts to discourage early voting, ban same-day registration, and pursue other common voter suppression initiatives) violates the Voting Rights Act and the Equal Protection Clause. The state tried to get SCOTUS to let it reinstate the voter-ID and early-voting provisions before the November 8 elections, even with litigation pending. And the Court was powerless to do so, thanks to the 4-4 deadlock.
This is not a definitive development in the scattered judicial maneuvering over voting-rights laws, by any means. It has no value as precedent. It leaves in place the same system in North Carolina under which Mitt Romney carried the state in 2012. It's not a good sign of civic mental health that such a judicial nothing-burger is being interpreted in so lurid a fashion by anybody. But it is a reminder that a lot of important legal issues could take a turn in a different direction depending on the outcome of this election.