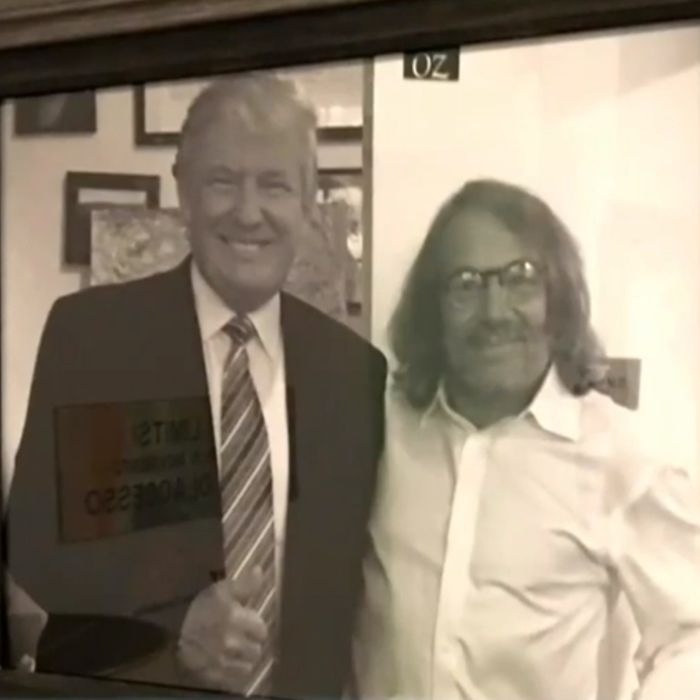 A photo of the candidate and Dr. Harold Bornstein hangs in the doctor's office.
Photo: NBC News/Screencap
Donald Trump's personal physician took only five minutes to write a letter declaring that the 70-year-old Republican would be the healthiest president in U.S. history, according to NBC News. The letter from Manhattan's Dr. Harold Bornstein, in he which he insisted that, "If elected, Mr. Trump, I can state unequivocally, will be the healthiest individual ever elected to the presidency," was released by the Trump campaign back in December. NBC, however, took a new look at the document and its author in light of recent insinuations by Trump and his allies that Hillary Clinton's health is failing, even though her doctor has reported that the 68-year-old Democrat has no serious health problems.
Bornstein's letter, at four paragraphs, is the only health information Trump has released about himself since he began his campaign for president. Asked to explain his "unequivocally" line, the colorful Bornstein told NBC that he still liked the sentence, since "to be quite honest with you and all the rest of [the presidents] are either sick or dead." Bornstein wrote the letter in five minutes while a limo driver working for Trump waited outside; though, he told NBC he had thought all day about what to write, and indicated that he felt inspired to use hyperbolic language because Trump had insisted beforehand that his "full medical report" must "show perfection." Along those lines, Bornstein also wrote that Trump's "physical strength and stamina are extraordinary," and that the candidate's blood pressure and lab results were "astonishingly excellent." However, Bornstein, who has been Trump's personal physician since 1980, said he also gets anxious when rushed, and that, as a result, he thought "some of those words didn't come out exactly the way they were meant."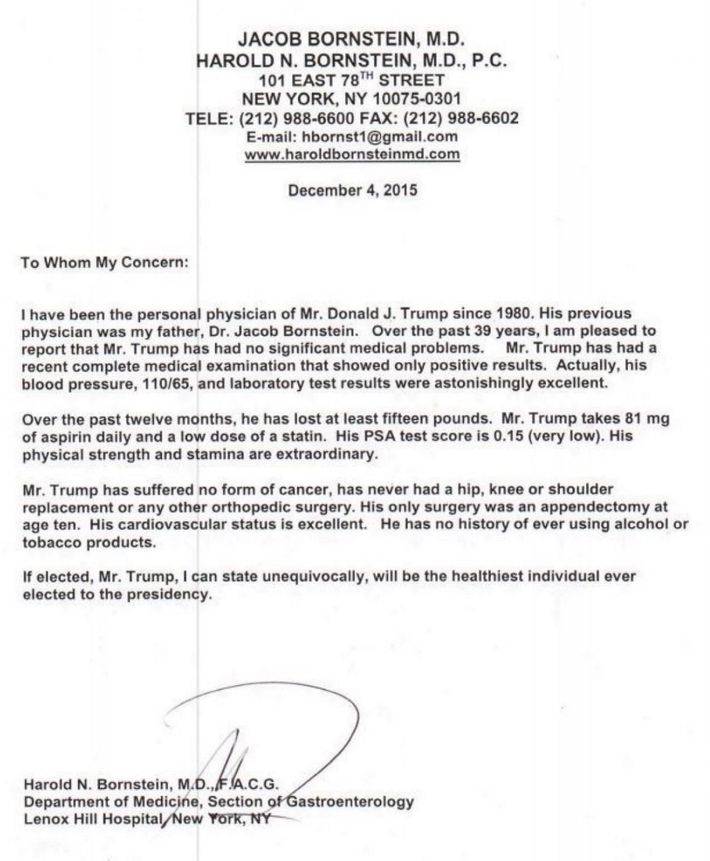 "I like Donald Trump because I think he likes me," Bornstein added to NBC, though he declined to discuss politics. He also reiterated that Trump's health "is excellent, particularly his mental health," he said laughing, since Trump "thinks he's the best — which works out just fine." The doctor also said that Trump "would be fit [to be president] because I think that his brain [is] turned on 24 hours a day."
In a statement accompanying Bornstein's letter in December, Trump added, "I am fortunate to have been blessed with great genes — both of my parents had very long and productive lives," and that "people have been impressed by my stamina, but to me it has been easy because I am truly doing something that I love. Our country will soon be better and stronger than ever before."
As the New York Times highlighted earlier this week, Bornstein's letter is not exactly a detailed account of Trump's health, noting how it contains "no details about his heart rate, respiratory rate, cholesterol level, past medications or family medical history." Trump spokesperson Hope Hicks said on Monday that Trump would release additional medical records if Clinton did the same. The letter released in July of last year from Clinton's physician, Dr. Lisa Bardack, was two pages long and contained many more details than the one from Bornstein.
Here's the interview with Bornstein: