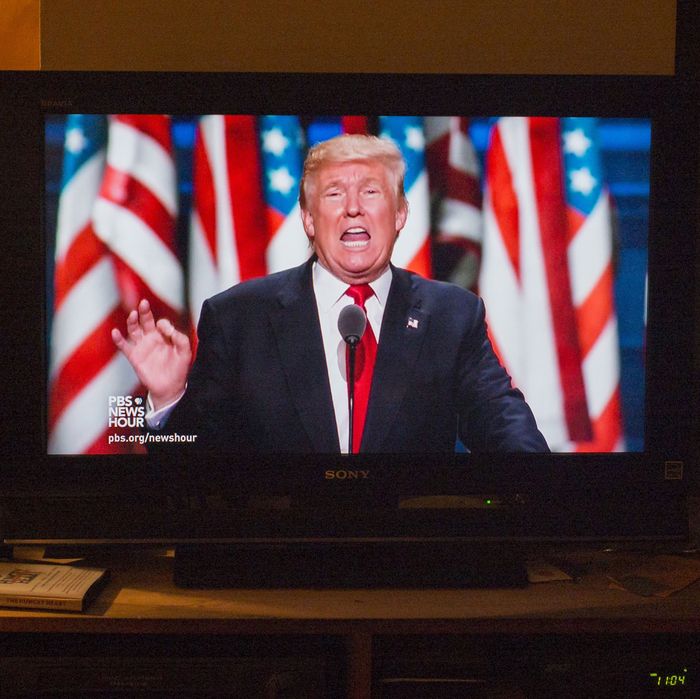 Advertisements by Trump.
Photo: Robert Nickelsberg/Getty Images
Until this week, the Republican nominee had spent $0 on television advertisements during the general-election campaign. His Democratic rival has spent $61 million.
This state of affairs was bizarre for a number of reasons. It's not every election cycle that the Green Party's standard-bearer outspends the GOP nominee on the airwaves. And it's not like Donald Trump doesn't have the money to spend — or a pressing need to change public opinion about his campaign. Trump raised $80 million in July, with the help of the Republican National Committee, and appears to have spent only a fraction of that sum on building a ground game in swing states. Meanwhile, his standing in the polls has eroded to the point that election forecasters are giving Clinton a roughly 80 percent chance of moving into the Oval Office next January. And the longer a candidate waits to take out an ad buy, the more expensive airtime becomes. Thus, for many GOP strategists, Trump's inaction has been exasperating.
But in a conference call with Republican House members this week, Trump's campaign announced that it would begin airing ads Friday in Florida, Ohio, North Carolina, and Pennsylvania. Trump's campaign advisers told The Wall Street Journal that the ads would build on the "focused," policy-based messages Trump articulated in his recent speeches on the economy and national security.
Trump trails Clinton by nearly double digits in Pennsylvania, and recent polls have showed her up by nine in Florida and North Carolina. However, other polls have shown a tight race in those southern states, and the contest in Ohio has been consistently close.
If you're worried that all of these scripted speeches and issue-focused TV ads are going to make Trump into just another boring politician, fear not: On Wednesday, the executive chair of alt-right newsletter Breitbart News became the chief executive of Trump's campaign. And he appears to believe that the GOP nominee's main problem as a politician is that he is too unwilling to court controversy.