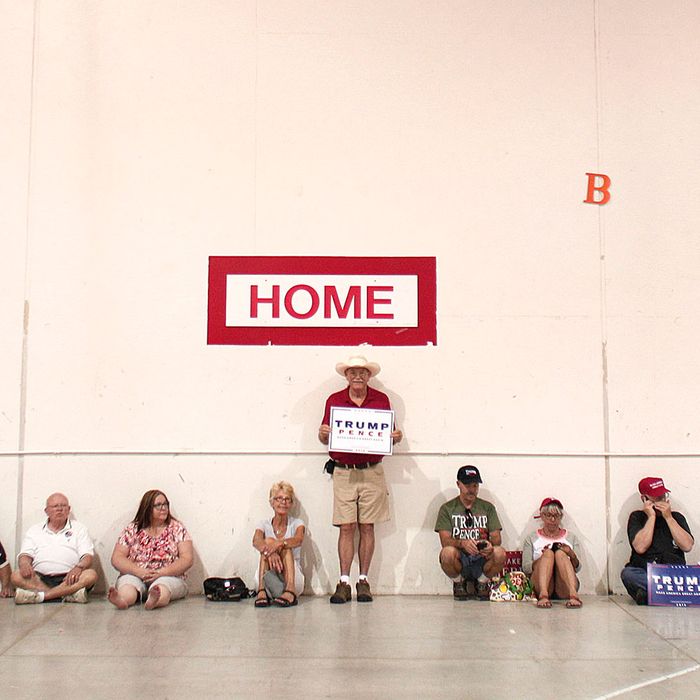 Great white nope.
Photo: Bill Pugliano/Getty Images
Donald Trump has spent much of the past few months boasting about the "millions and millions" of people he has brought into the Republican Party. Unlike many things the GOP nominee says, there was actually a logical (if unpersuasive) warrant for this claim: Turnout in the 2016 Republican primary was unusually high.
The idea that Trump has the power to attract a significant number of voters off the sidelines of American politics has become increasingly central to his general election hopes. Current polling suggests that if the 2016 electorate looks anything like those of recent presidential years, Trump is toast. The GOP nominee simply doesn't have enough support among African-Americans and Hispanics to win the Oval Office. And his "outreach" efforts to those groups do not inspire confidence.
Thus, Trump's path to victory likely relies on unprecedented turnout among white people. Particularly non-college educated white dudes. And a pair of new studies, first reported by The Wall Street Journal, suggest that ain't happening.
First, a study by the Republican firm Øptimus concluded that the uptick in turnout during the GOP primaries was driven by increased engagement among general election voters. Which is to say, Trump wasn't activating new Republicans, he was just inspiring them to vote in primaries. In Ohio, for instance, 46 percent of primary voters had never cast a ballot in a nominating contest before — but only 6 percent had never voted in any election.
Second, the Democratic firm Catalist found that 1.4 million new voters were added to the rolls of ten battleground states through June of this year; in 2012 that figure was 1.3 million. That is not the sort of seismic shift the Trump campaign was looking for.
The one spot of good news for Trump in Catalist's findings is that the new-voter pool is a bit whiter than it was four years ago: The share of new voters with white skin in those ten battleground states is up by nearly 16 percent this cycle, while the share of African-Americans fell by 12 percent.
On the other hand: The Hispanic slice of the new voter pie is 40 percent larger so far this year.
And it's unlikely that an immigration flip-flop and a few more taco-bowl tweets will dig Trump out of the hole he's dug with that demographic.