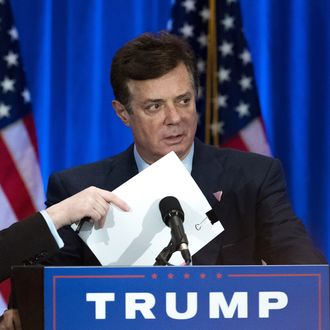 Paul Manafort.
Photo: Drew Angerer/2016 Getty Images
In an alternate reality where Donald Trump hadn't just demoted campaign chair Paul Manafort, today might have been the day when he was finally pushed out. Earlier this week, it was reported that Manafort and his business associate Rick Gates, who also works on the Trump campaign, tried to influence the U.S. government on behalf of Viktor Yanukovych, the pro-Russian president of Ukraine. Doing this directly would have required them to register as foreign agents with the Justice Department, but instead they went through a pro-Yanukovych nonprofit, the European Centre for a Modern Ukraine, to hire the Washington lobbying firms Podesta Group Inc. and Mercury LLC. (Yes, that Podesta; the firm was co-founded by John Podesta, the chair of Hillary Clinton's presidential campaign.)
Manafort and Gates said they did not do work that required them to register with the Justice Department, but on Thursday, the Associated Press said it has obtained emails that show their firm "directly orchestrated a covert Washington lobbying operation" to turn U.S. officials in favor of Yanukovych's government. Per the AP:

The lobbying included attempts to gain positive press coverage of Ukrainian officials in The New York Times, The Wall Street Journal and The Associated Press. Another goal: undercutting American public sympathy for the imprisoned rival of Ukraine's then-president. At the time, European and American leaders were pressuring Ukraine to free her.

… The emails show Gates personally directed two Washington lobbying firms, Mercury LLC and the Podesta Group Inc., between 2012 and 2014 to set up meetings between a top Ukrainian official and senators and congressmen on influential committees involving Ukrainian interests. Gates noted in the emails that the official, Ukraine's foreign minister, did not want to use his own embassy in the United States to help coordinate the visits.
Manafort was Gates's boss at the firm, DMP International LLC. The emails don't offer details on what role he played in the lobbying effort, but current and former employees of Mercury and the Podesta Group told the AP that he was overseeing the campaign and would discuss it by phone.

"There is no question that Gates and Manafort should have registered along with the lobbying firms," said Joseph Sandler of Sandler Reiff Lamb Rosenstein & Birkenstock, a Democratic-leaning D.C. law firm that advises Republican and Democratic lobbyists. Failing to do so is a felony that carries a penalty of up to five years in prison and a fine of $250,000.

And that wasn't the only bad news for Manafort to emerge on Thursday. Politico ran a lengthy report on a "Russian Army-trained linguist turned Ukrainian political operative" who became Manafort's "trusted protégé." The New York Times offered more details on millions of dollars in cash payments earmarked for Manafort from Yanukovych's political party. The Washington Post traced Manafort's path from being a washed-up former adviser to three Republican presidents to having a lucrative yet shady career in Eastern European business and politics. And Fusion reported that Manafort may have been behind pro-Russian protests against U.S. troops.

Then, in a speech on Thursday night, Trump said he'll ask senior officials in his administration not to accept speaking fees from corporations that lobby "or from any entity tied to a foreign government" for five years after leaving office.

But it wasn't all bad news for Manafort. The Huffington Post reported that he tried to stop Trump from tweeting out a picture of a taco bowl on Cinco de Mayo, so at least history will remember him for that.