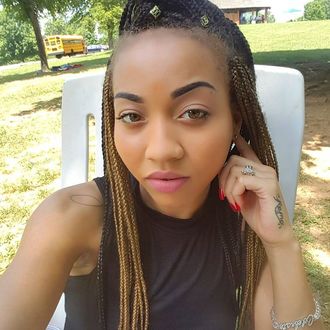 Photo: Courtesy of Korryn Gaines Instagram
On Monday, Korryn Gaines, a 23-year-old black woman, was killed by police in Maryland following a standoff in which she had taken refuge in her apartment with her 5-year-old son. According to officers, she allegedly pointed a shotgun at police after they had arrived to serve an arrest warrant, for failing to appear in court following a March traffic stop.
According to Randallstown, Maryland, police chief James Johnson, "We discharged one round at her. In return, she fired several rounds back at us. We fired again at her, striking and killing her." Her son was injured in the incident, though the injury is not life-threatening. Gaines was reportedly livestreaming on Facebook and posting on Instagram during the standoff. In one Instagram post, Gaines, from behind the camera, asks her son what the police outside are trying to do. "They're trying to kill us," he responds softly.
Documenting interactions with police has become an increasingly common practice: Digital video can counter police-department narratives about brutality and death, as it did with recent police killings of Alton Sterling and Philando Castile. But whether Gaines's video paints a different picture will likely never be known, because Facebook shut down her livestream at the request of law enforcement.
On Tuesday, according to The Guardian, police chief Johnson said that the stream was taken down "[i]n order to preserve the integrity of the negotiation process with her and for the safety of our personnel [and] her child. Ms Gaines was posting video of the operation as it unfolded. Followers were encouraging her not to comply with negotiators' request that she surrender peacefully." Officers used a special portal for law enforcement to make the request, which Facebook complied with more than an hour later.
Gaines was vigilant in filming her encounters with police. Instagram posts from March show the incident for which she was being served a warrant, though at no point do they appear to ask her to stop filming. Videos from May chronicle her at the police station again attempting to speak with officers, none of whom ask her to stop recording. Posts on her Instagram account often show a sustained distrust of the government.
Gaines's social-media accounts are still up, though the standoff livestream is not. Facebook's decision to shut it down in the middle of the event readdresses the same serious questions that come up every time livestreaming is used in police confrontation. The network wants livestreaming to encourage people to share more "raw," spur-of-the-moment footage that is less performative than an edited photo or text post might be. But in doing so, it has opened the floodgate to any kind of video, even those that may be difficult to watch or have enormous social effect. It's unclear whether or not Facebook actually wants its platform to reflect the violence and suffering that occur in the real world. It leaves protesters wondering how willing Facebook is to cede to the requests of law enforcement.