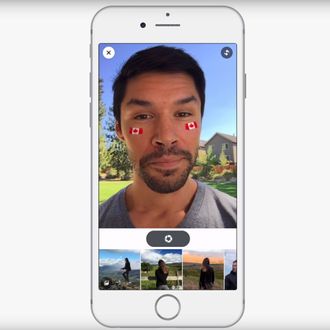 Earlier this week, Facebook decided — not without reason — to just straight-up copy Snapchat exactly, when it introduced "Stories" to Instagram. The further Snapchat-ification of Facebook progressed this morning when the company began testing out new camera and lens options in its app. TechCrunch reports that users in Canada and Brazil who open the app will see a prompt to open the camera, rather than enter text, and they'll be able to apply filters and facial lenses in the exact same way that they can in Snapchat.
This is the logical next step following Facebook's acquisition of MSQRD, in March. As with Facebook's live-video push, prompting users with the camera rather than a text box is an attempt to get users to share more and feed more data into the system, which the company can then use to earn revenue. If people are sharing less and using the app less, Facebook's opportunity to earn money off them declines.
The lenses and filters on offer are timed to coincide with the Summer Olympics. This is only a test, though, so I wouldn't expect to see it hit the States before the event wraps up.