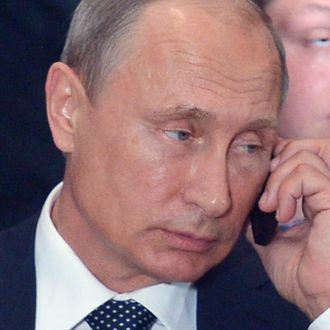 He's listening.
Photo: MANDEL NGAN/Getty Images
The FBI is investigating claims that Russian security services attempted to hack the New York Times' Moscow bureau.
CNN broke the story and reported that the hacks were part of a broader string of cyberattacks against Times reporters and other American news outlets.
The New York Times has disputed the CNN story. While it admits that there were "cyber intrusions targeting reporters," the paper claims that the hacks only targeted its Moscow bureau, and that it did not not hire an outside company to investigate the breach, as CNN reported. No other news outlets have said they were hacked.
"We have seen no evidence," said Times spokesperson Eileen Murphy "that any of our internal systems, including our systems in the Moscow bureau, have been breached or compromised."
Still, the attempted infiltration of the Times does point to the growing scope of Russian cyberaggression. Hackers associated with the Russian security services first made headlines earlier this year when they leaked private emails from Democratic National Committee members to WikiLeaks in a series of hacks targeting Democratic officials. The DNC hack eventually grew to encompass hundreds of people and organizations.

While Republicans were reportedly hit as well, the alleged targeting of the Times could bolster the theory that Russia is deploying its cybersecurity apparatus to help the presidential campaign of Donald Trump. The candidate was publicly feuding with the New York Times — accusing it of bias and threatening to revoke Times journalists' press accreditation — as recently as last week.
Trump infamously called on Russian hackers to infiltrate Hillary Clinton's email account in July, and the Clinton campaign has been outspoken about what it believes to be collusion between Trump and Russian president Vladimir Putin. The two men have complimented each other on several occasions, and the Republican nominee has a number of ties to Russia.
Last week, Michael McFaul, who served as the U.S. ambassador to Russia from 2012 to 2014, explained in a Washington Post op-ed that Trump champions several foreign policies that would benefit Putin, from potentially recognizing Crimea as part of Russia to setting conditions for the United States' support of NATO allies.

McFaul also noted that while governments routinely engage in cyberwarfare, Russia's recent hacks could be evidence of a troubling development. "No one should be surprised that the Russian government uses its incredible cyber capabilities to collect intelligence on important U.S. politicians," he wrote. "That is what spies are supposed to do. What they have never done in the past, however, is publish stolen information to influence a U.S. presidential election."