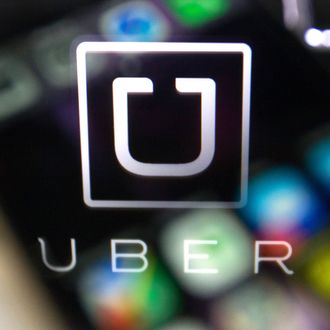 Photo: Jaap Arriens/Getty Images
A federal court rejected a proposed settlement between ride-share service Uber and the thousands of drivers that work for the tech company, describing it as "not fair, adequate, and reasonable" — a major victory for the service's drivers and a setback for Uber's world-conquering ambitions.
This past spring, Uber and the nearly 400,000 drivers in the class-action lawsuit announced that they'd reached a proposed $100 million settlement over claims that Uber had misclassified drivers as independent contractors, rather than as full-time employees. As employees, Uber would have to cover costs such as payroll taxes and vehicle expenses, as well as ensure that drivers earn minimum wage.
In California federal court yesterday, Judge Edward Chen called the proposal "not fair, adequate, and reasonable." Uber is currently valued at more than $62 billion.
A spokesperson for Uber said that the company was "disappointed" and exploring their options.
"It is possible the parties could reach a revised agreement that satisfies the court's concerns," Shannon Liss-Riordan, the lawyer representing Uber's drivers, told Bloomberg. she added, "But if not, as I've said before, I will take the case to trial."
The case, should it head to trial, will have huge implications, regardless of outcome. Should the drivers lose, it would set a precedent for what rights to compensation and benefits they receive in a burgeoning economy being heavily pushed by hundreds of companies in Silicon Valley. Should Uber — the crown jewel of the sharing economy — lose, it will have to incorporate far more expenses into its business. Right now, most of its costs go toward administering the software system that distributes rides. Having to adopt an entire employee-support infrastructure could severely hinder its operations and lower its market value.