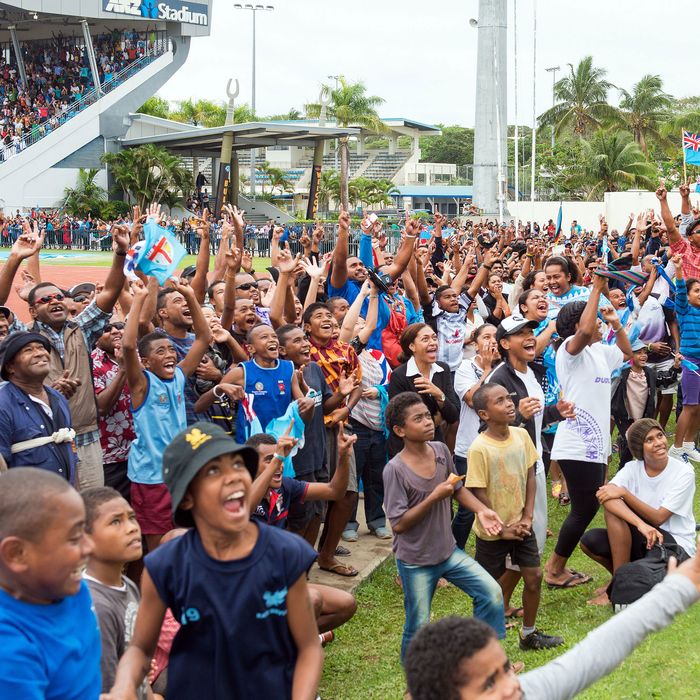 Photo: Feroz Khalil/AFP/Getty Images
Fiji's rugby sevens team delivered a hellacious beatdown to Great Britain on Thursday, capturing the nation's first-ever Olympic medal and sending many of its 900,000 residents into the the streets to celebrate.
"I think the whole country has gone crazy," Maikeli Seru of the Fiji Times told The Guardian.
The capital city Suva was quiet until the game's final whistle, as banks and schools closed so no one would miss it. Thousands filled Suva's ANZ National Stadium to watch on a big screen. More gathered around the city in shops, restaurants, and any other building with a working TV. When the game ended with Fiji beating its former colonizers by a score of 43-7, the party started.
Fans spilled into the streets waving flags, stopping cars, blowing whistles, and, in at least one case, becoming so overwhelmed with the glee that lying down on the street was the only thing to do.
The celebrations will continue over the weekend and into next week, and not just by the people. Fiji's phone carriers are offering free calls, and Fiji Airways is only serving the local brew Fiji Gold on flights. The party is not even confined to Fiji. The nation's medal is being seen as a victory for all of the tiny Pacific Island nations.
Eventually, when all of the horn honking and flag waving is over, the nation will get back to work. At least Prime Minister Frank Bainimarama hopes so. After the game he said, "Our productivity has been nil in the last couple of days, but hopefully the GDP will go up in the next couple of weeks."