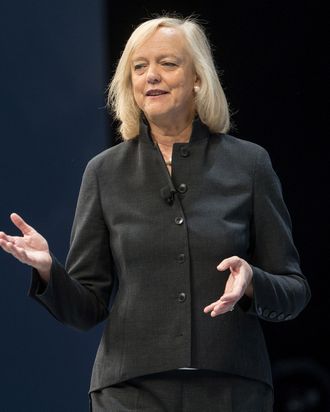 Disruption indeed.
Photo: Jacob Kepler/Bloomberg via Getty Images
Hewlett Packard CEO and big-name Republican fundraiser Meg Whitman made headlines earlier this month when she announced that she would support Hillary Clinton for president. Whitman also promised to donate to Clinton's campaign and fundraise for her.
Now Whitman is putting her mouth where her money is to become the first prominent Republican defector to make a proper campaign appearance in support of Hillary.
Whitman will host a breakfast this morning in the Clinton-leaning battleground state of Colorado where she will meet with business leaders and try to sell them on Hillary's new jobs plan.
Whitman, who acted as finance co-chairwoman for Romney in 2012 and ran for governor of California in 2010, still describes herself as a "proud Republican" but has said that Donald Trump — who she thinks is "unfit to be president" and a "dishonest demagogue" — has forced her to vote for Clinton.