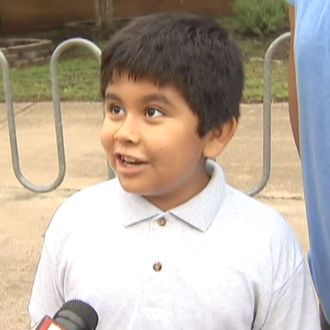 Texas fourth-grader Kevin is going places. Namely, the fourth grade. And after that, as he told Fox News on the first day of school earlier this week, he'll be headed to the fifth grade. And after that, he'll be off to college.
Kevin's interview is currently topping /r/videos on Reddit, where people can't seem to get enough of his outspoken excitement. In it, he explains that he had just one friend at his old school and is hoping he'll be able to make more friends this time around. (Kevin, if you're reading this, the Select All staff will be your friends.) He also offers some excellent commentary on why math is important, "I want to be a creator, like inventing stuff, and I need to learn a lot of math to do it," and how lame helmets are, "I know how to ride a bike already, even without protective gear!"
Good luck with fourth grade, Kevin. Though I don't think you'll need it.