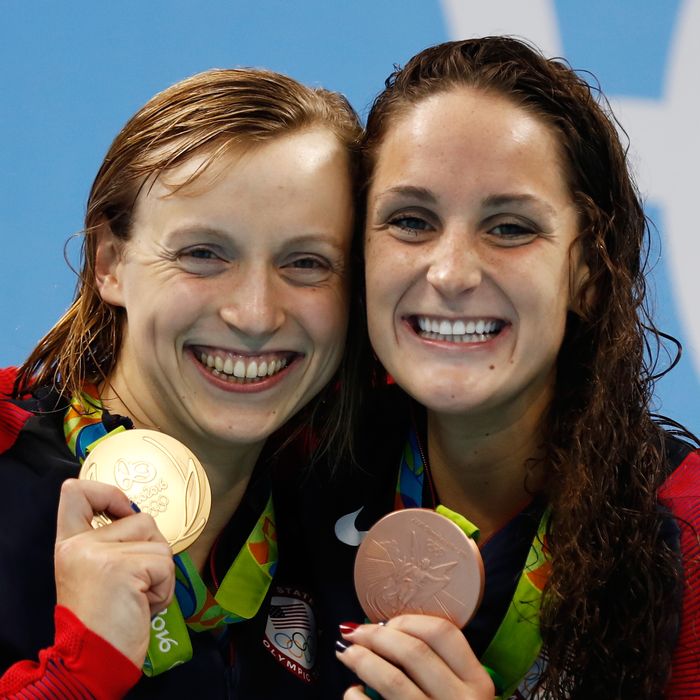 Champions.
Photo: Clive Rose/ Clive Rose/ Getty Images
Good morning and welcome to Fresh Intelligence, our roundup of the stories, ideas, and memes you'll be talking about today. In this edition, America dominates the pool in Rio, Iran executes a spy, and a Bush goes off the ranch. Here's the rundown for Monday, August 8.
WEATHER
Heavy rains are heading for Florida and the Gulf Coast where they will continue to fall into the week. New York City on the other hand will be hot and dry tomorrow with scattered clouds and temperatures in the upper 80s. [weather.com]

FRONT PAGE
U.S. Swimmers Dominate Rio
It's an exciting day for swim fans. Michael Phelps managed to bring home his 19th Olympic gold medal — how is that even possible? — but the biggest news belongs to Katie Ledecky, who not only pulled down gold for her 400-meter freestyle performance but also decimated the event's world record by nearly two whole seconds. The best part? There will be no hard feelings because the previous world record belonged to her as well. Her time yesterday is the 12th world record Ledecky has set since the 2012 Olympics in London, which works out to three world records a year, which is obviously bananas. And another American, Leah Smith, came in third in the same event. This country sure turns out good swimmers. [NYT]
EARLY AND OFTEN
It's Scary Because It's Boring: Trump to Give Economic-Policy Address
Details began to emerge last night about Donald Trump's planned policy speech at the Detroit Economic Club today. Trump is trying to start this week on a better foot and counteract the Clinton campaign's characterization of him as both out-of-touch with the needs of working families and basically devoid of actual policy ideas. Trump is expected to talk stronger protections for American intellectual property — you hear that China? — and continue his attack on regulations. He'll also unveil some policies that are kind of populist, like a plan to allow parents to deduct child care from their income tax. It's a new era. [Reuters]
A Headline We Never Thought We'd Write: George Bush Breaks with Family, Votes Republican
The family with more Georges than the Foremans has a defector in its ranks. Jeb Bush's son, George P. Bush, the Texas land commissioner, has announced that he will break with his family and vote for Donald Trump. This must be especially hard on his father, as Trump spent months abusing him in public before ultimately destroying his very dreams. If you spot Jeb wandering down a lonely city street, be nice. [CNN]

Iran Hangs Nuclear Scientist Over Spying for U.S.
An Iranian newspaper is reporting that the government of Iran has executed nuclear scientist Shahram Amiri by hanging after finding him guilty of spying for the United States. The whole story is very sad. It looks like Amiri was paid $5 million by the CIA to pass on information about Iran's nuclear agency, but was exposed, and he defected to the U.S. before returning to Iran because he reportedly feared for his family's safety.
Awkward: Tim Kaine Says ISIS Airstrikes Illegal
Tim Kaine is his own man. The Democratic vice-presidential nominee publicly broke with Hillary Clinton over the use of drone strikes on the Islamic State in Libya. Kaine said yesterday in an NBC interview that he didn't think it was legal for the U.S. to have carried out recent airstrikes, and called on Congress to update the war authorization it passed after 9/11 to cover the modern war on ISIS. "I have very grave doubts about whether the legal authorities currently in place allow us to wage an offensive war against ISIL," he said. Clinton and Obama have both been outspoken in their belief that the campaign against ISIS is legal. [WSJ]
THE STREET, THE VALLEY
Hundreds of Millions of Android Devices Vulnerable to Malware
Four brand-new vulnerabilities have been discovered in Android tablet and phones that run off of Qualcomm chips. The vulnerabilities could mean that up to 900 million devices are vulnerable to malware that could give hackers total control of the device. For the vulnerabilities to work, the hacker would first have to convince the device's owner to install an app, so just don't take any software advice from strangers and you should be safe. [CNet]
Oil Up, But Not by Much and Not for Long
Oil prices were finally up in early trading this morning thanks to calls from OPEC to freeze production. Prices per barrel were up about one-half of one percent, but analysts say the gains may well be temporary since no serious agreement was reached. [Reuters]

Your Monday Apple Speculation
An investor note from trusted Apple source and analyst Ming-Chi Kuo has the internet abuzz with rumors about the Apple Watch 2. It looks like the major upgrades for the new watch will be GPS — the Apple Watch doesn't have GPS? — and a barometer — finally! [The Verge]
MEDIA BUBBLE
Nick Denton and Hulk Hogan Try to Talk It Out
Sources are saying that Gawker Media founder Nick Denton and professional wrestler/bashful sex-tape participant Hulk Hogan have begun preliminary talks about settling the $140 million Hogan was recently awarded in a suit against Denton and Gawker. Denton has filed for personal bankruptcy and has put his company up for auction, so perhaps Hogan feels his point has been made. [WSJ]

Justice Department Goes After Filmmaker Over Serial Interviews
Okay, this is a little complicated. Twenty-five hours of interviews between filmmaker Mark Boal and alleged deserter Army Sergeant Bowe Bergdahl formed the foundation of the latest season of the hit podcast and cultural phenomenon Serial. But only a portion of those interviews were actually used in the podcast, and Boal, fearing that the military would try to subpoena the unreleased recordings to help build its case against Bergdahl, preemptively filed suit in civil court trying to block them. Now the Feds have gotten involved, asking the judge in that suit not to take the filmmaker's side and allow the military access to the interviews. Pretty convoluted, huh? Actually this whole thing would make a pretty good podcast, come to think of it. [Politico]
Trump Defection: Andrea Peyser Edition
There have been a slew of high-profile Trump defections in recent days, but this one really took us by surprise. Trump has lost Andrea Peyser. The — how to put this — divisive New York Post columnist published a column last night in which she describes her past relations with Trump, and how she ultimately decided that she can't support him for president. "I think Trump secretly doesn't want the prize," she said. Her characterization of Trump is not kind and worth reading. [NY Post]
PHOTO OP
Here's Some More Swim Team USA Glory for You
Apparently winning your 19th Olympic gold medal is still pretty exciting.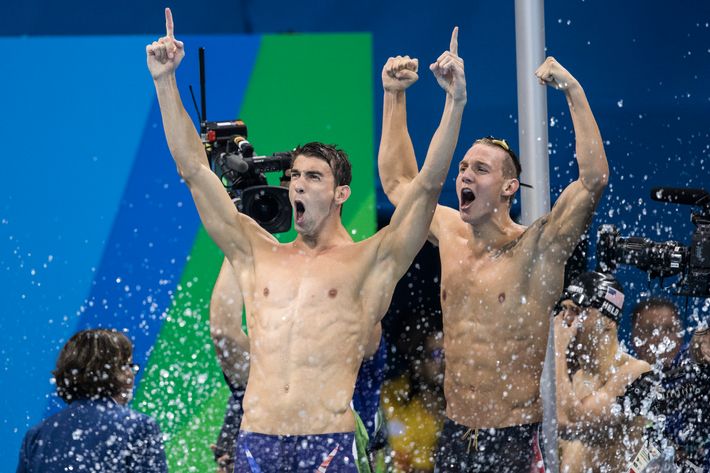 MORNING MEME
Can a Meme Be 22-Minutes Long?
Sticking with our "If It's Muppets, It Runs" rule, today's meme is the full set from Electric Mayhem, the Muppets house band at San Francisco's Outside Lands Music and Arts Festival. Not being there in person now officially becomes our life's biggest regret. [Vulture]

OTHER LOCAL NEWS
That Must Have Been One Hell of a Note
A woman was attempting to parallel park over the weekend in front of Katie's Classic Cars & Coffee in Great Falls, Virginia, when she backed into — and kind of on top of — a Ferrari 458 Speciale, which is worth around $300,000. [UPI]

Please Let Dueling Obituaries Become a Thing
An Egg Harbor Township, New Jersey, man is having a very awkward weekend, despite being dead. Both his wife and his girlfriend ran competing obituaries in the Press of Atlantic City, which some mischievous editor — we're guessing — ran right next to each other with the same picture. Will somebody please send a reporter to cover the funeral? [NBC]
HAPPENING TODAY
What to Watch in Rio
Some excitement expected for team USA today. Michael Phelps will compete in the preliminaries of the men's 200-meter butterfly; the U.S. women's soccer team will face Spain, and U.S. fencer Ibtihaj Muhammad will make history as the first U.S. athlete to compete in a hijab. [St. Louis Post-Dispatch]
Pennsylvania's Attorney General Heads to Court, Will Sit in a Different Seat Than Usual
Kathleen G. Kane, who is somehow still the attorney general of Pennsylvania, begins her criminal trial today. She stands accused of perjury and eight other misdemeanors including obstruction. Kane claims she has been the victim of a concerted effort to unseat her and smear her reputation after she went after city workers who had been sending each other racist and pornographic emails. [NYT]