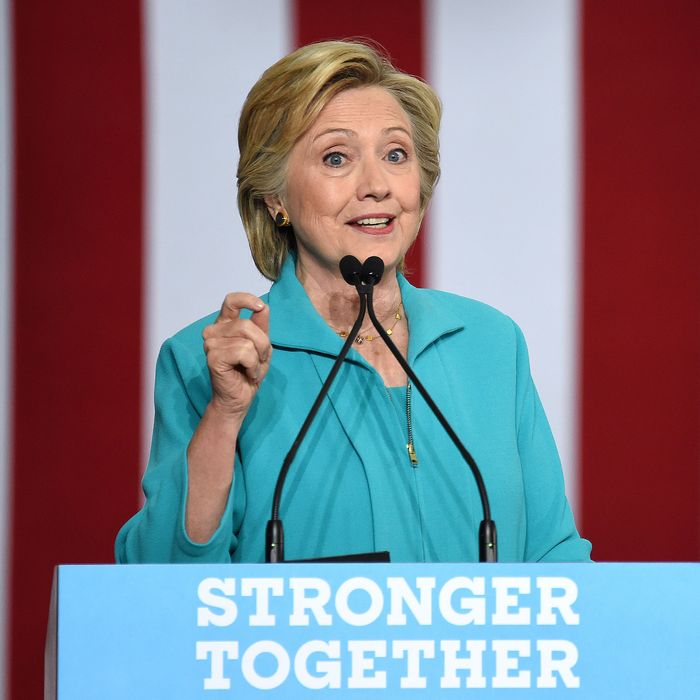 Hillary Clinton speaks in Reno.
Photo: JOSH EDELSON/AFP/Getty Images
Good morning and welcome to Fresh Intelligence, our roundup of the stories, ideas, and memes you'll be talking about today. In this edition, Trump's immigration stance gets even more confusing, Uber loses money, and Batman get drunk. Here's the rundown for Friday, August 26.
WEATHER
Friday's a hot day for most of the country, with temperatures in the 90s all along the East Coast, Gulf Coast, and Pacific Northwest, and thunderstorms in the heartland. New York can expect partly cloudy skies with a high of 93 and a stray shower or thunderstorm. [Weather.com]
FRONT PAGE
Calling All Non-Racist Republicans
Democratic presidential nominee Hillary Clinton appealed to the decency of mainstream Republicans and, really, all Americans, on Thursday, in a speech denouncing her Republican opponent Donald Trump's personal history of racial discrimination, his racist remarks, his frequent appeals to bigotry, and his flirtation with the so-called "alt-right." Trump responded by tweeting that Clinton's the real racist and complaining that her 37-minute speech was too short.

EARLY AND OFTEN
He Knows How to Pick Them
Former Breitbart News chair and current Trump presidential campaign CEO Stephen Bannon was charged with misdemeanor domestic violence, battery, and dissuading a witness in 1996 after his then-wife claimed he had physically attacked her. The case ended when Bannon's ex-wife failed to appear in court. Bannon's wife divorced him several months later and claimed in court documents that he said he would only marry her if she had an amniocentesis and if the twins she was carrying "were normal."
The Softening and the Hardening
Trump's position on whether he plans to deport all 11 million undocumented immigrants in the U.S. remained in flux on Thursday, as he walked back indications that he might be open to a pathway to citizenship (the "amnesty" that Republicans officially deplore). Trump said in a CNN interview that he opposed any path to legalization for undocumented immigrants unless they left the country and came back, but remained vague as to whether he would actively seek to deport them. "I don't think it's a softening," Trump said, pushing back at his own quote from two days ago. "I've had people say it's a hardening, actually."

THE STREET, THE VALLEY
The Biggest Loser
Uber's financial losses in the second quarter of this year topped $750 million, including about $100 million of losses in the U.S., bringing its grand-total income for the first half to negative $1.27 billion, give or take a few million. Although revenues and bookings increased, its head of finance Gautam Gupta told investors that subsidies to drivers were the main culprit behind the losses — which may come as a surprise to the many drivers suing the ride-sharing startup, who presumably don't feel all that subsidized. The company lost $2 billion last year and is down a total of $4 billion in its seven-year history. They'll make it all up, though, once they get rid of the drivers and replace them with self-driving cars. [Bloomberg]
Talk About a Crack in Your iPhone
Apple released a patched version of its mobile operating system, Ios 9.3.5, on Thursday, fixing holes in its security after an Israeli spyware company known as NSO Group was found to have been exploiting the "zero day" flaws in the software to spy on journalists and dissidents in various countries. [NYT]
Twittervision
Twitter is developing a dedicated page for streaming coverage of live events. Struggling with low profits and a seeming lack of direction — not to mention the epidemic of trolls and abusive users — the social-media giant has signed content partnerships with major sports leagues and other groups, and has been testing out its video capabilities to make sure it can deliver things like live sports coverage to its hundreds of millions of users. It has yet to announce when this new feature will be launched. [VentureBeat]
MEDIA BUBBLE
This Isn't What We Mean by "Visibility"
As part of a campaign called "We are all Paralympians," meant to draw attention to next month's Paralympic Games in Rio de Janeiro, Vogue Brazil published an ill-advised photo that included no actual Paralympians. Instead, the photo featured a pair of Brazilian soap-opera stars in athletic gear, Photoshopped to look like amputees. The fashion magazine's art director defended the decision by claiming it was using shock value for a good cause, but critics in the industry called it "cringe-worthy" and "NOT cool." [Digiday]
PHOTO OP
Purple-Mountains Majesty
Thursday was the 100th anniversary of the National Parks Service. To mark the occasion, NASA issued a series of photos showing what they look like from space. Happy anniversary, parks! [NASA]
MORNING MEME
The Old Hollywood-Style Blondie Cover You Didn't Know You Needed
Postmodern Jukebox's latest throwback is a gas. As you'll soon find out, it's "Heart of Glass"!

OTHER LOCAL NEWS
This Is What Happens When D.C. and Marvel Join Forces
Police in western New York are searching for a man who stole two 18-packs of beer from a convenience store while wearing a Batman costume and a Captain America mask. The suspect is believed unarmed, in his 20s, and way too excited about Dr. Strange. [AP]

HAPPENING TODAY
Will She or Won't She?
Investors are awaiting with bated breath for Federal Reserve Chair Janet Yellen's remarks Friday morning at the Kansas City Fed's annual economic conference in Jackson Hole, Wyoming. Yellen's speech is expected to focus on what the Fed can do to fight the next recession, when it comes, as well as long-term market trends, but the market will be parsing her every sentence for clues as to whether the Fed will raise interest rates in the coming months, which Yellen has previously hinted it might do. [WSJ]