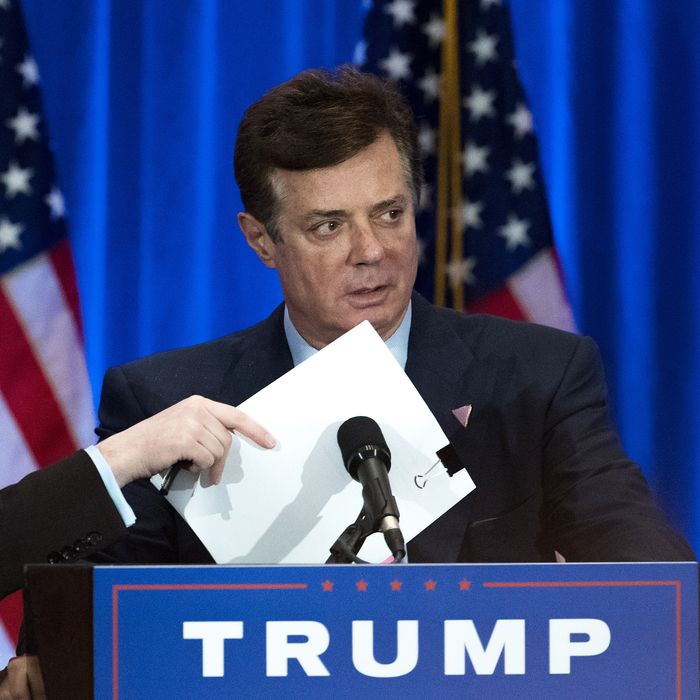 Paul Manafort is no longer driving the Trump train.
Photo: Drew Angerer/2016 Getty Images
Good morning and welcome to Fresh Intelligence, our roundup of the stories, ideas, and memes you'll be talking about today. In this special summer (read: shorter) edition, Paul Manafort is demoted, Gawker gets sold, and Trump doesn't know who he's talking to. Here's the rundown for Wednesday, August 17.
FRONT PAGE
Trump to America: Buckle In
We're about to find out if Trump's campaign can get any more … uh, unconventional. The Wall Street Journal reported early on Wednesday morning that Trump has hired Stephen Bannon, the executive chair of Breitbart News, as the campaign's chief executive, and Kellyanne Conway, who served as Mike Pence's senior adviser and pollster, as campaign manager. Campaign chair Paul Manafort — who only got the job when Corey Lewandowski was fired in June — will stay in that role, but this is a serious demotion.
EARLY AND OFTEN
Congress Has Classified Clinton Documents, Doesn't Know What to Do With Them
The FBI gave Congress the records from its investigation of Hillary Clinton's private email server on Tuesday, including a summary of the Democratic nominee's three-and-a-half-hour interview at FBI headquarters. The FBI has already warned lawmakers against leaking the files, as they contain "classified and other sensitive information," so top Republicans are urging the agency to make some of the files public. [Politico]

Trump to Act Like Normal Presidential Candidate
A campaign adviser says Trump will begin airing TV ads in Florida, Ohio, North Carolina, and Pennsylvania on Friday. This would usually not be news for a presidential candidate, but these will be the first ads he's run during the general election. [WSJ]
THE STREET, THE VALLEY
Ford Reveals Date of Robot Apocalypse
Many companies say driverless cars are the way of the future, but Ford is actually giving us a timeline. The company announced on Tuesday that it plans to mass produce the vehicles and have them operating as part of a ride-hailing service by 2021. [NYT]
MEDIA BUBBLE
Not the Onion: Gawker Sold to Univision
Gawker Media, which was driven into bankruptcy by a Peter Thiel–backed lawsuit from Hulk Hogan, was acquired yesterday by Univision for $135 million. Univision's non-Spanish-language properties include Fusion, the Onion, and the Root, and it's unclear how Gawker's blogs will fit in.

PHOTO OP
Trump's Message Not Exactly Tailored to Black Audience
The GOP nominee made an appeal to black voters on Tuesday night, saying, "We reject the bigotry of Hillary Clinton which panders to and talks down to communities of color and sees them only as votes — that's all they care about — not as individual human beings worthy of a better future." He discussed last weekend's protests in Milwaukee, but the rally was held 40 miles northwest in a town that's only one percent African American.

MORNING MEME
Zac Efron Represents USA in Rio
If we can't all give gymnast Simone Biles a kiss on the cheek, it seems fitting to send a former Disney star with ridiculous abs in our stead.
OTHER LOCAL NEWS
Woman Turned in by Her Own Cell Phone
Police arrested a woman in Washington state after she "butt dialed" 911 and was heard discussing "scratch tickets and illegal activities." She allegedly gave police a fake name and was booked for an outstanding warrant for trafficking in stolen property. [UPI]
HAPPENING TODAY
Rio Watch: Day 12
Today the U.S. men's basketball team faces off against Argentina; American Tori Bowie is set for a showdown with Dafne Schippers of the Netherlands in the 200 meters; and in wrestling, Kaori Icho will attempt to become the first woman to win an individual gold in four consecutive Olympics [AP]