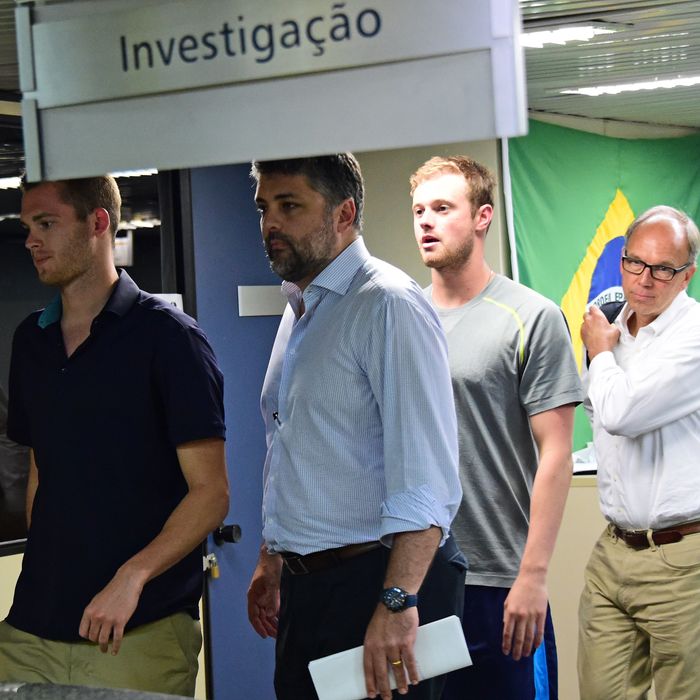 Gunnar Bentz and Jack Conger leave the airport police station in Rio.
Photo: TASSO MARCELO/AFP/Getty Images
Good morning and welcome to Fresh Intelligence, our roundup of the stories, ideas, and memes you'll be talking about today. In this special summer (read: shorter) edition, U.S. swimmers are stuck in Rio, Aetna gets tough, and NPR shuts down its commenters. Here's the rundown for Thursday, August 18.
WEATHER
The forecast is rainy in much of the country, with showers expected in the northern Plains States and throughout the South. In New York, expect showers in the morning and a high of 84. [Weather.com]

FRONT PAGE
Mugging of U.S. Swimmers Now an International Incident
What started out as a weird story relayed by Ryan Lochte's mom led to two U.S. swimmers being pulled off their plane home on Wednesday. Lochte, Jimmy Feigen, Jack Conger, and Gunnar Bentz say they were mugged at gunpoint following a night of partying in Rio on Sunday. After discrepancies emerged in their story, a Brazilian judge ordered authorities to seize Lochte and Feigen's passports. Lochte was already home in the U.S. and Feigen's whereabouts were unknown, but later that night, Conger and Bentz were taken off their flight. According to the U.S. Olympic Committee, "They were released by local authorities with the understanding that they would continue their discussions about the incident on Thursday."

EARLY AND OFTEN
Trump Makes Classified Briefings Even More Awkward
When asked if he trusts the American intelligence community on Tuesday night, a day before his first classified briefing, Donald Trump said, "Not so much from the people that have been doing it for our country. I mean, look what's happened over the last ten years. Look what's happened over the years. It's been catastrophic … You look at Iraq. You look at the Middle East. It's a total powder keg." It sounds like the feeling is mutual.

Romney Gives Little Marco a Hand, and Some Cash
Marco Rubio was one of several candidates Mitt Romney backed in an effort to nominate any Republican who was not Trump, and now he's trying to mitigate the damage caused by the Donald down-ballot. Yesterday, he made a call to about 20 potential donors to Rubio's Florida reelection bid, telling them, "It's important that regardless of what happens on the presidential level, that we have Senator Rubio able to be successful and win in Florida so we can maintain our majority in the Senate." [CNN]

THE STREET, THE VALLEY
Aetna Has Been Watching Too Many Mob Movies
A day after Aetna announced that it's pulling out of the Obamacare marketplaces in all but four states, a letter emerged in which Aetna CEO Mark Bertolini tells the Department of Justice that if it tries to block the health-insurance company's merger with Humana, "we will immediately take action to reduce our 2017 exchange footprint." The DOJ is trying to block the merger anyway, and whether this is a failed threat or an honest assessment of the company's financial concerns is up for debate.

Target Becomes Best Place to Use the Bathroom
Here's the silver lining to the protests against Target's policy of letting transgender people use whichever bathroom corresponds with their gender identity. The company is spending $20 million to add single occupancy restrooms to all of its stores, which customers of all gender identities can make use of. Transgender customers can still use whatever bathroom they're most comfortable using. [WSJ]

MEDIA BUBBLE
Nick Denton Will Not Accompany Gawker to Univision
Gawker Media and founder Nick Denton will be parting ways, assuming a judge approves Univision's bid to buy the company. At an all-staff meeting on Wednesday, Denton told employees that he plans to leave after the sale is completed. Gawker.com's fate is uncertain, but if the site is shut down, its employees are expected to be offered jobs elsewhere in the Fusion Media Group. [Politico]

Angry Letters Are Set to Make a Comeback
National Public Radio announced yesterday that despite its name, its website will be closed to comments from the public as of August 23. Scott Montgomery, managing editor for digital news, said they value audience engagement, but far more people are interacting with the brand on Twitter. "This is where people want to engage with us. So that's what we're going to emphasize," he said. [NPR]
PHOTO OP
Heartbreaking
A photo of five-year-old Omran Daqneesh was shared thousands of times on Wednesday. He was injured in a strike conducted by the Russians or the Assad regime in Aleppo, where fighting has intensified in recent weeks. [The Telegraph]

MORNING MEME
The Trump Campaign, in 25 Seconds
During a CNN interview, Trump attorney Michael Cohen was informed that his boss is losing the election. "Who says?" he demanded. "Polls. Most of them. All of them," said Brianna Keilar. "Who says?" Cohen asked again. Check those poll numbers again, because we're pretty sure facts were just bullied into submission.

OTHER LOCAL NEWS
Hello … Newman
A Florida pizzeria's security camera confirmed all of our mail-related conspiracy theories when it captured a postal carrier emptying a crate of hundreds of pieces of mail into a Dumpster. The footage has been turned over to investigators and the U.S. Postal Service says all of the mail recovered from the trash will be delivered. Gross. [UPI]

HAPPENING TODAY
Rio Watch Day 13
The U.S. Woman's Basketball Team will face France in the semifinal without star guard Sue Bird, who has a sprained knee. The U.S. Women's Volleyball Team will play Serbia in the semifinal. Usain Bolt will likely pick up an eighth gold medal in the 200 meters, and will try to break his world record of 19.19 seconds. [AP]