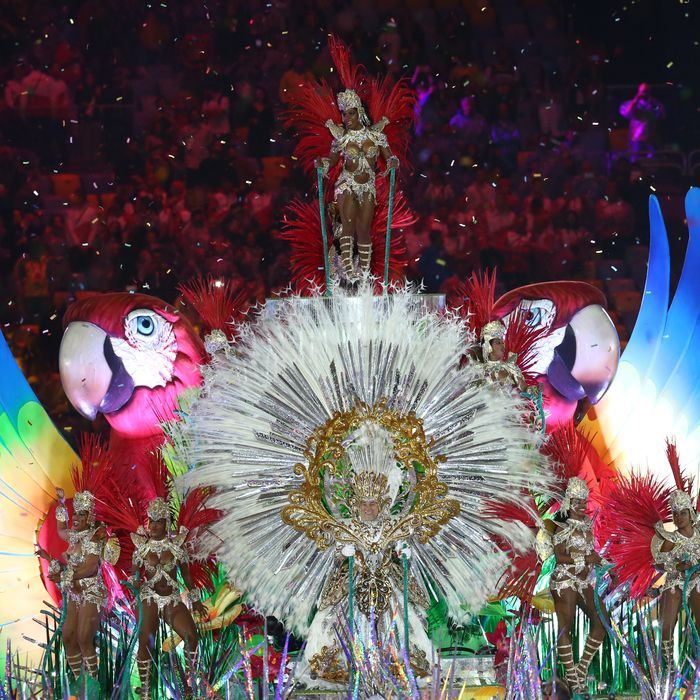 A carnival float at the closing ceremony.
Photo: Stanislav Krasilnikov/Stanislav Krasilnikov/TASS via Getty Images
Good morning and welcome to Fresh Intelligence, our roundup of the stories, ideas, and memes you'll be talking about today. In this special summer (read: shorter) edition, the Olympics comes to a colorful close, Trump rethinks immigration, and Sean Hannity reminds the world that he is not a journalist. Here's the rundown for Monday, August 22.
WEATHER
Rain and flooding will continue in Texas, while in the Northeast, a cool front should reduce the heat in the region. Today will be a beautiful day in New York City with sunny, clear skies and temperatures in the low 80s. [Weather.com]
FRONT PAGE
Brazil Reminds World Why We'll Miss the Rio Olympics
Befitting its host city, the Olympics ended last night with a closing ceremony full of color, music, and a heaping dose of Tropicália. The ceremony was right out of Carnival, with troupes of samba dancers and even a giant macaw float. Less than ideal weather conditions — read: driving torrential rains — couldn't dampen the spirits inside the Maracanã Stadium where athletes and performers all danced and partied in tribute to what was, all things considered, a successful Olympic games and a historic first for South America. Then it was all over, with Rio passing the Olympic flag and all the headaches it entails on to Tokyo, whose prime minister made his appearance dressed as Mario (yes, really). [Reuters]
EARLY AND OFTEN
Trump Rethinks His Signature Policy Stance
Signs out of the Trump campaign seem to point to a coming softening on immigration. Donald Trump has defined himself and his presidential run on his hard-line stance against immigration — i.e. threats to deport 11 million people and ban Muslims from entering the country. Yesterday, Trump's new campaign manager, Kellyanne Conway, said that Donald was reviewing the whole mass-deportation thing, and reassured everyone that Trump would be "fair and humane to those who live among us in this country." [Reuters]
That Kooky Commenter May Be the Former Mayor of NYC
Never one to shy away from a good conspiracy theory, Rudy Giuliani has jumped on the bandwagon of right-wing talking heads who claim that Hillary Clinton is suffering from some unnamed disease that will make it impossible for her to execute her duties as president, and which she is keeping hidden from the American people. Speaking on Fox News yesterday, he said that the press has failed "to point out several signs of illness." Teaching us journalists a thing or two, he explained: "All you gotta do is go online." [Politico]
THE STREET, THE VALLEY
A Large Pill to Swallow
Pfizer's bid to buy biotech company Medivation will be successful. The details of what is expected to be a $14 billion all-cash deal will be officially announced as early as today. Medivation is a major manufacturer of cancer drugs, pulling in $2 billion a year with its sales of prostate-cancer drug Xtandi. [WSJ]
The Other Shoe Falls on Philippe Dauman
As anticipated, the fallout from Sumner Redstone's power consolidation at Viacom has arrived. Chief executive Philippe Dauman is out and will be immediately replaced by his close collaborator chief operating officer Thomas Dooley. Dauman will stay at Viacom as a non-executive chair through September 13, and should walk away with $72 million. [Reuters]
MEDIA BUBBLE
Sean Hannity Embraces Role As Trump Mouthpiece
Fox News figure Sean Hannity has confirmed that he has become something of an unofficial advisor to Donald Trump. When pressed about whether supporting a presidential candidate as a political-news commentator was ethically dubious, Hannity said, "I never claimed to be a journalist." [NYT]
PHOTO OP
Olympians Show Skin in Rio
A boo would have sufficed.

MORNING MEME
Japan Takes Gold in Closing Ceremonies
The world may seem like a scary place sometimes, but no other time in history could have seen the prime minister of Japan, Shinzō Abe, emerge from a green sewer pipe dressed like Mario. So, be grateful for that at least.
OTHER LOCAL NEWS
Mrs. Doubtfire: Vice
For everyone out there who has to ruin Mission: Impossible by saying how unrealistic it is, just look at this. Shaun "Shizz" Miller, a South Yarmouth, Massachusetts, drug fugitive, nearly evaded capture by wearing this latex mask of an octogenarian man. We know it doesn't sound like much, but look at the picture. [WaPo]
HAPPENING TODAY
Kerry Goes to Kenya
John Kerry is in Kenya today to meet with Kenyan president Uhuru Kenyatta. According to the State Department, the two will discuss the ongoing battle against extremism in Somalia, as well as the ever-worsening situation in South Sudan. [NYT]