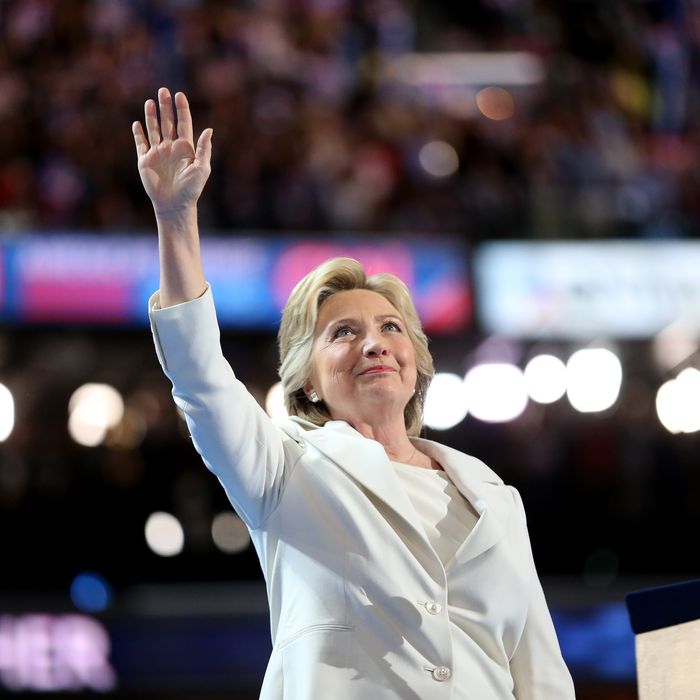 "Oh hey, Russia, I know you're watching."
Photo: Daniel Acker/Bloomberg/Getty Images
Good morning and welcome to Fresh Intelligence, our roundup of the stories, ideas, and memes you'll be talking about today. In this edition, Russia hacks all of the Democrats, Trump uncovers highly placed ISIS sleeper agents, and Twitter is let off the hook. Here's the rundown for Thursday, August 11.
WEATHER
Today will be another stormy day for the Gulf Coast, Southwest, Plains States, and the Great Lakes. The West Coast should, for the most part, remain dry. New York City will also see its share of thunderstorms today, with temperatures peaking around 90. [USA Today]
FRONT PAGE
If Hacking Were an Olympic Sport, Russia Might Win Some Medals
The New York Times is reporting that the Russian hack on the Democratic Party was much larger than anyone realized. Russian hackers had already been implicated in the hacks against the Democratic National Committee and the Democratic Congressional Campaign Committee, but now it looks like they also hit the private email accounts of more than 100 Democratic groups and party officials. The FBI is investigating the cyberattack, and they're pretty sure the Russian government was behind it. So far, it appears that only Democrats were hacked, and that, taken with WikiLeaks founder Julian Assange's assurances that there are more damning emails about Clinton forthcoming, has put the whole party on a nervous footing.
EARLY AND OFTEN
Apparently Trump Finds Abu Musab al-Zarqawi Difficult to Pronounce
Speaking at a rally in Fort Lauderdale, Florida, Donald Trump said that President Barack Obama was the founder of ISIS. "ISIS is honoring President Obama. He's the founder of ISIS. He founded ISIS," he said, "I would say the co-founder would be 'Crooked' Hillary Clinton." Honestly, the most shocking thing about his statement is that it shows how hard it has become for Donald Trump to shock us. Just a recap: Yesterday Donald Trump seemingly encouraged his followers to assassinate his political opponent, and today he claimed that that same opponent and a sitting president founded an international terror organization. That's where we are. [The Hill]
Stories of Trump Secret Service Meetings Exaggerated
Reports on CNN that the Secret Service met with Donald Trump over his thinly veiled exhortation to his followers to shoot Hillary Clinton now appear unfounded. While Clinton did push back against the comments in a speech yesterday, a government official confirmed that the Secret Service did not have an official conversation with him. [Reuters]
Don't Call It a Comeback: Voter ID Stands in Wisconsin
It looks like Wisconsin's controversial voter-ID law will stand in the lead-up to the election in November. A district-court judge had struck the law down, saying that anyone could vote even if they didn't have a legal photo ID as long as they signed an affidavit showing that they experienced a "reasonable impediment" in getting one. Yesterday a panel of three judges — all Republican appointees — at the 7th Circuit Court of Appeals put a stay on his ruling, saying that it was too lenient. [Politico]
Seems Pretty Clear to Us …
The United States is "seeking clarification" after Philippines president Rodrigo Duterte described American ambassador Philip Goldberg using a homophobic slur in Tagalog which translates to "gay son of a whore." Duterte has been upset with Goldberg ever since Goldberg took issue with Duterte's saying he wished he could have raped an Australian missionary who was raped and murdered during a prison riot — in a town where Duterte was mayor — in 1989. For a moment there, American political discourse didn't seem so bad. [Metro]
THE STREET, THE VALLEY
At Least We Did Our Part
Shake Shack — the New York–based chain that serves burgers that make you feel almost exactly like you're falling in love when you eat them — had a rough day yesterday. Shares in the company fell sharply after it announced an earnings slowdown more extreme than analysts had anticipated. [Reuters]
We Just Assumed Valeant Was Under Criminal Investigation This Whole Time
The Wall Street Journal reported yesterday that scandal-bedeviled pharmaceutical company Valeant is under criminal investigations from federal prosecutors for defrauding insurers by failing to disclose its ties to a mail-order pharmacy which the company used to push up sales of its drugs. [Reuters]
Judge Rules Twitter Not Responsible for ISIS, No Word on Obama
Recently a series of highly publicized lawsuits were filed against Twitter by families of people killed by ISIS, claiming that the company was responsible because they allowed terrorists to use its platform to spread hate. Yesterday, a federal judge threw out one of those suits, saying that Twitter could not be held responsible for "content created by third parties" — but he did allow the plaintiffs to file an amended lawsuit. [CNet]
Google Ventures CEO Steps Down
Bill Maris, who founded Google Ventures and acted as its CEO, is stepping down from the company and will be replaced by David Krane, a managing partner. Maris will be the third executive to step down from a position at Google's non-search-engine companies in the last few months. [Recode]
MEDIA BUBBLE
ESPN Host John Saunders Dead at 61
Ubiquitous ESPN host John Saunders has died. Saunders, 61, was a familiar face around the network, well-known for his coverage of college basketball, the NBA, football, and the NHL. Sanders joined ESPN in 1986. The details surrounding his death are still unclear. [ESPN]
CBS President "Mindful" of Network's Diversity Problem, Green-Lights Five Shows About White Guys
CBS president Glenn Geller faced a barrage of uncomfortable questions about his network's lack of diversity during the Television Critics Association's summer press tour. CBS will air five new shows this season starring white men. "We need to do better, and we know it … that is our commitment to diversity. Those aren't just words. That is real action," Geller said, referring apparently to his words. [AdWeek]
Village Voice Editor Steps Down, Again
Will Bourne is stepping down as editor-in-chief of The Village Voice ahead of the paper's revamp next year. Bourne had been in his position for less than a year, though he also acted as editor-in-chief in 2013 before leaving his post over tension with management. See you in a few years, Will; third time's the charm. [Poynter]
PHOTO OP
The Best on Earth
Just a reminder that countries other than America compete in the Olympics. This is Kōhei Uchimura from Japan, considered the best male gymnast in the world. You really should check out his show-stopping routines from last night.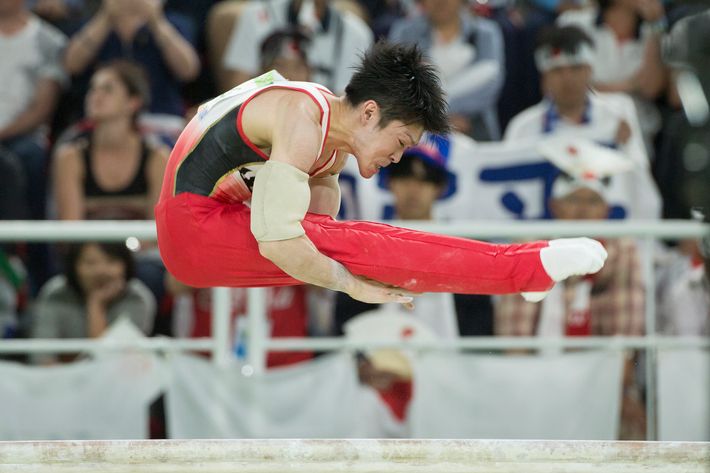 MORNING MEME
Hernandez Wink Wins GIF Gold
What is it that the young people say? Slay?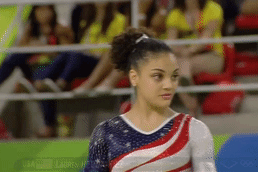 OTHER LOCAL NEWS
Good News for Lovers of Terrifying Nautical Mysteries
Officials are — to put it lightly — concerned after an unmanned boat washed up against a pier in Warwick, Rhode Island, and was discovered to be full of blood and broken glass. Well, maybe not full, but when you're talking ghost-boats even a little bit of blood and broken glass is too much. [Providence Journal]
So There Are Punishments Worse Than Death
A Sebastian, Florida, man has been forbidden from ordering delivery pizza by a local court. Before you start writing in letters complaining of cruel and unusual treatment, like we were about to, keep in mind that the man's crime was routinely calling and harassing pizza places. Pizza delivery, as we always say, is a privilege and not a right. [TCPalm]
HAPPENING TODAY
Rio Watch: Day 6
The highlight of the day will come at 4 p.m. when Simone Biles — the best gymnast in the history of the world — competes in the women's individual all around. Most of the big names in American swimming will also be making appearances: Phelps will again race alongside buddy/rival Ryan Lochte, and force of nature Katie Ledecky will inevitably qualify for the 800m freestyle. [ABC]
Chicken Little Nightmare Come to Life
Tonight will be the peak of what should be an especially active — read: trippy — Perseids, the annual meteor shower. Between 160 and 200 meteors are expected to streak across the sky every hour, twice the average. If you live in a place with too many clouds or city lights, you can check out the NASA livestream here. [NYT]

And Speaking of Staying Up All Night Staring at Awesome Stuff …
Pot smokers all over the country are waiting with baited breath for an announcement from the DEA in response to a congressional petition calling on the organization to take marijuana out of schedule 1 — substances that are addictive and have no medical value. With the pot industry booming, and marijuana becoming varying degrees of legal in multiple states, a change in schedule could potentially be worth a lot of money. [Market Watch]