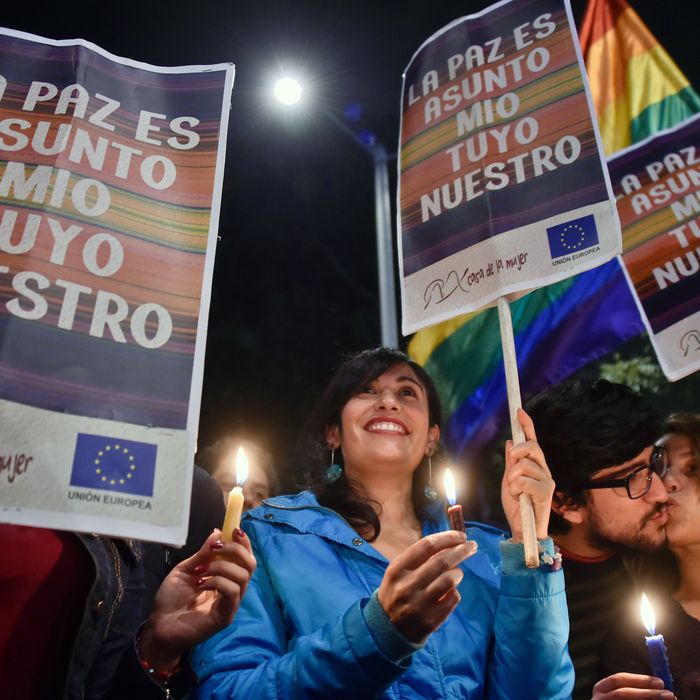 Colombians hold signs reading, "Peace is my, your, our business," and celebrate in Bogotá at the conclusion of the peace talks between the government and FARC on August 24, 2016.
Photo: Guillermo Legaria/AFP/Getty Images
Good morning and welcome to Fresh Intelligence, our roundup of the stories, ideas, and memes you'll be talking about today. In this edition, Colombians make a deal, the mob may not know best, and Mr. Brexit goes to Washington. Here's the rundown for Thursday, August 25.
WEATHER
Expect scattered showers in the Plains states and creeping into New England. New York will see a mix of clouds and sunshine with a high of 87. [Weather.com]

FRONT PAGE
Peace in Colombia
After four years of negotiations, on Wednesday, the Colombian government and the FARC rebel group announced that they have reached an agreement, putting an end to 52 years of fighting. The deal, which must still be approved by voters, would allow FARC representatives to take limited positions in Congress. Top officials could also avoid prison if they participate in a truth-and-reconciliation process. "We have finished fighting with weapons and will now do battle with ideas," said FARC's chief negotiator, Iván Márquez. [WaPo]
EARLY AND OFTEN
Unruly Mob Fails to Solve Complex Issue of Immigration Reform
After offering vague hints about his new immigration policy, Trump suggested at a Fox News town hall that he's still working on it. Trump polled the crowd eight times on whether he should deport undocumented immigrants who are otherwise law abiding, saying, "Can we go through a process or do you think they have to get out? Tell me, I mean, I don't know, you tell me."
You Want the Tax Returns? You Can't Handle the Tax Returns!
As Republican congressman Jason Chaffetz joined the list of officials calling for Donald Trump to release his tax returns, Eric Trump said he believes complying with the campaign convention would "be foolish." "You would have a bunch of people who know nothing about taxes trying to look through and trying to come up with assumptions on things they know nothing about," he told CNBC.
Actual Mr. Brexit Stumps for Self-Proclaimed Mr. Brexit
Nigel Farage, the former U.K. Independence Party leader, appeared at a Trump rally in Mississippi to share his tale of how a nationalist movement can succeed, even when all the polls say otherwise. "Anything is possible if enough decent people are prepared to stand up against the Establishment," he said.

THE STREET, THE VALLEY
Uber Helps Drivers Plan for Day They're Replaced by Robots
While Uber is still engaged in a legal battle over whether it should have to treat drivers as employees, it's doing something that sounds sort of like what companies offer people who work for them. The ride-hailing company is offering drivers retirement plans through Betterment. Drivers in Seattle, Boston, Chicago, and New Jersey can set up IRAs through the Uber app, and there are plans to eventually expand the program nationwide. [TechCrunch]

Don't Delete That Pandora App Just Yet
In an effort to compete with newer, cooler music services like Spotify, Apple Music, and Tidal, Pandora has hired Questlove as its strategic adviser and artist ambassador. Questlove will also host a weekly three-hour radio program called Questlove Supreme, starting September 7.
PHOTO OP
Great News for the Astronaut in Your Life
Apple previously requested male and female versions of five professional emoji: an artist, a firefighter, a pilot, an astronaut, and a judge. Today, we got our first look at the emoji, and Unicode said they will be included in the next update. [Mashable]


MORNING MEME
Trump to Clinton: "I Know You Are, But What Am I?"
The next time Trump decides to yell something like "Hillary Clinton is a bigot!" he should give the person standing behind him a heads up.

OTHER LOCAL NEWS
'Gotta Catch 'Em All' Not Adequate Police Training
Two officers from a suburban Denver police department were removed from field-training duties after their bosses discovered that they were just taking recruits on Pokémon Go expeditions. The Justice Department is reviewing the Commerce City Police Department following a number of misconduct investigations, and apparently the Feds do not consider loose Drowzees a serious threat to the community. [Denver Post]

HAPPENING TODAY
Make Ken Burns Proud, Without Knowing Obscure Facts About Baseball
Admission will be free at all national parks from Thursday to Sunday to celebrate the 100th anniversary of the National Park Service. Take the time to enjoy the great outdoors before we're all complaining about it being too cold. [Time]