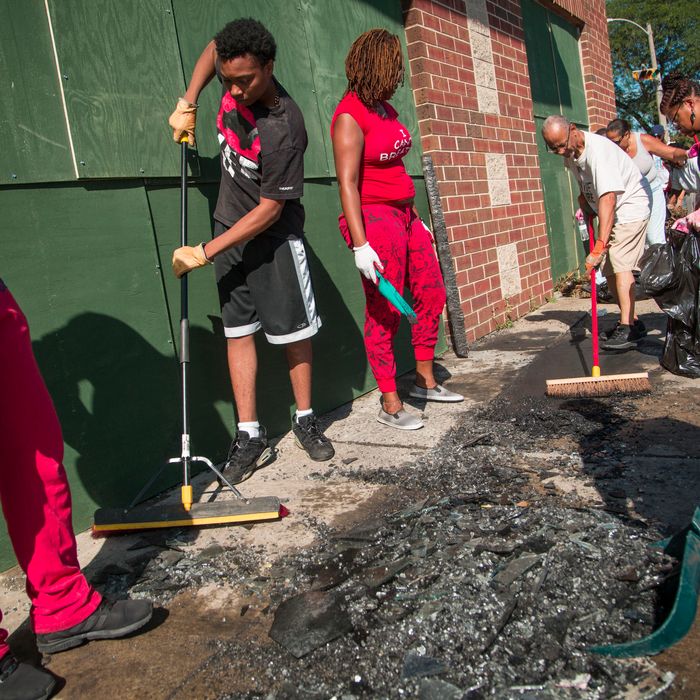 Milwaukee comes together, tries to heal.
Photo: Darren Hauck/2016 Getty Images
Good morning and welcome to Fresh Intelligence, our roundup of the stories, ideas, and memes you'll be talking about today. In this edition, Milwaukee residents call for peace, Hezbollah wants to make America great again, and Usain Bolt is actually pretty fast. Here's the rundown for Monday, August 15.

WEATHER
At least four people are dead as "historic" flooding along the Gulf Coast continues. The federal government has called the situation in Louisiana a "major disaster." Heavy rains have also made areas in the Northeast prone to flooding from the Ohio Valley, to the Ozarks, and southern Great Lakes. New York City today will be hot and gray with temperatures in the low 90s.
[weather.com]

FRONT PAGE
Protests Continue in Milwaukee
After Wisconsin governor Scott Walker activated the National Guard in Milwaukee yesterday, activists and residents gathered to call for an end to the violence that has gripped the city over the weekend. Nevertheless, one person was shot and two officers were injured on Sunday night. Protests erupted after police fatally shot an armed man, Sylville Smith, as he tried to escape on Saturday. Family and friends of Smith held a candlelight vigil near where he was shot on Sunday. Smith's sister, Sherelle Smith, burst into tears as she begged for people not to "bring that violence here."

EARLY AND OFTEN
No, The RNC Is Not Cutting Trump's Funding
Reports that the Republican National Committee was mulling cutting off funding for Donald Trump if he didn't rein in his behavior appear to be unfounded. Republican strategist Sean Spicer confirmed to the Hill that there have been no discussions about the RNC not supporting Trump. In a tweet, Spicer called Politico's reporting to the contrary "sensational faux reporting." [The Hill]
Speaking of Funding
The New York Times reports that Trump campaign manager Paul Manafort's name shows up 22 times in a secret ledger keeping track of undisclosed cash payments from Ukrainian president Viktor Yanukovych's pro-Russia political party between 2007 and 2012. Manafort's work for the former president — who fled to Russia following his ouster — was previously reported, but the world was not aware that he was paid $12.7 million (if the ledger is correct).

Trump Snags Coveted Hezbollah Endorsement
Donald Trump can add another name to the list of international power players who have spoken out in favor of his presidency: Hassan Nasrallah, the leader of Hezbollah in Lebanon. In addition to the leadership of the terrorist organization, that list also includes Russian president Vladimir Putin and North Korean supreme leader Kim Jong-un. Nasrallah was especially pleased with Trump's outing of Barack Obama and Hillary Clinton as the founders of ISIS. Revealing himself to be somebody who might not follow the news too closely, Nasrallah said: "This American candidate, who speaks in the name of the American Republican Party, has facts." [Bloomberg]
Is "Disgusting and Corrupt" the New "Fair and Balanced"?
Donald Trump escalated his feud with the media over the weekend. On TV, in tweets, and in speeches at rallies, Trump said that if it had not been for what he perceives as biased coverage from the "disgusting and corrupt media" of his campaign he would "be beating Hillary by 20 percent." Trump is especially frustrated with recent stories in the New York Times that say his campaign is falling apart. According to a whole series of polls, Clinton is leading Trump in Colorado, Virginia, Florida, and even Georgia. Who said the influence of American newspapers was in decline? [WSJ]
Trump Opponent Boldly Sinks to His Level
It looks like calling people the founder of ISIS is going to be something of a theme for this election. This time, speaking on Fox News, Democratic senator Claire McCaskill said that Trump and "his friend Putin" were the founders of ISIS — which is not true. McCaskill said that because Putin supports embattled Syrian president Bashar al-Assad and Trump — sort of — supports Putin, that means he is responsible for ISIS or something. [Politico]
THE STREET, THE VALLEY
Just As You Always Suspected, You Probably Will Never Get Google Fiber
Alphabet's super-high-speed internet company Google Fiber is changing its thinking. Instead of physically installing fiber wiring in cities, which costs millions, the company is exploring wireless options which in the short-term means promised fiber roll-outs in San Jose, California, and Portland, Oregon, won't be happening. Today Google Fiber is available in six metro areas, and none of the ones you live in. [WSJ]
Conservative Activist Phyllis Schlafly Will Continue to Be Mistaken for a Beer
The U.S. Patent and Trademark Office has ruled that conservative activist Phyllis Schlafy and her son, orthopedic surgeon Bruce Schlafly, cannot block St. Louis Brewery from trademarking Schlafly beer. This whole name thing is more than a coincidence; the brewery's founder, Tom Schlafly, is actually Phyllis Schlafy's nephew by marriage. It looks like Christmas at her house will continue to be the worst. [AP]
MEDIA BUBBLE
Live-Tweeting Bachelor in Paradise About to Get Much Easier
Twitter is reportedly in talks with Apple to launch its app on Apple TV, the natural next step for the company which has been aggressively expanding into livestreaming, and recently inked an especially lucrative streaming deal with the NFL that will allow it to stream major Thursday night football games. [NYT]
Fox News Avoids Awkward Conversation Like It Was Your Parents or Something
According to a story yesterday in the Washington Post, Fox News has only dedicated 11 minutes of air time to the sexual-harassment lawsuits that saw the ouster of its CEO Roger Ailes in the five weeks since Gretchen Carlson first filed suit. The suit has exposed Ailes as allegedly sexually harassing multiple women, and using Fox funds to hire spies and pursue creepy vendettas against his enemies and competing journalists. Fox News managed to go two-and-a-half weeks without mentioning it. [WashPo]
PHOTO OP
Surprising No One, Usain Bolt Wins Gold
Human Red Bull commercial and world's fastest man Usain Bolt became the only person in history to win gold in the 100 meters three times at three consecutive Olympics. Bolt has a massive international following and crowds go wild for him wherever he runs.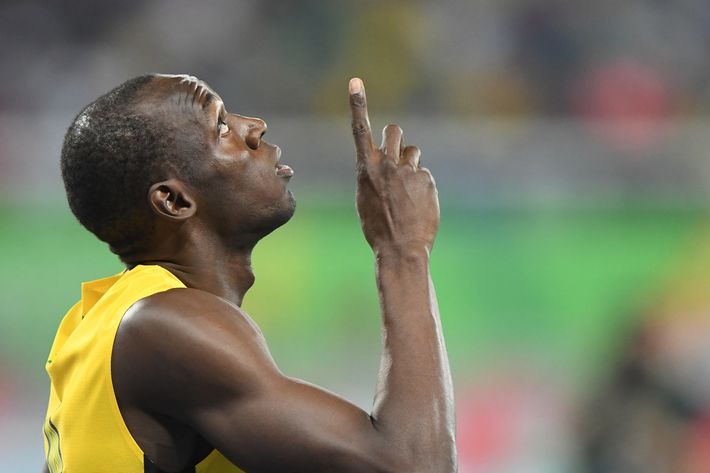 MORNING MEME
Our Favorite Olympics Meme Is Not an Olympics Meme at All
Please enjoy this baby getting pumped up by the training montage in Rocky.

OTHER LOCAL NEWS
Nebraska, Maybe You Aren't As Boring As We Thought
Police briefly had to call for backup after a bikini boxing event got out of hand. When the over-exuberant, bathing-suited pugilism enthusiasts were asked to leave, many "stood their ground" and refused to budge. Finally, it took deputies from two counties and the state police to calm the crowd and clear out the event. There were no injuries. [WOWT]
HAPPENING TODAY
Clinton Reveals Likeability Secret Weapon
Joe Biden, the man all of America likes for some reason, will take the stage with Hillary Clinton for the first time in her campaign. He will be speaking with the presidential hopeful in Scranton, Pennsylvania. A white guy with no filter may be just what the Democrats need to sway voters who feel an affinity with the Donald. [WSJ]
Rio Watch: Day Ten
All eyes will be on track and field today as Allyson Felix tries for her fifth Olympic gold in the 400 meter. Football player Devon Allen will be competing in the Olympics for the first time when he runs the 110-meter hurdles. The rowdiest crowds should be at the beach-volleyball court where Team USA will try to take down Team Brazil, the defending world champions. Finally, Simone Biles will try for her fourth gold medal of this year's games when she competes in the balance-beam finals. [Seattle Times]
Have You Ever Wanted to Own a Digital-Media Company?
The final bids for Gawker, the media company laid low by an aging professional wrestler and a touchy tech billionaire, must be in by 5 p.m. today.