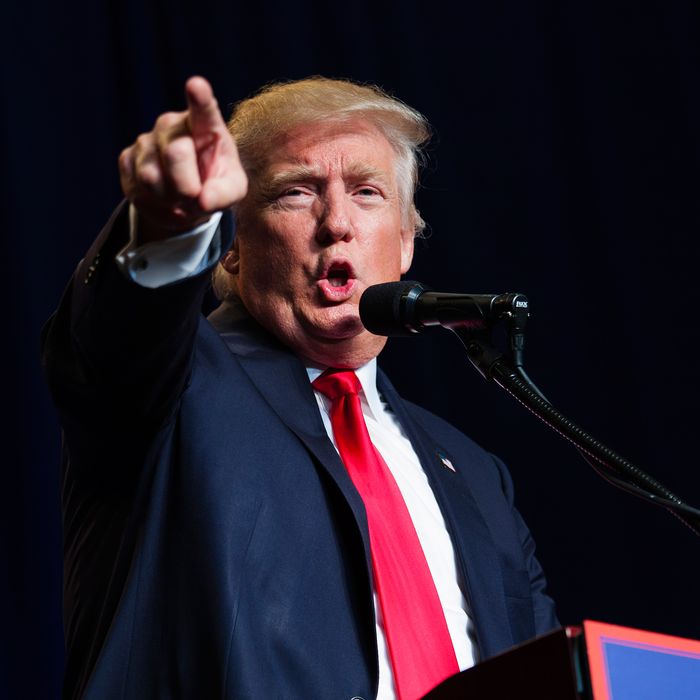 He's turning it up, not toning it down.
Photo: Darren Hauck/Getty Images
Good morning and welcome to Fresh Intelligence, our roundup of the stories, ideas, and memes you'll be talking about today. In this edition, Trump toys with assassination, Ryan can go back to being sad-happy, and Facebook is onto you. Here's the rundown for Wednesday, August 10.
WEATHER
Today will be gray and wet for much of the country with storms expected in the Southwest — hey, Tropical Storm Javier! — the Plains States, and the Gulf Coast. New York City's good weather streak will also come to an end today with thunderstorms expected from morning into the night. [USA Today]
FRONT PAGE
Trump Suggests Gun Owners Might Assassinate Hillary Clinton
Tiring of treason, Donald Trump has decided to give sedition a try. In a "joking" aside during a rally in North Carolina, the GOP presidential nominee appeared to suggest that if his rival were elected, gun owners should kill her. "If she gets to pick her judges, nothing you can do, folks," he said, "although the Second Amendment people — maybe there is, I don't know." Unsurprisingly, even after a massive backlash, Trump did not apologize, and insisted that he was merely talking about mobilizing Second Amendment supporters on Election Day. "There can be no other interpretation," he said. [Politico]

EARLY AND OFTEN
Paul Ryan Overcomes Donald Trump's Best Efforts
Paul Ryan has won his primary against relative unknown Paul Nehlen; in fact, he trounced him. It's the outcome everyone pretty much expected — everyone except for Sarah Palin that is — and it wouldn't even be news except for the fact that Donald Trump withheld his endorsement of Ryan until the last minute and even praised his opponent.

Meanwhile, in Hillary Clinton's Emails
A raft of Hillary Clinton's emails released yesterday raises more uncomfortable questions about conflicts of interest when she was both secretary of State and a powerful figure in the Clinton Foundation. In one email, for example, a foundation executive endeavors to put a billionaire and potential donor in touch with the ambassador to Lebanon. In another, a foundation executive asks for a "favor" in finding a foundation associate work in the State Department. If Donald Trump hadn't dominated the airwaves by suggesting someone should kill her, these revelations might have been damaging to Clinton and her campaign. [NYT]
Turkish Military Officer Puts America in Awkward Position
A Turkish military officer who had been posted to the United States has asked America for asylum, as purges against the military in response to the recent coup continue. The officer is believed to be Turkish Navy rear admiral Mustafa Ugurlu, who had been working at NATO's Allied Command in Norfolk, Virginia, and who failed to report to his Turkish superiors when they called for his detention. He is the first Turkish officer to request asylum in the U.S. in the aftermath of the coup. [Reuters]
Trump Baits Media, and Here We Are
Though Donald Trump has said that he wants "to debate very badly," the GOP nominee reiterated yesterday that before committing to any debates, he wants to "see the conditions." The Clinton campaign responded to Trump's wavering, accusing Trump of manipulating the media and engaging in "shenanigans." [Politico]
THE STREET, THE VALLEY
BlackRock Makes a Dangerous Enemy: Gay Activists
A new group formed in the aftermath of the Orlando shooting, Gays Against Guns, has decided to go after the world's biggest asset manager, BlackRock, as the first target in its campaign to pressure companies to divest from gun makers. Has the NRA met its match? [Bloomberg]
Intel, Apple Need to Rewatch Terminator 2
It looks like this whole AI thing isn't going anywhere, no matter how much it scares us. Now both Apple and Intel have made significant AI-related acquisitions. Just after Apple announced it was buying Turi — a company specializing in AI based in Seattle — Intel announced that it would acquire Nervana Systems, which builds super-conductors to "exploit a popular AI technique called deep learning." Can we just skip ahead to the dystopia already? [WSJ]
PG&E Found Guilty of Safety Violations in California Explosion
A San Francisco jury has found Pacific Gas and Electric guilty of six safety violations relating to a massive explosion in Northern California six years go that killed eight people and destroyed 38 homes. Prosecutors had originally sought damages of $562 million, but it looks like they will get closer to $3 million. [Bloomberg]
MEDIA BUBBLE
Facebook in the Blocker-Blocking Business
Yesterday morning, Facebook announced that it will begin forcing users to see ads even if they have ad-blocking software. The company will begin making ads appear more like status updates so that it is impossible for the ad blockers to distinguish between the two. What if the ad blockers just accidentally block everything and everyone realizes how much happier they are? [USA Today]

Fox News Teaches CNN Anchor What a Honeypot Is
Putting aside his personal pride, CNN anchor Brian Stelter shared a story yesterday in which he confessed that he thinks a college dalliance he had with a "low level staffer" at Fox News might have been a sham. Stelter now believes that the network was using the woman to spy on him and report back to her fair and unbiased overlords. Stelter is almost certainly not the only one this has happened to, so if your Fox-affiliated lover keeps asking you what you really think of Sean Hannity, you might be being used.
Disney Buys Big Into Streaming
After a surprisingly profitable last quarter, Disney has decided to sink a chunk of its new earnings into streaming technology, buying a 33 percent stake in video-streaming industry leader BAMTech for $1 billion. Disney's first offer to cord-cutters will be a subscription-based video-streaming version of ESPN that won't show any sports that appear on ESPN's television channel. ESPN even televises lumberjack competitions, so what other sports are left? Soccer? [Reuters]
PHOTO OP
Rio Goes Green
With all the fuss made about the quality of the water in Rio's rivers and ocean, no one thought to pay any attention to the water in the pools. It's like that time we fell into the Chicago River on St. Patrick's Day. [CNN]
MORNING MEME
Meeting Your Heroes Isn't Always Horrible
Thank God we only get this emotional every two years.
OTHER LOCAL NEWS
Couple Really Does Not Know How to Share the Great Outdoors
Minneapolis parkgoers got quite the surprise when a man and a woman wielding a blowtorch interrupted their leisurely afternoon, threatening them and saying that they were going to "burn your faces off." The couple then proceeded to use the torch to remove a few hammocks from the trees and rob the onlookers before escaping with their loot: the charred hammocks, a Starbucks gift card, and some bug spray. [Star Tribune]
Local Bar Had It Coming
This is elegant. A Charles City, Iowa, bar by the name of "DeRailed" remains closed today after it was damaged when a passing train derailed. [UPI]
HAPPENING TODAY
Rio Watch: Day 5
Phelps and Lochte will be back in the pool today, trying to get to the semifinals for the men's 200-meter individual medleys. The U.S. basketball team will go up against Australia, and Americans Kerri Walsh Jennings and April Ross face the Swiss in beach volleyball. [WFSB]
Tina Heads to Tinsel Town
A fixture at the Humane Society in Pasadena, California, is moving out after 18 years. Tina the alligator — yes, she was named for Tina Turner — will begin her new life today in the alligator enclosure at the Los Angeles Zoo where she will join other notable gators like "Reggie the Alligator." Best of luck, Tina! [NYT]