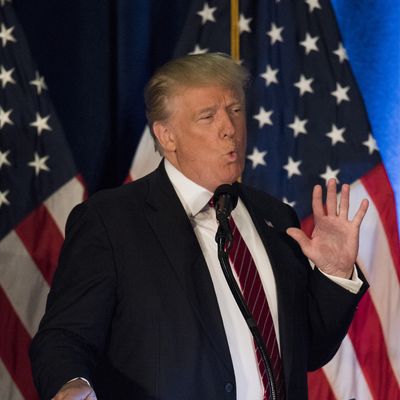 Isn't it ironic, don't you think?
Photo: Bloomberg/2016 Bloomberg Finance LP
Good morning and welcome to Fresh Intelligence, our roundup of the stories, ideas, and memes you'll be talking about today. In this special summer (read: shorter) edition, Trump may flunk out of the U.S., Aetna bails, and Biden takes his show on the road. Here's the rundown for Tuesday, August 16.
WEATHER
Thankfully flood-ravaged Louisiana is getting a break, but heavy rains still threaten to flood Texas, the mid–Mississippi Valley, the Great Lakes, and parts of the Northeast over the next few days. In New York, expect isolated thunderstorms and a high of 87 degrees on Tuesday. [Weather.com]

FRONT PAGE
Trump Proposes 'Ideological Test' He Would Probably Fail
Donald Trump has revised his plan for "extreme vetting" of immigrants seeking residency in the U.S., and now it's so strict that his only option may be self-deportation. Previously, he called for "a total and complete shutdown of Muslims entering the United States," but during a speech on Monday, he said his new "ideological-screening test," would keep out "those who do not believe in our Constitution, or who support bigotry and hatred." Advisers told the AP that the test would assess an applicant's "stances on issues like religious freedom, gender equality and gay rights." That's unconstitutional, so please refer to the first part of the test.

EARLY AND OFTEN
Pennsylvania Doesn't Boast the Best of the Democratic Party
Kathleen Kane, the first Democrat and first woman elected Pennsylvania attorney general, was convicted of all nine counts in a perjury and obstruction case. Jurors found her guilty of leaking secret grand-jury documents to the press in an effort to embarrass a political rival. The only silver lining for Democrats is the fact that this did not break during the convention in Philly last month.

Reince Priebus Sees Escape Hatch, Doesn't Use It
Though he arguably has one of the worst jobs in Washington (it's a toss-up between him and House Speaker Paul Ryan), Republican National Committee chair Reince Priebus is telling friends that he's seriously considering running for reelection. Priebus, the longest-serving RNC chair, has held the position since 2011, and absolutely nothing bad has happened to the Republican Party during his tenure. [Politico]

THE STREET, THE VALLEY
Aetna Makes Belated Case for Public Option
One of the nation's largest health-insurance companies is drastically scaling back its participation in Obamacare. Aetna currently sells plans on the Obamacare exchanges in 15 states, but it announced on Monday night that it is pulling out of all but four states in 2017. The company says it lost $200 million in the second quarter thanks to the ACA, and United and Humana have announced similar roll backs. [CNNMoney]

U.S. Wants Volkswagen to Hand Over a Few More Billion
After admitting to installing illegal technology to hide emissions in nearly 600,000 U.S. vehicles, Volkswagen agreed to pay a civil settlement of nearly $15 billion. However, the federal government isn't done with the German car maker. Justice Department prosecutors are reportedly negotiating a settlement that could lead to "significant financial penalties," and they're deciding whether that will come with a guilty plea to criminal charges, or a "deferred prosecution agreement" in which the charges will be dismissed as long as Volkswagen complies with the settlement. [WSJ]

MEDIA BUBBLE
File Under 'Be Careful What You Wish For'
Brian Williams, who once lobbied NBC executives to let him host The Tonight Show, is getting a half-hour show on MSNBC. He'll reportedly be wrapping up the day's campaign news at 11 p.m., starting on Labor Day. Williams was a frequent guest on late-night shows before he was removed from the NBC Nightly News anchor seat for exaggerating stories. [CNNMoney]

PHOTO OP
Plot Twist: Dog Falls Down a Well, Not Timmy
A St. Bernard named Mabel was rescued by fire and rescue officials after falling down a 30-foot dry well in Perryman, Maryland, on Sunday. Mabel appears to be fine — she was "seen running in circles" after being pulled from the hole — but she still earned herself a trip to the vet. [Facebook, CBS News]

MORNING MEME
Biden Tours With Clinton, Plays the Hits
During his first campaign stop with Hillary Clinton, the veep dropped his latest catchphrase, telling the crowd in Scranton, Pennsylvania, that Donald Trump's claims are "such a bunch of malarkey." He also took over Clinton's Instagram for the day, and somehow resisted the urge to share shots of his sweet 1981 Trans Am.
OTHER LOCAL NEWS
Man Gets in Car Accidents Without Leaving His House
Carlo Bernarte of Raleigh, North Carolina, is considering abandoning his home after it was hit by a car for the sixth time last weekend. The city has tried several solutions, but obviously they didn't work, and Bernarte is fed up with getting nervous "anytime I hear a commotion or the screeching of the tires." [ABC11]

HAPPENING TODAY
Rio Watch: Day 11
The U.S. women's basketball team continues its quest for a sixth consecutive gold medal when it faces off against Japan. Usain Bolt will be back on the track for his favorite event, the 200 meters, and Simone Biles will try to wrap up her already incredible run in Rio by earning a fourth gold medal in the floor exercise. [AP]