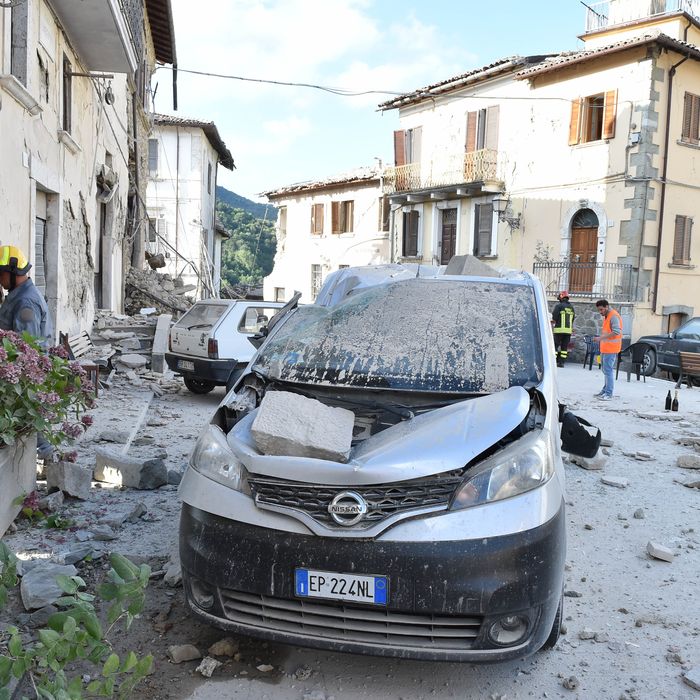 A car damaged by the earthquake in Arquata del Tronto, Italy.
Photo: Giuseppe Bellini/Getty Images
Good morning and welcome to Fresh Intelligence, our roundup of the stories, ideas, and memes you'll be talking about today. In this edition, a major earthquake hits central Italy, Donald Trump tries to appeal to minorities, and Mike Pence gets a haircut. Here's the rundown for Wednesday, August 24.
WEATHER
Expect rain near the Great Lakes and afternoon showers in the Southeast. In New York, the lovely weather continues, with clear skies and a high of 87. [Weather.com]

FRONT PAGE
Major Earthquake Hits Central Italy
At least 37 people are dead after a 6.2-magnitude earthquake rocked central Italy early on Wednesday morning. The quake hit in a mountainous region near Norcia, and was felt as far away as Rome and Venice. The mayor of Amatrice, one of the worst-affected areas, said his town "is no more." Rescuers are scrambling to find survivors in the rubble, and the death toll is expected to climb significantly.

EARLY AND OFTEN
Trump 2.0 Hopes People Weren't Paying Attention to First Year of His Campaign
Donald Trump's new campaign leadership has come up with a bold strategy: convincing voters that he's not racist. The Washington Post reports that the candidate is trying to appeal to minorities by softening his stance on illegal immigration (now he'll only deport "the bad ones") and telling them their lives are so bad that they don't have anything to lose by voting Trump. He also plans to highlight Hillary Clinton's support for the 1994 crime bill to damage her strong support among African-American voters.

As Secretary of State, Clinton Sure Met With a Lot of Clinton Foundation Donors

A report from Associated Press is shining some light on Hillary Clinton's relationship with Clinton Foundation donors when she was secretary of State. According to her schedule and recently released emails it appears that of the 154 private citizens who met with Clinton during her tenure in the State Department, 85 had donated money to her family's foundation, with 40 forking over more than $100,000 and 20 more than $1 million. While it doesn't appear that her actions were illegal, it still doesn't look great.

States Sue Over Transgender Health-Care Protections
Efforts to protect the rights of transgender people are being challenged in court again. Five states — Wisconsin, Nebraska, Kansas, Texas, and Kentucky — and several Christian health-care organizations are suing the federal government over new regulations that would require insurers to cover gender-transition procedures and other treatments for transgender patients. The plaintiffs say following the rules may violate their religious beliefs.
THE STREET, THE VALLEY
More Bad News for Jawbone
A U.S. International Trade Commission judge ruled yesterday that fitness-tracker company FitBit did not steal trade secrets from its competitor. Jawbone, which has dropped out of the top five manufacturers of wearable fitness monitors, was hoping for an import ban against FitBit devices. [Reuters]

MEDIA BUBBLE
All Eyes on Video at BuzzFeed
CEO Jonah Peretti announced on Tuesday that BuzzFeed will resolve the tension between its video and editorial operations by reorganizing into two divisions — news and entertainment — with both focusing on video. "As digital video becomes ubiquitous, every major initiative at BuzzFeed around the world will find an expression as video," said Peretti. Editor Ben Smith will continue to lead the news side, and Ze Frank, president of BuzzFeed Motion Pictures, will helm the entertainment division.
Russian Hackers Target New York Times, Will Eventually Have Every American's Emails
Russian hackers — the same folks who brought us emails from the Democratic National Committee — are suspected of hacking the New York Times. Following a CNN report that the Russians went after multiple U.S. news outlets, the paper said only its Moscow bureau was targeted, and there's no evidence that the hackers were successful.

PHOTO OP
Feats of Strength Can't Fool Fox News
Hillary Clinton can open all the pickle jars she wants, but can she explain the three-white-board timeline of her failing health, which Karl Rove presented on The Kelly File? Answer: No, she can not. [Mediaite]

MORNING MEME
Resolved: Facebook Live Is the Worst
We were on the fence, but then CNN broadcast a 20-minue video of Indiana governor and Donald Trump running mate Mike Pence getting a haircut.


OTHER LOCAL NEWS
Turtle Is Perfect Metaphor for Futility of Love
An 100-year-old tortoise named Touche was reluctantly reunited with her owner on Tuesday after she'd been missing for ten days. She was found six-and-a-half miles from her home in Fresno, California, and was engaged in a courting ritual with a plastic dome covering a water outlet. [UPI]
HAPPENING TODAY
Trump May Make African-American Pitch Directly to African-Americans
The Republican candidate's new overtures to minorities have been delivered before mostly white audiences, but he may actually address black voters on Wednesday when he appears in Jackson, Mississippi, which is 80 percent African-American. Republican governor Phil Bryant said Trump is "honoring us by coming here, when he could be spending his time in more important battleground states he will need," which is one way to explain his campaign schedule. [AP, WAPT]