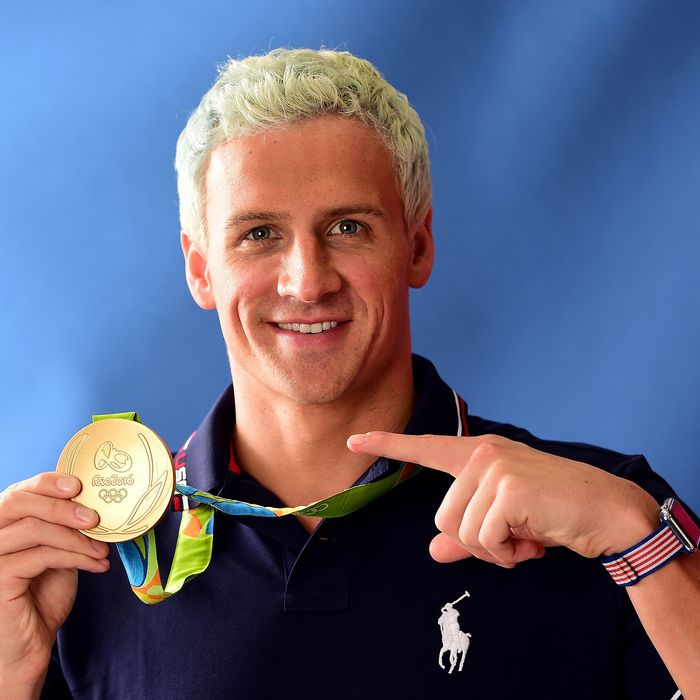 Is that even real?
Photo: Harry How/Getty Images
Good morning and welcome to Fresh Intelligence, our roundup of the stories, ideas, and memes you'll be talking about today. In this edition, Brazilian police seek indictments, the Feds move away from private prisons, and Gawker.com will soon be no more. Here's the rundown for Friday, August 19.
WEATHER
Because these are basically the end times, Colorado is expected to see snow today and into the weekend. Meanwhile in New York City, we'll see more of the same: lots of clouds and humidity with temperatures in the upper-80s. [weather.com]
FRONT PAGE
Ryan Lochte Learns What Cameras Do
Police in Brazil are calling for the indictment of Olympic swimmers Ryan Lochte and Jimmy Feigen on charges of falsely reporting a crime. The American swimmers had claimed they were robbed at gunpoint in Rio before their story publicly and bizarrely began to unravel. It now appears that the athletes were confronted by a security guard after they broke the bathroom door at a gas station while returning home from a long night of partying. Fellow swimmers Jack Conger and Gunnar Bentz were also present for the "robbery." It is now up to prosecutors to decided if they will follow the Brazilians' recommendation and indict the athletes.
EARLY AND OFTEN
U.S. to Phase Out Private Prisons for Federal Inmates
The White House announced yesterday that it would stop housing federal inmates at for-profit prisons. Deputy Attorney General Sally Yates instructed the Bureau of Prisons to stop placing prisoners in private prisons and not to renew contracts with private prisons as they expire. By next year, it is expected that only 14,200 inmates will remain in private prisons. In 2013, there were an estimated 30,000 federal inmates housed in for-profit facilities, but recent reports have shown that private prisons lag behind public prisons and don't even save the government very much money.

With Hillary in the White House, Clinton Foundation Would Cease Accepting Foreign Donations
Speaking yesterday, Bill Clinton confirmed that the Clinton Foundation would stop accepting donations from foreign nationals and corporations if Hillary becomes president. The foundation has come under scrutiny as emails show a perhaps uncomfortably close relationship between the foundation and Mrs. Clinton during her tenure as secretary of State. Bill also said that he hopes to continue to have a large role in the foundation if his wife becomes president. It's important to stay busy. [WaPo]
Not Ransom, Leverage
State Department spokesperson John Kirby admitted during a press briefing yesterday that the U.S. government did, in fact, withhold an already agreed upon $400-million cash payment until Iran released American sailors that it was detaining. Republicans are claiming that this shows the government, in effect, paid a ransom for the prisoners. [Politico]
Detroit Funeral Home Is Also a Slippery Slope
A federal judge ruled yesterday that a Detroit-based funeral home that also operates as a ministry is allowed to fire an employee who is transgender because her gender identity offended the owners' Christian beliefs. The Equal Employment Opportunity Commission filed suit against RG & GR Harris Funeral Homes after an employee there was fired when she announced she wanted to transition from male to female and her employer claimed she violated the company's dress code by not wearing a suit. The judge in the case cited the Supreme Court's controversial Hobby Lobby ruling from 2014. [Reuters]
THE STREET, THE VALLEY
In Ongoing Dispute With Drivers, Uber Considers Getting Rid of Them Entirely
A judge in San Francisco has thrown out the agreed-upon settlement between Uber and a group of drivers who filed a class-action suit claiming that the $100 million reimbursement to 400,000 drivers was too small and represented only 0.1 percent of a potential verdict. Meanwhile, Uber announced that it will begin rolling out self-driving cars much earlier than anticipated — like, this month — and has acquired a startup that is developing self-driving technology for the trucking industry. [NYT]
Twitter Gets Proactive
It appears Twitter is beginning to take seriously some of the loudest criticism against the company: that it doesn't do enough to protect victims of harassment, and provides a platform for terror groups. Twitter announced yesterday that it would start allowing all of its users to filter out tweets from anybody that they don't follow — a feature previously limited to those with verified accounts. The company also cancelled another 235,000 accounts that were believed to espouse extremist views. That brings the total number of blocked "terrorist" accounts in the last two years up to 360,000. Scary.
MEDIA BUBBLE
Sumner Redstone Triumphant
After a prolonged and often ugly struggle, it appears Viacom and the company's controlling shareholder, Sumner Redstone, have reached a settlement. The details of the agreement will be released by this morning, but it will surely see the departure of CEO Philippe Dauman. Redstone has been locked in a disagreement with Viacom's board members who claim that the 93-year-old media tycoon has lost his metal faculties and is being manipulated by his family members. [Reuters]
Hogan, Thiel Victory Total
Gawker Media is shuttering its eponymous website, Gawker.com, next week. The move comes after the company was acquired by Univision for $135 million; the company's six other websites will remain active. The site's demise is the product of a protracted vendetta against the company by tech billionaire Peter Thiel, who was eventually able to destroy the site by using professional wrestler and willing sex-tape participant Hulk Hogan as a kind of bizarre puppet. [Gawker]
PHOTO OP
Future Mt. Rushmore
This statue, called "The Emperor Has No Balls," graced New York's Union Square and public spaces in San Francisco, Los Angeles, Cleveland, and Seattle on Thursday.
Just in Case You Didn't Want to Sleep Tonight
This video proves that incomprehensible shrieking can, in fact, get stuck in your head. [The Cut]
OTHER LOCAL NEWS
Worst Way to Die Discovered in Wisconsin
A coroner yesterday revealed the cause of death of the 29-year-old Amherst, Wisconsin, farmer whose body was discovered along with the bodies of more than a dozen cows. It turns out that both the farmer and cows succumbed to the overwhelming fumes of cow manure coming from a "huge holding tank." Awful. [Fox]
Seven Pit Bulls Recovering After Crazed Baby Attack
Seven pit bulls were injured and their owner had to go to the hospital after the group was savagely attacked by a local cat named "Baby" in Victoria, British Columbia. The cat — who is described by its owner as "a kind of a slow sort of thinking cat" — was apparently spooked by the presence of the seven dogs in its neighborhood. Don't click the link if you don't want to see dogs with scratches on their faces, though everyone was fine and the pups still look super-cute. [KTLA]
HAPPENING TODAY
Rio Watch: Day 14
All eyes will be on world's fastest man Usain Bolt as he competes in the 4x100 relay tonight. The American basketball team will face off against Spain, and over in wrestling, Jordan Burroughs, perhaps the best wrestler in the world, will compete in the men's freestyle. Also, the U.S. women's team will vie to be the first team to win two consecutive gold medals in the sport. [Herald Courier]
Trump Leaves Comfort Zone
Sources are reporting that presidential hopeful Donald Trump and his faithful sidekick Mike Pence will be in Louisiana today for a last-minute trip to tour the flood-ravaged area's devastation. The governor's office is already pleading with Trump not to turn his visit into a photo-op and either to volunteer or donate to flood relief instead. Somehow that doesn't sound likely. [AP]