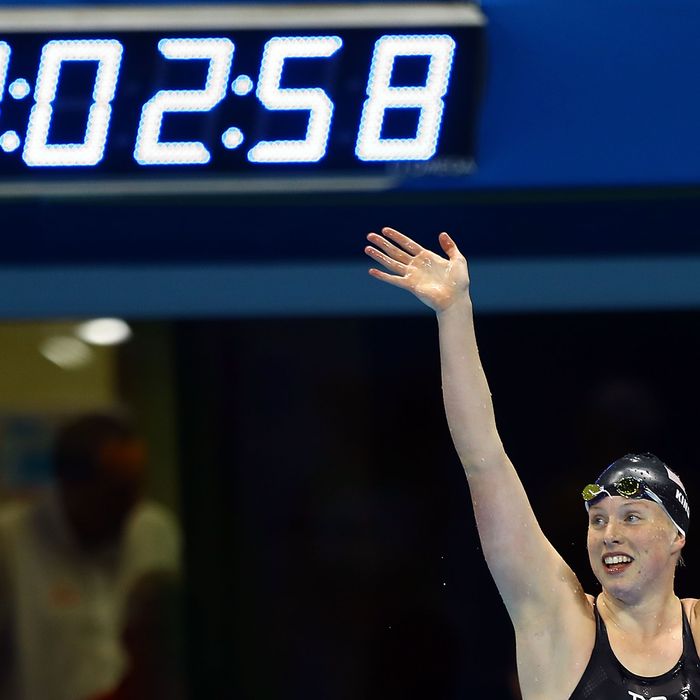 Spells victory.
Photo: Amin Mohammad Jamali/Amin Mohammad Jamali
Good morning and welcome to Fresh Intelligence, our roundup of the stories, ideas, and memes you'll be talking about today. In this edition, Olympic drama in the pool, Republican drama in the press, and misery at America's airports. Here's the rundown for Tuesday, August 9.
WEATHER
Another wet day for the Gulf Coast today, with other storms expected in the northern Plains States, and monsoons across the Southwest. New York City today will be clear, sunny, and warm with temperatures in the high 80s. [USA Today]
FRONT PAGE
Drugs Are for Losers
The ongoing feud between Russian swimmer Yulia Efimova — who has been repeatedly banned from the Olympics for doping — and American Lilly King is providing some Olympics-level drama for the ages. Yulia Efimova is, to put it mildly, unpopular with the other athletes, many of whom boo her whenever she prepares to swim. They are upset because Efimova had been banned from competing this year — for doping again — before her ban was mysteriously lifted at the last second. On Sunday, when Efimova flashed a number one sign after beating King in a semi-final, the American responded with a wagging finger of her own and a pointed tweet calling out Efimova for cheating. Yesterday, King beat Efimova handily — which in Olympic terms means by more than half a second — and gushed to the press: "It's incredible, just winning a gold medal, and knowing I did it clean." News outlets, the American ones at least, have roundly supported King and praised her for her bravery. [USA Today]
EARLY AND OFTEN
Trump Defection: Really Not Room to List All 50 of Them Edition
This will be extraordinarily hard to spin for the Trump campaign. Fifty — yes, "five-zero" — high-ranking Republican security officials signed an open letter, saying that they would not vote for Donald Trump because he would "risk our country's national security and well-being." The letter doesn't restrict itself to security, saying that Trump "weakens U.S. moral authority as the leader of the free world. He appears to lack basic knowledge about and belief in the U.S. Constitution, U.S. laws, and U.S. institutions, including religious tolerance, freedom of the press, and an independent judiciary … he would be the most reckless president in American history." Pretty damning stuff. [Politico]

Trump Defection: Senator Susan Collins Edition
In an op-ed published in the Washington Post last night, Maine senator Susan Collins outed herself as the most recent Republican lawmaker to ditch Donald Trump. Collins, who has a reputation for reaching across the aisle, said that "Donald Trump does not reflect historical Republican values nor the inclusive approach to governing that is critical to healing the divisions in our country." And that she cannot stomach his "disregard for the precept of treating others with respect, an idea that should transcend politics."

Trump Speech Not Entirely Tantrums, Insults, and Lies
Donald Trump rebooted his campaign — again — yesterday with a serious speech in Detroit in which he laid out his economic-policy agenda, including his new tax plan. The speech was frequently interrupted by protestors, but fact checkers who have traditionally been Trump's biggest detractors reported that the speech was one of Trump's most honest and fact-based to date — still peppered with false information, but a big improvement.
Parents of Benghazi Victims Sue Hillary Clinton
Freedom Watch, the right-wing lobbying group, has filed suit against Hillary Clinton on behalf of the mother of Sean Smith and father of Tyrone Woods, both of whom were killed in Benghazi. The suit claims that their children's positions were made known to terrorists because of hacks into Clinton's emails made possible because she kept her emails on a private server. [The Hill]
THE STREET, THE VALLEY
As It Turns Out, Air Travel in America Could Get Worse
Traveling to pretty much anywhere is just not worth it anymore. Yesterday, a power outage at Delta's Atlanta headquarters resulted in the grounding of hundreds of flights and left thousands of passengers stranded in miserable airports all over the country. The outage will cost the airline millions, and is an especially painful blow since Delta had a reputation for reliability. [WSJ]
Chevron Victorious in Unbelievably Complicated Court Case
A New York court has handed Chevron a resounding victory in a 23-year-old court case over pollution in Ecuador worth $9.5 billion. Bloomberg describes the case as "devilishly complicated," so we're going to leave it at that. [Bloomberg]
Jawbone, Don't Seem So Desperate
The wearable and portable speaker company Jawbone has been trying to sell itself, most recently reaching out to an unnamed hardware manufacturer. Obviously this does not bode well for the company, which is already planning on selling off its speaker business and has seen the rest of its market share dwindle in the face of companies like Fitbit. [The Verge]
MEDIA BUBBLE
Fox News Host Says She Was Taken Off the Air for Complaining About Roger Ailes
Fox host Andrea Tantaros says that she complained repeatedly about sexual harassment at the hands of the network's head, Roger Ailes. Tantaros says she was at first demoted then taken off the air entirely after speaking up, though Fox continues to pay her. That complicates the story for Fox executives, who had claimed that the much-publicized lawsuit against Fox by anchor Gretchen Carlson was the first time they had heard of any impropriety on the part of Ailes.
Leslie Jones Is the Best Thing That's Happened to the Olympics Since Flags
Another example of Twitter making dreams come true. Anybody who loves the Olympics already knows that comedian Leslie Jones's Twitter feed is the very best way to enjoy the games. Well now it looks like NBC caught wind, because it has invited her to join their team in Rio. Jones announced yesterday in a tweet that she is headed to Brazil.

Hulu Loses Free Service, Except for Yahoo's New Free Service, Which Will Stream Hulu
Hulu announced yesterday that it would no longer offer free streaming and would become an entirely paid-subscription service. At the same time, Yahoo announced that it would now launch a streaming service called Yahoo View, and that you can watch Hulu for free — the latest five episodes of every show at least — on Yahoo View, which is free. Please get it together, everyone. [The Verge]
PHOTO OP
Silver-Medal Meme
The meme of the Olympics was this poor, bored lifeguard, until …

MORNING MEME
Gold-Medal Meme
Michael Phelps won again for the warm-up glower that lit up the internet.

OTHER LOCAL NEWS
A Happy Ending for Man in Craigslist Prosthetic-Leg Beaver Heist
Two canoers made a surprising discovery while paddling a creek near Forest County, Wisconsin: a prosthetic leg sticking out of a beaver dam. They retrieved the leg and turned to Craigslist, as you do, where they discovered that 20 days earlier a man had posted looking for his missing leg. So, what started with a harrowing beaver-mugging, ended with a happy ending. [Detroit Free Press]
Crash Leaves Brooklyn Freeway Looking Like a Frat House
A tractor-trailer crash in Brooklyn yesterday spilled hundreds of cans of Budweiser all over the freeway and onto the sidewalk below. The driver was injured but is in stable condition. Thank god it wasn't PBR; there could have been a riot. [NY Daily News]
HAPPENING TODAY
What to Watch in Rio
Another exciting day for Team U.S.A. in Rio. The biggest event of the day will be the debut of the monster women's gymnastics team. There will also be more aquatic pyrotechnics — is that even possible? — from Katie Ledecky and Michael Phelps, and the U.S. women's soccer team will play Columbia in the evening. [St. Louis Post Dispatch]
Today on the Clinton Campaign, Brought to You by Zika
Hillary Clinton is campaigning in Florida today, where she will meet with health officials battling Zika, and castigate Republicans for failing to pass a sufficient budget to develop a Zika vaccine before going on vacation. Nothing Floridians hate more than using vacationing for evil. [WDTN]
Anything Is Better Than the "Fierce Five"
It is traditional for U.S. Olympics gymnastics teams to have some sort of clever nickname, but so far, a nickname for this year's team has failed to materialize. Now you can stop fixating. The gymnasts told Ryan Seacrest yesterday that they would unveil their new nickname today. This is what the Olympics are all about. [Larry Brown Sports]