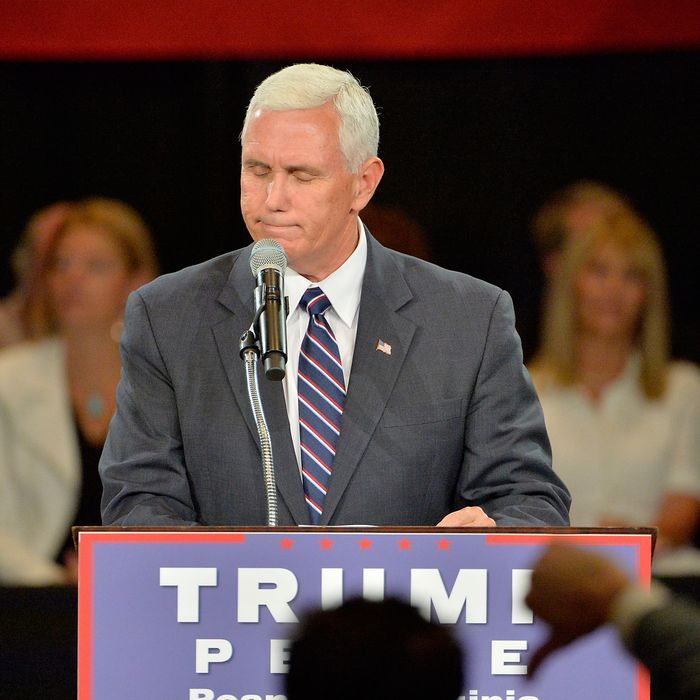 "When I open my eyes this nightmare will be over."
Photo: Sara D. Davis/2016 Getty Images
Good morning and welcome to Fresh Intelligence, our roundup of the stories, ideas, and memes you'll be talking about today. In this edition, Mike Pence does damage control, Hillary Clinton points a finger at Russia, and will somebody please listen to Kanye West? Here's the rundown for Monday, August 1.
WEATHER
Heavy rains are expected across the Northeast and Southwest today with possible flooding in both regions. Temperatures will cool dramatically — thank god — in New York City, settling in the upper 70s with rain and scattered thunderstorms expected throughout the day and into the night. [Weather.com]
FRONT PAGE
Belittling Mother of Dead War Hero Backfires for Some Reason
After Khizr Khan — the Muslim father of a deceased American war hero — called out Donald Trump at the Democratic National Convention, Trump responded by implying that his wife Ghazala Khan — the grieving mother — did not speak because she was not allowed to, because she is a Muslim. In response, Khizr said Trump has a "black soul," and Ghazala published an op-ed in the Washington Post explaining that she did not speak because talking about her dead son was too upsetting. She called Trump "ignorant" about Islam and said, "He doesn't know what the word sacrifice means."
Mr. Khan also called for House Speaker Paul Ryan and Senate Majority Leader Mitch McConnell to stop supporting the Donald. Both released statements honoring the Khans and reiterated that they did not support a ban on Muslims entering the country — but neither even mentioned Donald Trump. Trying out his new role as Donald Trump's heart, vice-presidential hopeful Mike Pence released a statement last night saying, "Donald Trump and I believe that Captain Humayun Khan is an American hero and his family, like all Gold Star families, should be cherished by every American." That settles that. [NYT]
EARLY AND OFTEN
Clinton Calls Out Russia, and Its Spunky Little Surrogate
For the first time, Hillary Clinton has publicly accused Russia of hacking the Democratic Party's computer systems. She also did not mince words in calling out Donald Trump for his bizarrely chummy relationship with Putin. Speaking on Fox News yesterday she said, "We know that Russian intelligence services hacked into the DNC, and we know that they arranged for a lot of those emails to be released, and we know that Donald Trump has shown a very troubling willingness to back up Putin, to support Putin." Remember when Trump straight-up asked Russia to leak Clinton's emails? That was something. [Reuters]
Somebody Buy Donald Trump a TiVo
Coming as a surprise to absolutely no one, Donald Trump is claiming that the presidential-debate schedule is unfair because two debates occur on the same day as NFL games. Trump tweeted that that the Democratic Party is rigging the debates, but so far he hasn't threatened to boycott them — though, by the time you read this, he probably will have. Just FYI, the Democratic Party has nothing to do with selecting the debate dates, that's the job of the nonpartisan Commission on Presidential Debates, which has said it will not change anything. [CNN]

The Post Finds the One Thing It's Not Okay to Attack Trump for, Attacks Him for It
Just when you think this dismal election can't get any worse, the New York Post goes and releases a series of nude pictures of the potential First Lady, under the super-gross headline "The Ogle Office." Trump responded to the photos saying: "Melania was one of the most successful models and she did many photo shoots … In Europe, pictures like this are very fashionable and common." And Trump's senior communications adviser, Jason Miller, told CNN yesterday that "they're a celebration of the human body as art. There's nothing to be embarrassed about." Damn it, New York Post, please don't make us take Trump's side on something ever again. [Heavy]

THE STREET, THE VALLEY
Uber Drops $500 Million on Map Software, Drivers Will Still Just Use Waze
Uber announced yesterday that it will invest half a billion dollars in a new global-mapping system that will both compete with Google Maps and ease the transition to driverless cars. If drivers stop driving in the exact opposite direction of where you are when you hail them, then the $500 million will have been totally be worth it. [Reuters]
John Hankes Has Created a Monster (Technically 151 Monsters)
John Hanke, the CEO of Niantic, the developer behind Pokémon Go is the latest victim in a rash of Twitter hackings. This time, the hacker used Hanke's account to call for Pokémon Go's release in Brazil. The hacker also hilariously claimed that Hanke's password was "no pass." So now we have to change all of our passwords. [CNet]
Elon Musk Master Plan Stage One
It looks like Tesla is getting ready to announce its merger with SolarCity as early as today. The merger is an important part of Tesla CEO Elon Musk's self-described "master plan" to develop solar-powered, self-driving vehicles, but is unpopular with investors who worry that Tesla is stretching itself too thin. [Reuters]
MEDIA BUBBLE
Kanye West Has an Opinion on Something
As the church door was to Luther, Twitter is to Kanye West. The fashion designer, producer, groundbreaking musician, and public-tantrum-haver turned to Twitter today to voice his frustration with the ongoing negotiations between Apple and his friend's music-streaming service, Tidal. Kanye called on Apple to "give Jay his check for Tidal now and stop trying to act like you Steve," which is hilarious. [Fortune]
PHOTO OP
Harry Potter! Harry Potter! Harry Potter!
The new Harry Potter book dropped over the weekend with the obligatory midnight-bookstore parties, and it is making us feel like we are young again. Also, the new book is actually a play, so it will make the best audiobook. We can't wait.
MORNING MEME
Happy Monday Everybody
Before the week really gets going with its inevitable horrible news, take a moment to enjoy this doggy with spaghetti on its head.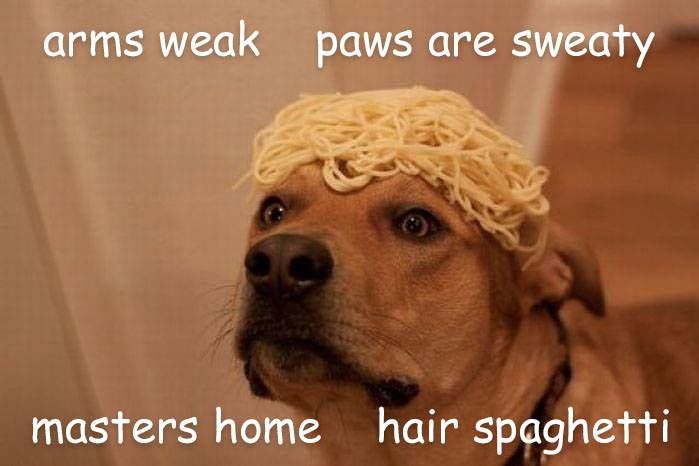 OTHER LOCAL NEWS
Texas Man Crushing Summer
James Duke Vanwright is in a bit of legal trouble after breaking into a historic home in Port Arthur, Texas, where he was found by a security guard naked and enjoying a bottle of piña-colada mix that he stole from the refrigerator. We were about to say that he is our hero but then we read: "[P]rosecutors say because of prior convictions for sexual assault of a child and attempted arson, Vanwright could face up to life in prison." Just goes to show even terrible people do awesome things sometimes. [CBS]
The Throop-Poop Scoop
Is this the most "slow-news day" story ever? It looks like a large pile of horse manure in Throop, New York, burst into flames because of the "hot and dry weather conditions." That's the whole story. And, no, there aren't any pictures. [UPI]
HAPPENING TODAY
Gamers Descend on Rancho Palos Verdes
GamesBeat, the massive gaming convention, is in its ninth year, and kicks off today in Rancho Palos Verdes, California. Five hundred major players — ha — in the gaming industry are expected to attend. [Venture Beat]
Equal Pay Is Coming to Massachusetts
Massachusetts's Republican governor Charlie Baker will sign a bill into law today that will make it illegal for women to be paid less than men for comparable work. The bill also makes it illegal for employers to demand employees divulge their past salary information. Women on average make 82 cents for every dollar a man makes in Massachusetts. [WBUR]

Seattle to Become the Second City to Ban Gay-Conversion Therapy
Despite being a tenet of the Republican Party platform, gay-conversion therapy will be outlawed in Seattle today. That will make it the second city after Cincinnati to ban the practice. States like California, Oregon, Illinois, New Jersey, Vermont, and Washington D.C. already have statewide bans in place. [instinct]