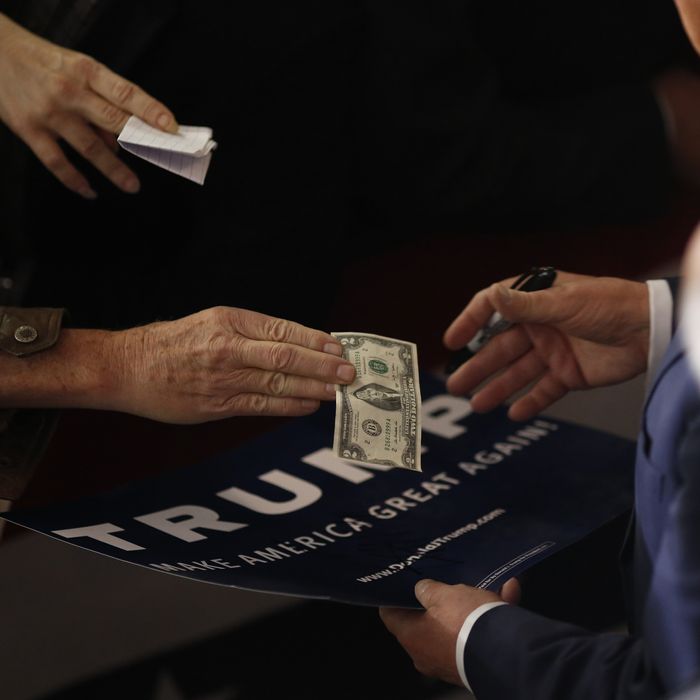 $40 million to go.
Photo: Luke Sharrett/ Bloomberg
Good morning and welcome to Fresh Intelligence, our roundup of the stories, ideas, and memes you'll be talking about today. In this edition, Pence breaks ranks, Trump rakes it in, and Texas will let its people vote. Here's the rundown for Thursday, August 4.
WEATHER
Storms will batter the Midwest and Southwest today, where there will be a real danger of flash flooding. Eastern Texas and Mississippi will see scorching temperatures of up to 110 degrees, while the East Coast should experience an unseasonable chill. New York City will be sunny and dry with temperatures in the low-80s. [USA Today]
FRONT PAGE
That's a Lot of Hats!
The barely concealed glee in many quarters over Trump's massive campaign-funding deficit has proved short-lived. Just as he promised, the Donald has effectively closed the yawning gap between his and Clinton's war chests by tapping his core supporters in a massive campaign fundraising push. Trump managed to raise $64 million from mostly small donations online and through the mail, bringing the campaign's total income from last month up to $82 million, within easy shooting distance of Clinton's $90 million. [NYT]
EARLY AND OFTEN
Paul Ryan Scores Coveted Mike Pence Endorsement
The Republican Party was thrown into turmoil yesterday following Donald Trump's refusal to endorse Paul Ryan and John McCain in their upcoming primary races. The Ryan non-endorsement appeared to ruffle the most feathers, leaving Republican National Committee chair Reince Priebus reportedly "furious." Mike Pence tried to smooth out the situation by breaking ranks with Trump and endorsing Paul Ryan himself, but how that makes anything smoother at all remains unclear. [Reuters]
Texas to Give Democracy a Chance
The Texas state government will not enforce its controversial voter-ID laws in time for the election in November. The Texas Department of Justice in conjunction with civil-rights groups filed a proposal yesterday in federal court that would effectively let anyone with any kind of official ID vote. Under the agreement, would-be voters would even be allowed to use expired photo IDs as long as they haven't been expired for more than four years. The new plan is only a temporary solution to the situation created after a federal-appeals court ruled against the state's super-strict voter-ID law — which was widely seen as intended to disenfranchise minorities — last month, but will be around long enough to have a potentially significant impact on the upcoming presidential election. [Politico]
Republican Defections: Adam Kinzinger Edition
Another Republican lawmaker has announced that he will not vote for Donald Trump. This time it was Illinois representative Adam Kinzinger. The one-time Air Force pilot said he did not know how he could "get to Trump anymore," since Trump threatened to renege on obligations to NATO and attacked the parents of a fallen American war hero. This isn't a full-blown Republican defection because Kinzinger did say that he is "not going to support Hillary," because "in America we have the right to skip somebody." In fact, the right not to vote is perhaps America's most-cherished right. [Real Clear Politics]
Obama Makes History, Commutes More Than 214 Drug Sentences
President Obama commuted the sentences of another 214 nonviolent drug offenders yesterday, saying that "this is a country that believes in second chances." The mass-commutation is the largest in more than 100 years, and brings the total number of sentences commuted under Obama up to 562. As CNN points out, that is more than the amount of sentences commuted by the last nine presidents combined. All of the lucky criminals were drug offenders, and most had been convicted under laws that have since been thrown out as unduly harsh. [CNN]
THE STREET, THE VALLEY
Don't Worry, It's All Part of the Secret Master Plan
Some bad news for Tesla today. The electric-car company's losses continued to mount this quarter reaching $293 million as the company struggled with slowing deliveries, rising expenses, and scrutiny over accidents caused by its "autopilot" feature. Still, Tesla founder Elon Musk is staying the course, claiming it will reach its goal of building almost 80,000 new vehicles this year. [WSJ]
We Honestly Thought Jet.com Was an Airline
Wal-Mart is reportedly in talks to acquire the discount web retailer Jet.com. The move would give Wal-Mart a real presence online as the massive retailer tries to compete with Amazon. Jet.com failed to find any real traction since launching as a retail start-up less than a year ago, but is still expected to fetch $3 billion if the sale goes through. [Quartz]
Sadly Newsworthy: Apple Will Pay Men, Women, and Minorities the Same Amount for the Same Work
Apple released its annual inclusion and diversity report yesterday, and this one contained some big news. The company has allegedly achieved equal pay. Men, women, and minorities all get paid the same amount of money for the same jobs. And it only took the company 40 years! Facebook and Microsoft achieved totally equal pay in April. What's your excuse, pretty much every other company in the country? [CNet]
Oceans 14 Is Going to Be Boring
It's not easy being a shadowy cryptocurrency. Bitcoin had a tumultuous day yesterday. One of the currency's largest exchanges, Hong Kong–based exchange Bitfinex, was forced to shut down after a hacker made off with 119,756 bitcoins, which doesn't sound like much, but is actually worth an insane $68 million. The currency plunged more than 15 percent on the news, but was back up to its full value yesterday like nothing ever happened, making at least one hacker very rich in a pretty inconvenient way. [CNet]
MEDIA BUBBLE
Can a Cable Company Be a Cord-Cutter?
In a bit of the old "if you can't beat 'em, join 'em," Time Warner announced yesterday that it has acquired a 10 percent stake in the streaming service Hulu. The move lays the groundwork for Time Warner to begin offering its streaming-cable channels on Hulu as early as next year. Soon viewers will have two convenient ways to watch Seinfeld all day. [Variety]

You Heard It Here … Too: The Magazine Business Is Struggling
America's largest magazine publisher, Time Inc., announced yesterday that it would be laying off up to 110 employees from all across the company in an effort to restructure and offset declining income from print advertising. That said, whatever it's doing appears to be working; the company is forecasting its first sizable revenue growth in more than five years. [WSJ]
Saatchi Chair Resigns Following Gender Comments
On September 1, Kevin Roberts will resign as chair of the venerable ad agency Saatchi & Saatchi. The announcement follows the continued fallout over an interview in which Roberts repeatedly shared what many felt to be outdated, tone-deaf, or outright bizarre opinions about women in the work place and gender equality in general. [AdWeek]
PHOTO OP
It's So Easy to Spark an International Incident These Days
This tweet by U.S. Olympian Hope Solo has sparked outrage among Brazilians, who feel she was making light of Zika. In her first outing on the field in Rio, she was greeted with boos and chants of "Zika!"
MORNING MEME
Tracy + Jenna = Trump
We're as sick of Trump memes as you are, but we will never be sick of 30 Rock, and this whole Donald Maroney thing brightens our day to no end.
OTHER LOCAL NEWS
Somebody in Connecticut Has an Awesome Dorm Room
If you accidently walked off with 15 human skulls and an entire human skeleton, then the University of Connecticut would like to have a word with you. The University of Connecticut Health Center discovered after doing inventory that is was missing more than 100 items including the aforementioned dead-people parts. The lab is blaming some sloppy paperwork because obviously as scientists they can't admit what is really going on here: reanimation on an unprecedented scale. [Boston Herald]
Street Preacher Doesn't Get the Hint
That's what you call "a sign." A self-described street evangelist was recently almost struck by lighting while live-streaming himself during a storm in Scottsdale, Arizona. You can see the video here, and you've got to hand it to the guy, he's pretty unflappable in the face of obvious divine disapproval. [UPI]

HAPPENING TODAY
Britain Braces for a Rate Cut
The Bank of England is expected to cut interest rates today as the British economy continues to contract following its vote to leave the European Union. The cut will be the first of its kind in nearly seven years. [Irish Times]