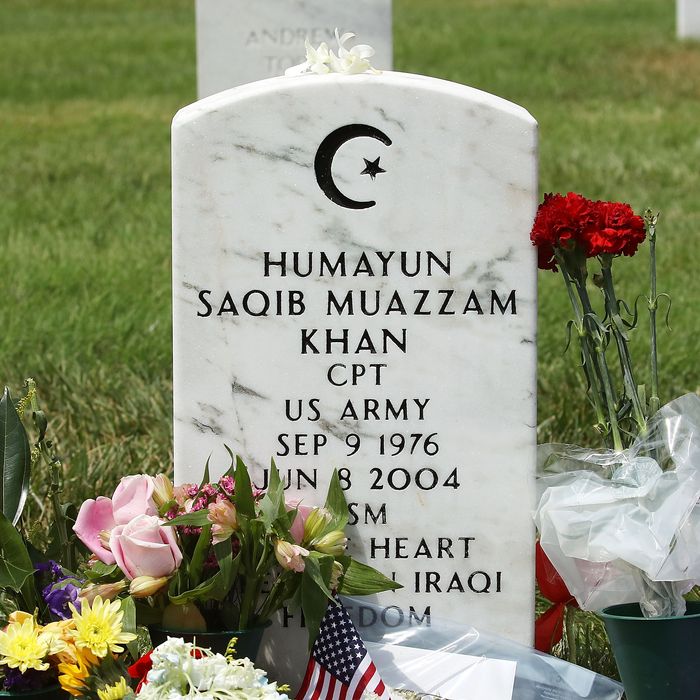 The grave of U.S. Army Captain Humayun Khan at Arlington National Cemetery.
Photo: Mark Wilson/2016 Getty Images
Good morning and welcome to Fresh Intelligence, our roundup of the stories, ideas, and memes you'll be talking about today. In this edition, the U.S. bombs Libya, Trump reverts to firing people, and McDonald's messes with our nuggets. Here's the rundown for Tuesday, August 2.
WEATHER
Finally, the extreme weather of the last few weeks seems to be settling down. There may be a few big storms in the Midwest and Plains States, and a few residual pockets of heat, but for the most part, the United States should experience the kind of weather you'd expect in early August. New York City, for example, will see scattered showers and temperatures in the upper-70s. [USA Today]
FRONT PAGE
Turns Out Insulting Gold Star Parents Begets a Lot of Fallout
Belittling-the-parents-of-a-fallen-war-hero-gate looks like it will continue to dominate the news cycle for another day at least. Just in case you forgot that Trump's rhetoric was symbiotic with something even uglier, a mother of a child in the Air Force was booed down and had insults hurled at her when she tried to ask Trump's VP pick, Mike Pence, a question at a town-hall meeting yesterday. She asked how Pence could tolerate Trump's disrespect towards military parents, and we guess in a way she got her answer. Appearing on a local Ohio TV station, Trump showed no signs of toning down his attacks on the Khans, saying that he thought Mr. Khan had a problem with Trump's stance against radical Islamic terrorists — which really doesn't require much unpacking to get to the subtext of. Republicans continue to come out against Trump's attacks, but have entirely failed to distance themselves from the man who is making them.

EARLY AND OFTEN
Use an Old Billionaire to Catch an Old Billionaire
Hillary Clinton brought out a secret weapon yesterday: billionaire investor — and the only thing we know about Omaha — Warren Buffet. Buffet joined Clinton onstage in his hometown where he tore into Donald Trump's record as a businessman saying, "a monkey throwing darts at the stock pages," would have been more successful than Donald Trump in the '90s. Buffet joins a growing list of billionaires who have come out strongly against Trump. During his speech, Warren vowed to personally transport ten Nebraskans to the polls on election day, and called on other Nebraskans to do the same. You'd think someone worth $63 billion could at least rent a bus or something. [NYT]

Trump's Sacrifices Enumerated
With Donald Trump comparing being a businessman to being the parent of a fallen war hero on Twitter, some clever journalists over at the New York Times decided to dig into Trump's draft records. What they found was that the Donald received five draft deferments: four for being in college and one for a suspicious last-minute diagnosis of bone spurs in his heels — bone spurs which disqualified him from fighting for his country, but not, apparently, from playing football, squash, and tennis. Trump claims that his deferment was over bone spurs but we don't know for sure; he's misplaced the records, and those at the National Archives don't mention what the medical issue was by name. [NYT]
Trump Campaign Running Out of Goats to Scape
If the Trump campaign is a steam engine, then his advisors are like the coal you need to keep shoveling on the fire to keep the whole thing on track. Last night, it was Trump senior adviser Ed Brookover's turn to take one for the team. Both the campaign and Brookover declined to comment on the career change, but our guess is that the campaign will find some way to pin this whole Khan-gate debacle on him. That or Brookover — whose last job was as campaign manager for Ben Carson — had a crisis of conscience. That's a joke, of course. [Reuters]
U.S. Airstrikes Launched in Libya
The United States announced yesterday that it had launched airstrikes in Libya in a bid to support government troops who are trying to take the coastal town of Sirte from ISIS. Pentagon spokesperson Peter Cook confirmed that the airstrike hit various ISIS vehicles, including one tank in the town. The strikes were not the first American strikes in Libya, but represent the first time the United States has used airstrikes in direct support of government troops on the ground. [WSJ]
THE STREET, THE VALLEY
Tesla Acquires SolarCity, Investors Displeased
Tesla announced the details of its SolarCity acquisition today. Tesla will buy the solar-energy company for $2.6 billion in an all-stock deal, creating what Tesla CEO Elon Musk described as "the world's only vertically integrated sustainable energy company." Investors are dubious of the purchase, believing that Tesla should just stick with doing what it does best: building killer robot cars. Shares in both companies fell on the news. [The Verge]
McDonalds Tries to Be Something It's Not
If you're like us, you yearn for the days when McDonald's still fried their french fries in beef fat. Now the company is planning to mess with more of its food in the quest to make it appeal to more health-savvy consumers. The corn syrup in its buns will be replaced with sugar (even though scientists say both are equally unhealthy), human medicine will not be fed to its chickens anymore (hard to argue with that), and it is eliminating artificial preservatives in the chicken nuggets and breakfast sandwiches. Please don't screw up the chicken nuggets, guys, some days they're all that keeps us going. [Reuters]

Tharanos Introduces Blood-Testing Device That Can Actually Test Blood, Maybe
Somehow Tharanos — the disgraced Silicon Valley blood-testing startup — still exists. Speaking at the American Association for Clinical Chemistry yesterday, its secretive CEO, Elizabeth Holmes, announced a new testing device that she claims can accurately run blood tests on just a few drops of blood from a finger prick. She did not discuss whether this device, unlike the last device that was sold as being able to do the same thing, would actually work. [WSJ]

Rich Kids of Instagram About to Get a Lot More Awesome
Virgin Galactic has received permission from the FAA to continue testing its rocket plane. The planes have been grounded for the last 20 months since a fatal crash. If the company manages to pass its program of test flights, it will be able to legally start carrying paying passengers up to the edge of space. [WSJ]
MEDIA BUBBLE
Peter Thiel Successfully Bankrupts Nick Denton
Gawker founder Nick Denton filed for bankruptcy yesterday to protect his personal wealth from Hulk Hogan — what a world. The lawsuit has been shown to be part of tech billionaire Peter Thiel's plan to destroy Gawker Media. Coincidently, Gawker published a story last night making a pretty convincing case that Thiel is a vampire. Former editor A.J. Daulerio will likely also file for bankruptcy soon.

Joshua Topolsky to Learn that Reporting News From the Future Is Really Hard
Joshua Topolsky, one of the co-founders of the Verge and a digital editor at Bloomberg, has successfully raised $5 million for his new online publication, the Outline. Topolsky says he wants the Outline to become the place for "smart influential" readers to learn about power, culture, and "the future." Look out InTouch! [WSJ]

Matthew McConaughey and the Role He Was Born to Play
Nude bongo enthusiast and winner of the self-serious stoner lifetime-achievement award, Matthew McConaughey has been named as the new creative director of Wild Turkey. In his new role, he will write, direct, and appear in the company's advertisements. No news yet on whether Mr. McConaughey will wear a shirt in his appearances. [AdWeek]

PHOTO OP
At His Most Relatable
Oh my god, we have the same go-to private jet meal as Donald Trump.
MORNING MEME
Volcano Hot, Super Chill
What exactly is this volcano smoking?

OTHER LOCAL NEWS
Magical Dogs Have Murderous Bent
An employee of the Wayne, West Virgina, Walmart thought she might be the victim of a prank when a car pulled out of its parking place and started rolling slowly towards her. Imagine her surprise when she eventually jumped out of the way, allowing the car to crash into the side of the store, and discovered that the driver was a small dog. Then — and we're not making this up — another dog in the passenger's seat rolled down the window. Dog-license joke! [UPI]

Today's Local Heroes Brought to You By Portsmouth, New Hampshire
Some good-time vandals got the reaction they were probably hoping for when they spray-painted "I'm drunk" on the wall of the local police station. Namely, a more disappointed than angry Facebook post. At least they didn't just sit around getting messed up and not doing anything constructive. [UPI]

HAPPENING TODAY
Singapore PM Invited to Rare State Dinner
Singapore prime minister Lee Hsien Loong is in D.C. tonight for a rare state dinner. Lee will be the first Southeast Asian leader to be the guest of honor at a state dinner. President Obama has only thrown 11 official state dinners in the last eight years. The dinner will feature basil from Michelle Obama's garden and a performance by Chrisette Michele. Luckily, as a resident of Singapore, Lee will be accustomed to the nonstop thrills. [CNBC]