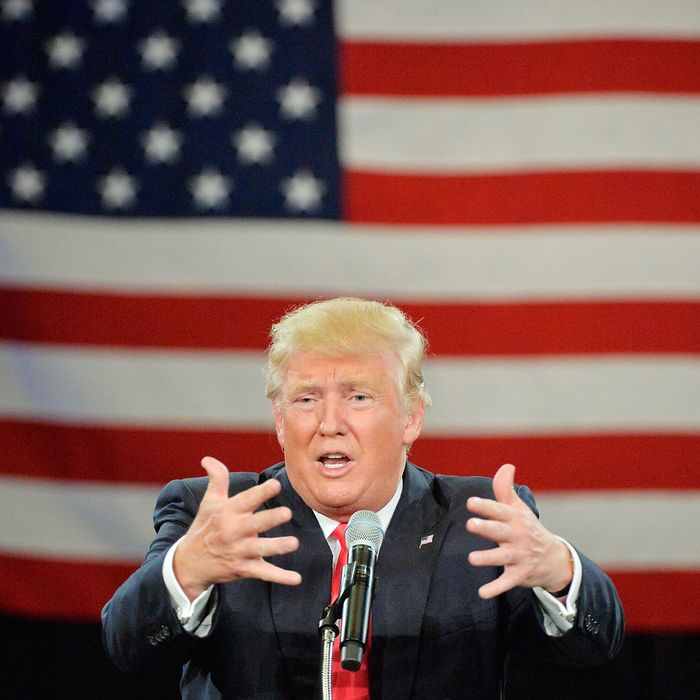 Baby, come back. You can blame it all on me.
Photo: Sara D. Davis/2016 Getty Images
Good morning and welcome to Fresh Intelligence, our roundup of the stories, ideas, and memes you'll be talking about today. In this edition, Donald Trump and polls have a falling out, Paul Ryan may be sending not-so-secret messages, and Apple enlists hackers. Here's the rundown for Friday, August 5.
WEATHER
The West should see thunderstorms across the Rockies and Southwest today providing a nice symmetry with the storms moving down the East Coast from the Ohio Valley through the Carolinas. New York City will be sunny and clear with temperatures hovering around the mid-80s. [USA Today]
FRONT PAGE
It's Almost Like Breaking Every Rule in Politics Doesn't Work
Donald Trump's love of polls is the stuff of legend, but it appears to be over. A batch of polls conducted this week show Clinton has regained a significant lead over Trump. A McClatchy-Marist survey has her up a whopping 15 points, and she now has a seven-point lead in the RealClearPolitics polling average. Is this just Clinton's temporary post-convention "bounce"? Maybe. But the numbers — particularly Trump's single-digit support among voters 18-29 — do not bode well for him, or for the future of the GOP.

EARLY AND OFTEN
Paul Ryan: Two Can Play That Game
Technically, the beef between Trump and Ryan consists of nothing more than the nominee saying he's not ready to endorse the House speaker, but if you understand their political rhetoric, it's a much richer feud. First, Trump said he's "just not quite there yet," which is the language Ryan used before he committed to the nominee. Now, Ryan keeps using the term "blank check." He said in a fundraising appeal — "If we fail to protect our majority in Congress, we could be handing President Hillary Clinton a blank check" — which may be a reference to the 1996 election, when Republican congressional candidates were urged to give up on Bob Dole and focus on denying Democrats a majority in both chambers. Or it's just a commonly used phrase.

Birtherism: So Hot Right Now
A day after former Trump campaign manager turned paid CNN contributor Corey Lewandowski questioned President Obama's citizenship on the network, Trump's New York State campaign co-chair Carl Paladino went after the president's religion. According to the New York Observer, during an interview on an unrelated topic, Paladino "abruptly changed subjects" and declared, "In the mind of the average American, there is no doubt he is a Muslim … He is not a Christian." His evidence: "Look at what he's done with Iran, what he's done with the Sunni-Shia thing over in Iraq and Iran, and with ISIS." You can't argue with those facts. [Observer]

THE STREET, THE VALLEY
You Won't Believe What Facebook Is Doing to Clickbait
Facebook has announced another stage in its ongoing war against clickbait in its newsfeed. Over the next few weeks, the company will begin rolling out new algorithms that specifically look for headlines that either tease you — "You'll Never Believe What Was All Over Joe Biden's Face" — or straight-up mislead you — "Cigarettes May Actually Extend Your Life" — and then will try and limit the spread of those stories.
This Sounds Like a Trick
For the first time in its history, Apple says it will pay people — read: hackers — for finding security breaches in its software. The so-called "bug bounties" could net up to $200,000. Other tech companies have paid people for finding bugs for years, often spending millions, but this is the first year Apple is getting in on the program. [CNet]

Silicon Valley Pioneer Dead at 48
Blake Krikorian — the Silicon Valley investor, co-founder of Sling Media, and streaming-video booster — has died. He was 48. He died after suffering a heart attack while surfing in the Bay Area. More than anyone, Krikorian is responsible for hardware-based video-streaming services, the model that has dominated the industry. [CNet]
MEDIA BUBBLE
Apple's Vision for TV Comes Into Focus
It appears Apple is changing tack when it comes to its plans to monetize TV. Now, instead of a more traditional television-subscription service, Apple is in talks to develop a kind of digital-TV guide that would appear on Apple TV and other Apple devices to show you what's on across a wide range of streaming services and apps, and then let you launch the content directly from the guide. How a guide would work, if shows are all on-demand and not on at specific times, is unclear. [recode]
One Confusing Word Becomes Two
Tronc, the company that was recently Tribune Publishing, has now split into two entities: TroncM, which will handle all of the company's print media, and TroncX, which will take over its digital publishing. The "M" stands for "Media" and the "X" for "Exchange," but why, we have no idea. [Politico]
Now Young People Will Never Care About the Olympics
The International Olympic Committee has just released new strict rules for any news agencies wanting to cover this year's games. The rules stipulate that the Olympics must not be broadcast on interactive services, or any other way that would "allow the viewer to make a viewing choice within a channel and thereby view Olympic Material at times and programs other than when broadcast as part of a news program." The rules go on to "expressly prohibit" the use of GIFs, Vines, or other short-video formats. The Olympics will have the most boring Snapchat ever. [Mashable]

PHOTO OP
The Constitution Is Cool Again
Anti-Trump protesters have a new accessory.
MORNING MEME
Joe Biden: Washington's Craftiest Lawmaker
Obama better not appear in any pictures not wearing this.
OTHER LOCAL NEWS
Thank God That Kid Is Too Young to Have Seen Outbreak
Police in Virginia Beach, Virginia, are looking for a man whose monkey bit a 9-year-old girl before they both ran off — the man and the monkey — not the monkey and the little girl. The girl is fine, unless of course her bite turns into a previously unknown pandemic that ultimately threatens the entire human race. [ABC]
Patriot Has His Priorities Straight
The California Supreme Court has ruled that shopping at Home Depot is not a constitutional right, despite being one of the most American things you can do. The ruling is the product of a case brought by Jeffrey Michael Moran who was caught shoplifting four years ago and has since been banned from every Home Depot in California. Mr. Moran argued that the ban violated the "liberty" he was promised in the Constitution. [WSJ]
HAPPENING TODAY
Country Awaits the Job Report
The monthly jobs report is due today from the Labor Department. For the most part, everyone is expecting fairly positive, if not spectacular, numbers but it should be fun to see how Donald Trump spins them. [USA Today]

If You're Not Allowed to Listen to Music at Work, Skip Work
We're trying not to get our hopes up (again), but this time it really looks like Frank Ocean's long, long-awaited album Boys Don't Cry will drop tomorrow. The album will be released in an exclusive deal with Apple Music, and should also come with one music video. [NYT]
Milwaukee of Vice-Presidents Visits the Tim Kaine of Cities
Tim Kaine will be in Milwaukee today, hosting a campaign event at the Lakefront Brewery. Kaine will likely have a few beers before whipping out his harmonica and treating the gathered crowds to a few spirited rounds of campaign-themed call-and-response blues. [Journal Sentinel]