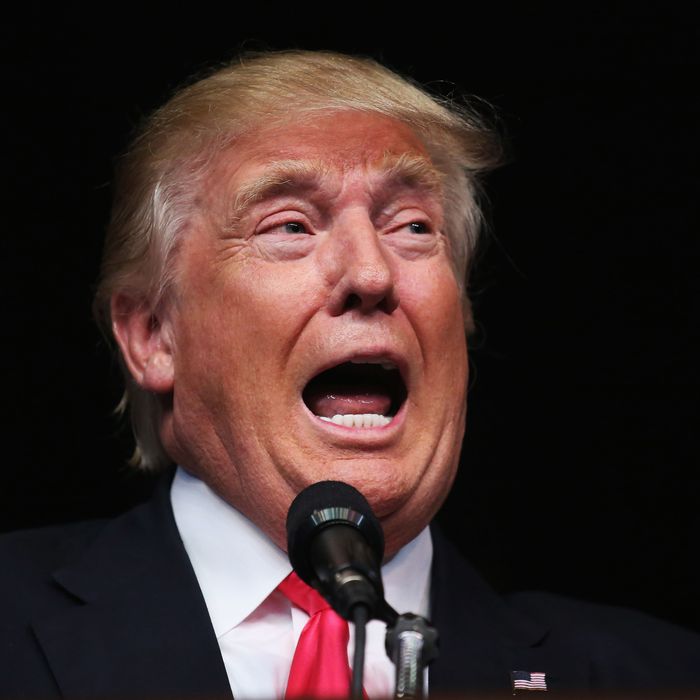 Trump to borders: Open wide.
Photo: John Moore/Getty Images
Good morning and welcome to Fresh Intelligence, our roundup of the stories, ideas, and memes you'll be talking about today. In this edition, Trump softens his immigration stance, a judge blocks transgender guidelines, and Lochte gets dropped. Here's the rundown for Tuesday, August 23.
WEATHER
Showers and thunderstorms are set to continue along the Gulf Coast and across the Plains States while the Rockies should also see their share of rain. The West Coast will be clear and temperate as usual, while New York City will be sunny and warm with temperatures in the low 80s. [USA Today]
FRONT PAGE
Trump Cancels Major Immigration-Policy Speech So He Can Totally Change His Immigration Policy
After months of talk about wall-building, banning people based on their religion, and mass deportations, Donald Trump recently announced that he would be taking a more "humane" approach to immigration, with plans to unveil his new softer side at a major policy speech in Colorado on Thursday. He reportedly planned to announce a means to legalize "millions of undocumented immigrants," but now it looks like we may never know. Trump's campaign canceled the speech yesterday afternoon, without giving any reason.

EARLY AND OFTEN
The Exciting Next Installment of Hillary Clinton's Emails Coming Soon
Clinton's email situation is not going away, and now it looks like it could actually get worse for the candidate, dogging her through November. Yesterday, the F.B.I. disclosed that it has almost 15,000 emails that Clinton never turned over to the State Department, and now a federal judge is insisting that the emails be released, and fast. This means that a new raft of potentially damaging emails are likely to see daylight just as voters go to the polls in November. Earlier in the day, a right-wing watchdog group released hundreds of different emails, which mainly show what a sucky job Huma Abedin has. [NYT]
Texas Judge Blocks White House Transgender Guidelines
Texas's U.S. District Court Judge Reed O'Connor — a George W. Bush appointee — decided yesterday to side with the 13 states protesting a set of guidelines released by the White House earlier this year about how public schools should cater to the needs of transgender students. Just in time for the new school year, O'Connor put a nationwide injunction on the guidelines, which call for public schools to allow students to use facilities that correlate to their gender identities. It looks more inevitable than ever that transgender rights will be heading to the Supreme Court. [Reuters]
THE STREET, THE VALLEY
Speedo and Ralph Lauren Drop Lochte, Red Bull Vodka Interested
Major sponsors continue to drop gold medal Olympic swimmer Ryan Lochte after he drunkenly damaged a gas station in Rio and then lied about it, blaming the incident on an armed Brazilian bandit. Lochte has now lost all of his major endorsement deals including Speedo and Ralph Lauren, as well as a mattress company for some reason, and a hair-removal company. [WSJ]
Bill Gates Incredibly Hard to Shop For
Do not read this if you just paid your rent. According to Bloomberg, Bill Gates's net worth has just reached $90 billion for the first time, making him worth $13.5 billion more than the next richest man — Zara founder Amancio Ortega — and in possession of 0.5 percent of the whole country's GDP. Gates's income bump is mostly thanks to — you guessed it — Canadian railroads. [Bloomberg]

Humanity Redeemed
Kentucky Fried Chicken has released a new fried-chicken-scented sunscreen. It's like someone at KFC has been reading our dream journal; although, we certainly hope they've considered all of the potential dangers and temptations. But wait, the dream has become a nightmare; they're already all sold-out! [chew boom]
MEDIA BUBBLE
Our Dreams of a Kung Fu Panda TV Show in Prime-time Might Be Coming True
It's official: DreamWorks Animation, the company that pioneered the rotund anti-hero, is now a part of NBCUniversal's Universal Filmed Entertainment Group. Comcast purchased the animation house for $3.8 billion in a deal that was officially closed yesterday. What's next for DreamWorks? Apparently a feature-length film based on troll dolls. Finally! [The Verge]
Laura Brown Named Editor of InStyle
Industry, stop your speculation. Laura Brown, recently the executive director of Harper's Bazaar, has been named the next editor-in-chief of InStyle. She will be filling the shoes of Ariel Foxman who headed InStyle for eight years before stepping down in July. Best of luck!

PHOTO OP
Dog Wins Second Mayoral Term
Maybe all of our elected positions should go to dogs? Good Job, Cormorant, Minnesota.
MORNING MEME
Monday Is Over!
Remember when the internet used to be fun?
HAPPENING TODAY
President Obama to Visit Louisiana in Wake of Flooding
It looks like Kirstie Alley's relentless shaming has worked. President Obama will be in Baton Rouge today where he will talk to state officials and tour the aftermath of recent flooding that has killed 13 people and left tens of thousands homeless. [Time]