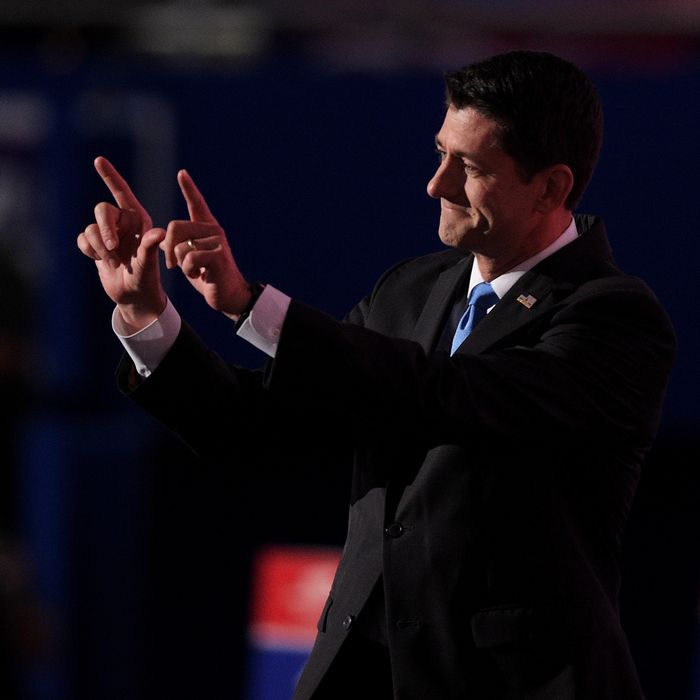 "What-Everrrr."
Photo: Jeff Swensen/2016 Getty Images
Good morning and welcome to Fresh Intelligence, our roundup of the stories, ideas, and memes you'll be talking about today. In this edition, Trump gets vindictive, Obama gets real, and the DNC gets a new CEO. Here's the rundown for Wednesday, August 3.
WEATHER
Though there will be some more serious storms in the upper Midwest and northern Plains States today, for the most part, weather nationwide should be fairly normal, with lower than average temperatures up and down the East Coast. In New York City, expect clouds and highs in the upper-70s. [USA Today]
FRONT PAGE
If the Republican Party Were an Actual Party, It Would Be Awkward, and Probably Over Soon
For a misogynistic, Islam-disparaging xenophobe, sometimes Donald Trump really doesn't discriminate. Yesterday, in the same interview where he refused to back down from criticizing the parents of a dead American war hero, Trump took a moment to pointedly not endorse Paul Ryan and John McCain in their upcoming primary-election campaigns. Both politicians have reluctantly endorsed Trump, but came out against the aforementioned belittling of a dead American soldier's parents — without rescinding their support for the nominee. Well, if they looked foolish before, you should see them now. It's hard to imagine how either could revoke their endorsements of Trump now without it looking like they value their careers over the families of America's veterans.
EARLY AND OFTEN
$400 Million Air Lift to Iran on the Day the Hostages Were Released Just a Coincidence
It came to light last night that the White House organized a "airlift of $400 million worth of cash" to Tehran just as American hostages being held there were released. And when they say cash, they mean it: "Wooden pallets stacked with euros, Swiss francs and other currencies were flown into Iran on an unmarked cargo plane." The cash is believed to be the first installment of the $1.7 billion owed to the country as part of the nuclear deal between Iran and the United States, and U.S. officials claim that there is no connection between the hostages and the cash. It is, they say, just an unfortunate coincidence. Though, they admit that Iranian hostage negotiators "wanted the cash to show they had gained something tangible." Which sounds exactly like the opposite of what they just said, right? [WSJ]
Republican Defections: Meg Whitman Edition
Meg Whitman, the Hewlett Packard executive and prominent Republican fundraiser, announced yesterday that she would be voting for Hillary Clinton for president. Not only that, Whitman promised that "I will vote for Hillary, I will talk to my Republican friends about helping her, and I will donate to her campaign and try to raise money for her." Whitman said that it was time to put her country ahead of her party. She must have been listening to President Obama when he said …

Obama Leaves Words Un-Minced
Damn. President Obama gave a press conference today, and let's just say he was very clear. The president said that "the Republican nominee is unfit to serve as president." He then laid out a litany of reasons why Trump would not make a good president, including his recent attacks on the Khans, and his lack of "basic knowledge" on "Europe, the Middle East, and Asia." He then called on Republicans to withdraw their endorsements of Donald Trump. "If you are repeatedly having to say in very strong terms that what he has said is unacceptable, why are you still endorsing him? What does this say about your party that this is your standard-bearer?" It's really worth watching the whole thing.
Trump Spokesperson: Obama Will Go Back in Time and Kill Your Children
Six days in and the scandal over Donald Trump's attacks against the Khans, the Muslim parents of a fallen American war hero, show no signs of abating. Speaking in Virginia yesterday, Trump said he had no regrets about his comments, and his spokesperson, Katrina Pierson, appearing on CNN, claimed that the Khans' son had died because of President Obama and Hillary Clinton: "It was under Barack Obama and Hillary Clinton that changed the rules of engagement that probably cost his life." This is quite an extreme statement seeing as Humayun Khan died in 2004, when George W. Bush was in the White House. She also claimed that Trump "never voted for the Iraq War," which is true, but it is also worth pointing out that Donald Trump was never in a position to vote for anything.
DNC CEO and Two Other Officials Step Down; Thanks to Trump, Nobody Notices
A major personnel shake-up rocked the Democratic National Committee today, but no one noticed because Donald Trump kicked a baby out of his rally — yes, he really did that. Democratic National Committee CEO Amy Dacey, communications director Luis Miranda, and chief financial officer Brad Marshall each resigned yesterday after emails, most likely obtained by Russian hackers and leaked by WikiLeaks, showed that they openly preferred Hillary Clinton over Bernie Sanders. Each were mentioned in an email in which a DNC operative recommended using Sanders's atheism against him in primaries in Kentucky and West Virginia. [NBC]
THE STREET, THE VALLEY
Mixed Signals Out of Detroit
Both General Motors and Ford released disappointing earnings yesterday but the U.S. auto industry remained strong overall, with total car sales rising a full 0.7 percent to 1.52 million vehicles. Somehow, SUV and pickup-truck sales are still on the rise nationwide. [Reuters]
Fiat Chrysler Sued Over Bizarre Death of Star Trek Actor
The parents of deceased actor Anton Yelchin have filed suit against Fiat Chrysler after their son's 2015 Jeep Grand Cherokee rolled down his driveway, pinning him against a pillar, and killing him in a freak accident. His parents are claiming that the car company was aware of the poorly designed gear selector that made it appear as if the car was in park. Forty-one other people have been injured in incidents relating to the same design flaw. [Bloomberg]

Good News for Everyone Who Doesn't Think Same-Day Delivery Is Fast Enough, or That Humans Should Have Jobs
The White House announced yesterday that Alphabet, Google's parent company, will be allowed to test commercial drones in designated areas of the United States. The tests, which include using drones for deliveries, will bring Google a big step closer to its goal of delivering packages by drone by 2017. Would somebody please explain to us why everyone is so eager to get deliveries by drone? Unless you live on a boat, what's the point? [CNet]

We Give It Ten Years Before the Moon Has a Corporate Sponsor
For the first time, a private company has been granted permission to land a vehicle on the moon. If you are looking for a reason to be cynical about this here it is: The company that has been granted permission is Moon Express, which is developing space-flight technology in the hopes of one day mining the moon's surface. Keep up the good work, humans. [The Verge]
MEDIA BUBBLE
Melinda Henneberger Out at Roll Call
Melinda Henneberger is stepping down as the editor of Roll Call. The famously divisive editor's departure was announced yesterday morning in a newsroom meeting, but Henneberger herself followed up in an email saying that she was leaving because of disagreements with CQ Roll Call's leadership over planned deep personnel cuts. [Politico]
Jeff Zucker Wants Attention
CNN president Jeff Zucker clearly knows how to get the media to pay attention. In a Variety cover story, he doubled down on his network's choice to hire ex–Donald Trump campaign manager and alleged journalist-abuser Corey Lewandowski. Then, he said that he doesn't consider Vice and BuzzFeed "legitimate news organizations" as much as "native advertising shops," adding in a Trumpian flourish: "We crush them both." [Politico]
Good Thing They Have a Sense of Humor
Funny or Die has announced that it will lay off 37 staffers, closing its entire San Mateo, California, office. Most of the cuts will come from the company's app-development department. The cuts represent a full 30 percent of the site's staff, and will only leave 95 employees on the job. [Hollywood Reporter]
PHOTO OP
Man Makes Trump's Dream of Being Injured in Battle Come True
A man gave Donald Trump his Purple Heart before a campaign event in Ashburn, Virginia, yesterday, and this is how the Donald actually responded: "Is that, like, the real one or is that a copy? … Man! That's like, that's like big stuff … I always wanted to get the Purple Heart. This was much easier." The fact that he always wanted a Purple Heart really leads us to believe that he doesn't know what they are. [Chicago Tribune]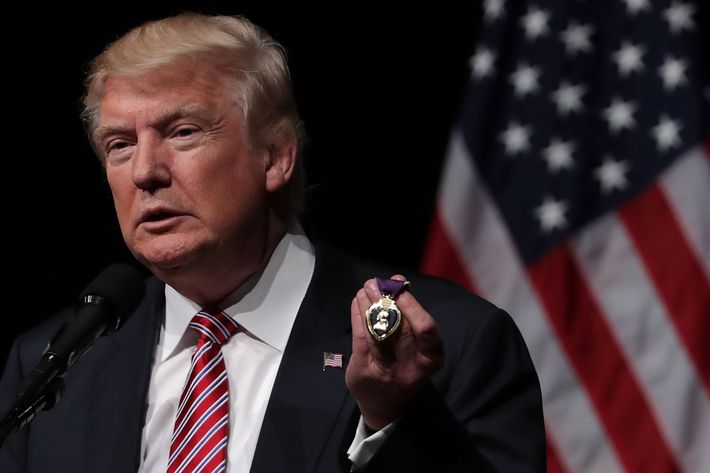 MORNING MEME
A Good Night for the Establishment, Which Celebrates How You'd Expect
It's been so long since we've seen a happy John Boehner! All it took was a Republican tea-party incumbent being unseated by an old-school Republican conservative in Kansas.
OTHER LOCAL NEWS
Woman Basically a Metaphor
A 22-year-old Deltona, Florida, woman managed to shoot herself when she confused her trigger finger and her snapping finger while trying to take a Snapchat of herself holding a gun. The bullet injured her right hand and tragically destroyed her phone. Here's the classy cherry on top of this depressing sundae: "Police were still looking for the gun, which the woman's aunt tossed out of her car window as she drove Powell to the hospital." [AFP]
Huge Opportunity Missed to Name This Kitten George
An adorable little kitten — and we're not just saying that, check out the picture — had a close call when he was discovered in the Komodo dragon enclosure at the Fort Worth Zoo in Texas. The zoo has named the kitten Komodo, and she is cute, but, man, does she have terrible judgment. [UPI]
HAPPENING TODAY
Olympic Torch Lands in Rio, Will Probably Go Out or Spark a Forest Fire or Something
The Olympic torch finally lands in Rio today. It will be carried to the city by yacht, where it will then get covered in sewage, and catch Zika before being kidnapped by disgruntled military police. Just kidding, of course; in reality, it will travel all over beautiful Rio de Janeiro and visit the city's most magnificent locales before being replaced by another torch in a coup. [Rio 2016]
Miami Residents: Close Your Mouths and Don't Look Up
Florida began a new aerial campaign of insecticide-spraying today at dawn in an effort to control the mosquitos which carry the Zika virus. Planes also sprayed the neighborhood north of downtown Miami, which has become something of an epicenter of Zika infection in the U.S. [NYT]
Dion Harrell, Falsely Convicted, Will be Exonerated Today
Dion Harrell will be officially exonerated today after he was wrongly convicted of raping a teenage girl nearly 30 years ago. Harrell did four years in prison, and has been forced to live as a sex-offender ever since. "I'm scarred for life," Harrell said last week, "no matter what." [NYT]