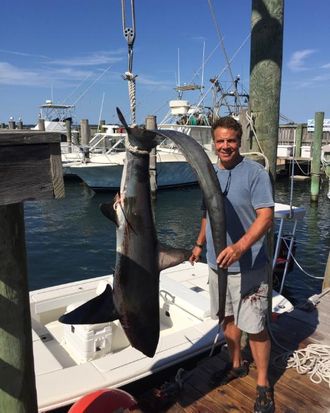 Not a Tinder profile.
Photo: @NYGovCuomo/Twitter
In the age of Harambe, Governor Andrew Cuomo went fishing off the south shore of Long Island, hauled in a "154.5-pound thresher shark," posed for a photo with his catch, and posted it on social media.
Thresher sharks are listed as "vulnerable" species (there are three types, but two, the common and bigeye, are more likely found in the Atlantic), which is the category before endangered. Threshers are not illegal to catch, but the fishing of this type of shark is regulated, per The Guardian.
People on Twitter and conservationists criticized Cuomo — who's pulled creatures from waters before — for boasting about the dead shark. (His brother, CNN anchor Chris Cuomo, was also in the pictures.) "The environment is the primary issue on the global agenda, so it is extraordinary that a senior politician could be so ignorant about it," Lewis Pugh, the United Nations' patron of the oceans told The Guardian. "Apex predators such as sharks are crucial for the ocean ecosystems. For a public figure to kill such an animal and then boast about it on social media is dangerously irresponsible. This shows a clear lack of judgment and calls to question his capability as a public leader."
Shark Research Institute director Marie Levine told NBC 4 that hobby fisherman aren't usually a huge threat to the species, though releasing the thresher would have been the better way to go. (Cuomo also signed legislation in 2013 to outlaw the sale and possession of shark fins, to prevent overharvesting for shark-fin soup.) A spokesperson for Governor Cuomo's office responded to the backlash: "This is an edible game fish that is indigenous to New York waters and catching them is allowable under both state and federal regulations."