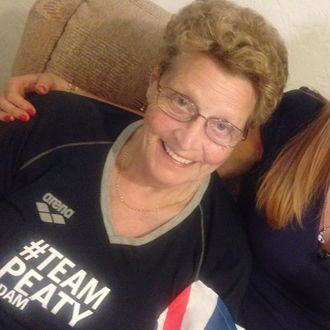 Photo: Mavise42Mavis/Twitter
On Sunday, Adam Peaty broke the world record in the 100-meter breaststroke and took home a gold medal for Team Great Britain. Which is, you know, fine. But the real winner was his nan Mavis, who live-tweeted her support in a series of adorable tweets that only a grandmother could get away with.
In classic seniors-using-technology form, Mavis, signs her tweets. Just to make sure Peaty would know whom they were from. She's also pretty heavy-handed with the emoji.
From now on I refuse to call cheering anything other than "roaring."
Mavis also sent some tweet love to Peaty's teammates, proving she's not only adorable, but extremely classy.
By the time Peaty dove into the pool for the gold-medal final on Sunday, Mashable reports, the hashtag #OlympicNan was trending on Twitter. Sure, people were interested in watching her grandson compete, but Mavis had become a star in her own right.
Congrats, Adam, on your swim and your medal. But bigger congrats to you, Mavis, for being possibly the only pure and good soul on Twitter.