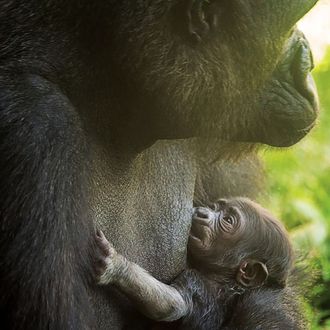 Photo: Philadelphia Zoo/Facebook
The Philadelphia Zoo gained another gorilla last week after 21-year-old Honi, a western lowland gorilla, gave birth. Today marks the baby gorilla's public debut at the zoo, a historic moment as Honi's baby is the first gorilla born at the zoo in 20 years, according to the Philadelphia Inquirer.
Honi, the baby, and the baby's father (who is a 31-year-old named Motuba in case that matters to you) are all doing great, but the mother gorilla has been keeping the newborn too close for zookeepers to determine its sex yet. The baby's sex is a factor that will be crucial during the zoo's upcoming contest to name their newest gorilla. Yes, you read that right. The Philadelphia Zoo is willingly going to let strangers name the little guy or gal, the Philadelphia Inquirer also reports. And if these tweet replies are any indication, it's pretty clear how that is going to turn out.
As a variation on a theme, I'd like to suggest Harambe McHarambeface.
Update: It appears the baby gorilla probably won't be named Harambe after all.