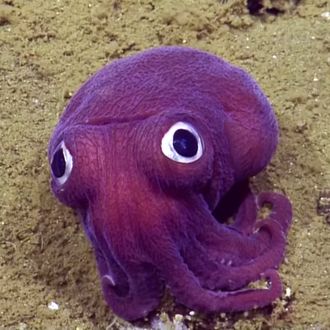 We interrupt your regularly scheduled Monday-afternoon programming to bring you this very important news flash: A research team found a tiny, purple squid and it is excellent and you need to see it.
The E/V Nautilus team spotted the creature last week off the coast of California, CBS LA reports. Known formally as a stubby squid, the little guy is actually more closely related to a cuttlefish than a squid and is native to the Pacific Ocean. Because it's 2016 there is, of course, a livestream you can watch of the exciting moment the team finds the squid.
"It looks fake," one of the crew members remarks very scientifically during the stream. "He has weird eyes," adds another. "Will you just look at that purple blob," I shouted to no one in particular at the office after seeing it.
Thank you for reading. You may now return to whatever it was you were actually trying to do this afternoon.