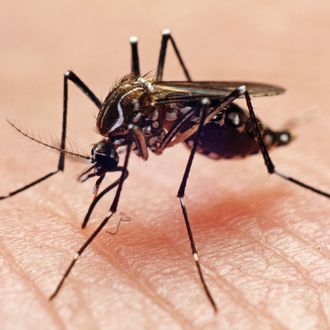 Photo: Joao Paulo Burini/Getty Images
Multiple cases of the Zika infection have been reported recently in Florida, including infections at the tourist destination of Miami's South Beach, and significantly it appears that each was spread by local American mosquitos. The Zika question for much of the continental United States has become "when," not "if," and though the response to the epidemic on a national level has fallen short, locally cities are scrambling to meet the virus head on.
In New York, that means a widespread mosquito-eradication initiative, constant testing of mosquitoes caught in traps across the city, and a ramped-up public-education campaign.
New York City has already seen more than 500 cases of Zika brought in from people who caught the disease while traveling, but so far there have been no confirmed cases of the virus being locally transmitted.

We've been lucky mostly because New York has the wrong type of mosquito. The Aedes aegypti has been the major carrier of the Zika virus and they just don't come this far north. What we do have is one of its relatives: the Aedes albopictus or Asian tiger mosquito.
The fear is that the two species are so closely related that the albopictus could become a carrier for Zika, and if that happens, we're in big trouble.
Thus, the city is going after the Asian tiger mosquito hard, with large-scale predawn insecticide sprayings from the backs of pickup trucks and smaller more-targeted assaults from teams of exterminators with backpacks full of mosquito poison that focus on areas believed to be especially high-risk.
Usually cities looking to control their mosquito populations take aim at the insects when they are still in their larval stage, but New York is trying to take the population down a peg by targeting full grown mosquitoes, spraying them with something called adulticide — any middle-school hardcore kids casting around for a band name take note — which effectively wakes up sleeping mosquitoes and kills them as they take to the air.
The amount of trucks spraying for mosquitos has more than tripled from seven to 27, and the city is using more than half of its $21 million budget to combat Zika over the next three years on controlling mosquito populations.
Still, mosquitos are incredibly hard to kill in any meaningful way. Just look at these numbers from the New York Times:
At the start of the mosquito season, even if there were just a single male and female Aedes in Manhattan in April, and 75 percent of their offspring were killed, that would still leave 800 million by October. If only 30 percent of their offspring died, there would be 50 billion.
So while it works to eradicate them, the city has also doubled its network of mosquito traps and is checking them daily, examining specimens in the lab in the hopes that if the mosquitos do become carriers, the city will become aware before it has a major health crisis on their hands.
Even with all of the precautions, city officials are quick to reiterate that there has not been a single case of mosquito-transmitted Zika in New York City, and they are hopeful that there will never be one. The biggest danger for catching Zika in the city is through unsafe sexual contact with an individual who has been infected abroad. So at least for now, the ability to control the spread of Zika in New York lies as much with the individual as the city. Be safe.