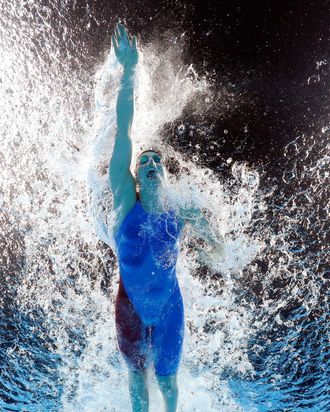 Photo: Al Bello/Getty Images
Once the Olympics really get rolling on Saturday, there will be no shortage of viewing options for those with a full suite of cable channels. At the busiest times, as many as eight broadcasters will be showing events at the same time. How does a discerning viewer choose?
By relying on this viewing guide, which assumes any time there's an Olympic event on you'll want to be watching it, and any time there's more than one on, you'll want to be watching the most interesting. We consulted this FiveThirtyEight survey showing what people consider the "best" Olympic sports and prioritized those, along with high-profile competitions that include Team USA. But we also strived for inclusivity. Equestrian might be the "worst" Olympic sport, but we couldn't leave it out entirely.
Saturday, August 6
12 a.m. to 8 a.m. Sleep
8 a.m. to 9 a.m. Rowing, cycling, and water polo on NBC
9 a.m. to 12 p.m. Archery, shooting, and beach volleyball on NBC Sports
12 p.m. to 2 p.m. Beach volleyball and handball on MSNBC
2 p.m. to 4 p.m. Tennis on Bravo
4 p.m. to 6 p.m. Women's soccer (USA vs. France) on NBC Sports
6 p.m. to 8 p.m. Men's basketball (USA vs. China) on NBC Sports
8 p.m. to 12 a.m. Gymnastics, swimming, and beach volleyball on NBC
Sunday, August 7
12 a.m. to 6 a.m. Sleep
9 a.m. to 11 a.m. Beach volleyball and archery on NBC Sports
11 a.m. to 1 p.m. Women's basketball (USA vs. Sweden) on NBC Sports
1 p.m. to 3 p.m. Cycling and swimming on NBC
3 p.m. to 4:15 p.m. Soccer on NBC Sports
4:15 p.m. to 6 p.m. Men's volleyball (USA vs. Canada) on NBC
6 p.m. to 8 p.m. Soccer and boxing on NBC Universo
8 p.m. to 12 a.m. Diving, gymnastics, and swimming on NBC
Monday, August 8
12 a.m. to 12:35 a.m. Nap
12:35 a.m. to 1:35 a.m. Gymnastics on NBC
1:35 a.m. to 9 a.m Sleep
9 a.m. to 11 a.m. Field hockey and fencing on NBC Sports
11 a.m. to 1 p.m. Women's basketball (USA vs Spain) on NBC Sports
1 p.m. to 3 p.m. Fencing, rugby, and table tennis on USA
3 p.m. to 5 p.m. Shooting, judo, and sailing on MSNBC
5 p.m. to 6 p.m. Water polo, rugby, beach volleyball, and table tennis on CNBC
6 p.m. to 8 p.m. Men's basketball (USA vs. Venezuela) on NBC Sports
8 p.m. to 12 a.m. Diving, gymnastics, swimming, and beach volleyball on NBC
Tuesday, August 9
12 a.m. to 12:35 a.m. Get some fresh air
12:35 a.m. to 1:35 a.m. Canoe/kayak on NBC
1:35 a.m. to 9 a.m Sleep
9 a.m. to 11:30 a.m. Equestrian on USA
11:30 a.m. to 1 p.m. Beach volleyball and rugby on NBC Sports
1 p.m. to 3 p.m. Beach volleyball, archery, and water polo on MSNBC
3 p.m. to 5 p.m. Women's soccer and archery on NBC Sports
5 p.m. to 6 p.m. Rugby and beach volleyball on CNBC
6 p.m. to 8 p.m. Women's soccer (USA vs. Colombia) on NBC Sports
8 p.m. to 12 a.m. Diving, gymnastics, and swimming on NBC
Wednesday, August 10
12 a.m. to 12:35 a.m. Call your mom
12:35 a.m. to 1:35 a.m. Gymnastics and rugby on NBC
1:35 a.m. to 7:30 a.m Sleep
7:30 a.m to 10 a.m. Cycling on NBC Sports
10 a.m. to 12 p.m. Beach volleyball and water polo on NBC
12 p.m. to 2:30 p.m. Men's soccer and fencing on NBC Sports
2:30 p.m. to 3:30 p.m. Tennis on Bravo
3:30 p.m. to 5 p.m. Boxing, soccer on Telemundo
5 p.m. to 6 p.m. Rugby, archery, fencing, and sailing on CNBC
6 p.m. to 8 p.m. Men's basketball (USA vs. Australia) on NBC Sports
8 p.m. to 12 a.m. Beach volleyball, swimming, and gymnastics on NBC Sports
Thursday, August 11
12 a.m. to 12:35 a.m. Walk the dog
12:35 a.m. to 1:35 a.m. Diving on NBC
1:35 a.m. to 6:30 a.m Sleep
6:30 a.m to 10 a.m. Golf on Golf Channel
10 a.m. to 12 p.m. Rowing and water polo on NBC
12 p.m. to 2 p.m. Swimming on NBC
2 p.m. to 3 p.m. Volleyball on MSNBC
3 p.m. to 5 p.m. Badminton and handball on USA
5 p.m. to 5:30 p.m. Fencing and cycling on CNBC
5:30 p.m. to 6:30 p.m. Rugby on NBC Sports
6:30 p.m. to 8 p.m. Field hockey on NBC Sports
8 p.m. to 12 a.m. Gymnastics and swimming on NBC
Friday, August 12
12 a.m. to 12:35 a.m. Get something to eat
12:35 a.m. to 1:35 a.m. Gymnastics and canoe/kayak on NBC
1:35 a.m. to 6:30 a.m Sleep
6:30 a.m to 10 a.m. Golf on Golf Channel
10 a.m. to 12 p.m. Track and field and beach volleyball on NBC
12 p.m. to 2:30 p.m. Women's soccer on NBC Sports
2:30 p.m. to 4 p.m. Tennis on Bravo
4 p.m. to 6 p.m. Track and field and volleyball on NBC Universo
6 p.m. to 8 p.m. Men's basketball (USA vs. Serbia) on NBC Sports
8 p.m. to 12 a.m. Track and field, swimming, diving, and beach volleyball on NBC