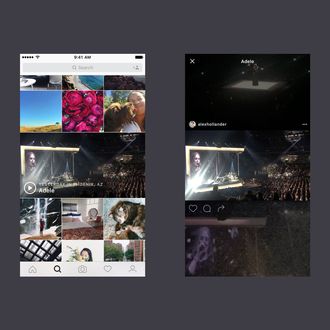 On the heels of announcing Instagram Stories (essentially a carbon copy of Snapchat Stories, just on … Instagram), Instagram announced today that U.S. users are getting a new way to view videos taken from specific events around the world.
Under a new "event channel" on the app's Explore section, Instagram will feature videos from events like sports games and concerts. (The blog announcing the new feature demonstrates with screenshots of videos of an Adele performance.) But … wait a second. Video shown in real time that gives users an on-the-ground view of an event they otherwise might have missed. Does this sound familiar? Anybody? Good. It should. A big part of Snapchat's draw is the app's curated stories, which let users experience everything from smarmy college campus love tales to hard news stories (like the San Bernardino shooting) as they are happening. And now, Instagram seems to be attempting to cash in on that model's success too. (In fairness, Twitter's Moments tab is also fairly similar by design.)
When the company rolled out Instagram Stories earlier this summer, Kevin Systrom was not shy about the obvious similarities between the Stories features on the two apps. "This format unlocks a new version of creativity for us," he told The New York Times. "I think Instagram will be judged by where we go from here, and what we make of it in the future." Apparently the future is now and it still looks like Snapchat.