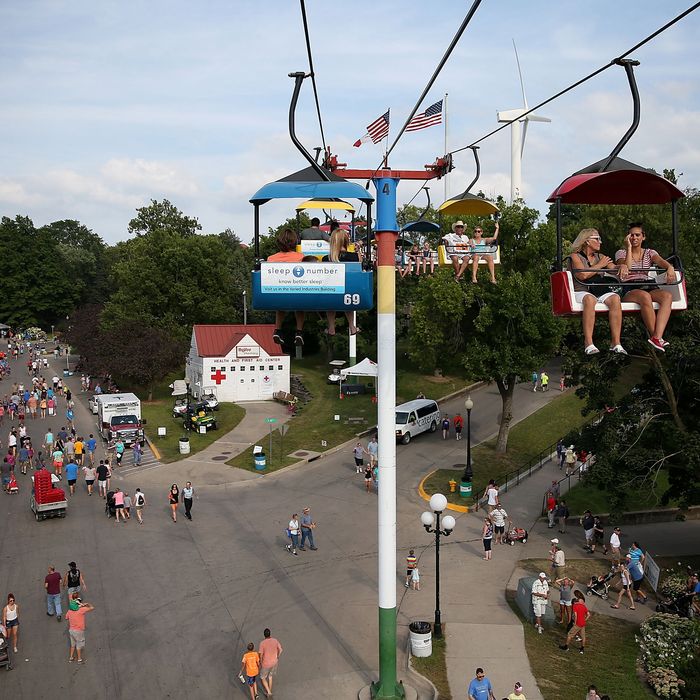 General-election politics in Iowa are as much fun as the Iowa State Fair, and as hot as the August weather.
Photo: Justin Sullivan/Getty Images
I returned to Iowa this past weekend just over six months after being in the state for the legendary caucuses. The main attraction this time (other than fellowship with local friends and family visiting from Georgia) was the equally legendary Iowa State Fair. It was a less hyperpolitical event than last year's fair, when Republican and Democratic presidential candidates were thick on the ground, and I just missed a Hillary Clinton economic speech in Des Moines. But even though Iowa had a 50-50 record in voting for the ultimate party nominees back in February (I witnessed the shortest Trump speech of the cycle after his loss to Ted Cruz in the caucuses), the state is now a bona fide general-election battleground. Clinton and Trump are running pretty much dead even in the RealClearPolitics polling averages, in both head-to-head and four-way matchups.
Iowa is not, so far, participating in the post-convention Hillary surge, even though it's a state twice handily carried by Obama. There are demographic reasons for its mild outlier status in this election: There are few minority voters in the state, but there are plenty of non-college educated and conservative Evangelical white voters. There's also some evidence the state, like much of the upper Midwest, is experiencing a more general if modest Republican trend. Certainly Iowa GOPers had themselves a boffo midterm election in 2014, picking up "the Harkin seat" in the Senate (as it was known during the three decades it was held by the distinguished progressive Democrat), along with two Democrat-held U.S. House seats. Republican Terry Branstad won a sixth non-consecutive four-year term as governor by a 21-point margin, and his party padded its margin of control in the state House (falling short, however, of winning control of the Iowa state Senate).
This year, Harkin's longtime Republican Senate colleague, the octogenarian Judiciary Committee chairman Chuck Grassley, drew a credible Democratic opponent in former lieutenant governor and Iowa agriculture secretary Patty Judge, who has benefited from a backlash against Grassley's leading role in denying Supreme Court nominee Merrick Garland a confirmation vote or even a hearing. But Grassley has a massive financial advantage so far, and has led every poll. Democrats are more optimistic about taking back the U.S. House seats they lost two years ago; a particularly ripe target is Rod Blum, who is nearly as unpopular with the House Republican leadership as he is with Democrats.
But it's the top-of-the-ballot race that's causing the most heartburn — more than the state fair's famed deep-fried food offerings — in this heart-of-the-heartland state, testing the tradition of Iowa nice civility. While I was there, casual bipartisan political conversations started out tensely until it was determined whether the Republicans in the room were or were not avid Trump supporters. If they were, the subject was quickly changed to Hawkeye or Cyclone football or the weather. At the fair's traditional "kernel poll" (offering fairgoers a chance to take a corn kernel and drop it into a jar marked "Clinton" or "Trump"), Iowans glared at each other before depositing their starchy nuggets. (For what it's worth, Trump's currently leading in the "kernel poll" by a 55 to 45 margin, probably reflecting the slight rural tilt in fair attendance).
The one thing all Iowans can agree on, however, is that the state's battleground status will be good for Iowa's economy and the continued viability of the first-in-the-nation caucus, a holy cause for both Democrats and Republicans in the state. Speaking of the economy, the Des Moines area is going through something of an economic and cultural boom. There's a local housing shortage, and just about every fast-food joint and convenience store sported "now hiring" signs. That might, in theory, help the party that controls the White House, though Iowans tend to view a good economy as a tribute to their own sturdy-folk virtues. The sudden and startling emergence of Des Moines as a hipster haven is a more ambivalent factor in local politics. It probably helped Bernie Sanders post a strong if narrowly losing showing in the 2016 caucuses, but could also be the reason that the northwest Iowan in a buzz cut glaring at Clinton voters in the kernel poll will most definitely make it to the polls to vote for Trump in November.