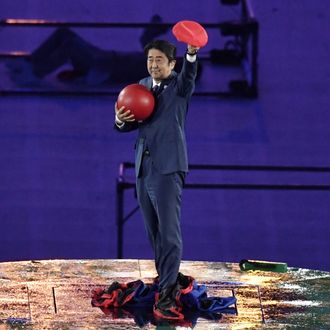 Photo: PHILIPPE LOPEZ/AFP/Getty Images
Last night, the 2016 Olympics wound down at the Closing Ceremonies in Rio. Tonga's greasy flag bearer made a reappearance and elite athletes from all over the world stopped in their tracks to take selfies with 19-year-old gymnast Simone Biles. It looked like fun.
But the show-stealing moment came toward the end when Japan's Prime Minister Shinzo Abe appeared in the stadium at the end of a promo video for the Tokyo 2020 Summer Olympics. In the video, Abe is shown driving through Tokyo and worrying he's not going to make it to Rio in time for the closing ceremonies. Instead, he magically transforms himself into Super Mario and, in the style of the game, hops into a warp pipe that brings him straight from Toyko to Rio. (Props to whoever came up with Mario holding up a map that reads "RIO" until he unfolds it and you can see it actually reads "MARIO." Great stuff.)
Meanwhile, in the Maracanã Stadium in Rio, an oversized warp pipe appeared from the ground and out of it popped Abe complete with Mario's hat and overalls.
Now we just have to wait another four years. Until then, here's a hamster playing IRL Super Mario to tide you over.