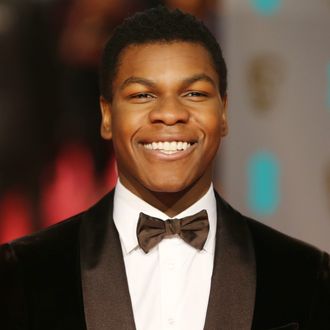 Photo: JUSTIN TALLIS/AFP/Getty Images
This week, John Boyega served as a celebrity judge at Microsoft's Imagine Cup, a student technology competition. As an actor best known for his role in a movie where battles are fought with droids and/or lasers (sorry, with lightsabers), Boyega seems like a perfect fit. Sure.
TechCrunch caught up with Boyega at the end of the festivities to get his take on all things tech. (Because, why not?! Kim Kardashian has an excellent app. Let's ask the Pacific Rim 2 guy about technology.) Boyega gave some pretty boilerplate answers about things like cyberbullying (it's bad) and how tech can help people (he'd like to close the tech gap in the third world and improve global health). Oh, and he also talked about Pokémon Go. Spoiler alert: He's not particularly accomplished on everyone's favorite AR game.
From TechCrunch:
I do have the app. Currently at level 5,

CP

levels are looking good. I found a Pikachu at Pinewood Studios while filming Star Wars. I told

EVERYBODY

. "I got a Pikachu!" I was the most popular kid on set for like a

 

day.
I was in Boston a few days ago and I thought there was like a fight going on, there were so many people crowding … I was like, what's going on? Oh, they're just playing Pokémon. It's great the ways technology has brought us all together. It's a very interesting

time.
John, if you'd like to come write a think piece for us on how Pokémon Go is bringing us all together, please let me know.