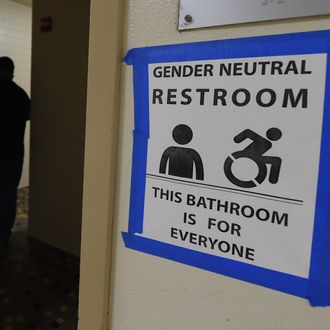 Bathrooms are becoming contentious issues.
Photo: MARK RALSTON/This content is subject to copyright.
A Texas judge's ruling yesterday is making for an uncertain "back to school" for the nation's transgender students.

U.S. District Court Judge Reed O'Connor of the Northern District of Texas sided with 13 states yesterday when he issued a nationwide injunction against guidelines for public schools released by the Obama administration earlier this year over how best to serve transgender students.
O'Connor, who was appointed by George W. Bush, said that the guidelines came too close to constituting law and that the government did not provide states with enough time to properly review and comment on them. He also worried that the guidelines, which call for allowing students to use facilities that correspond to their gender identity, may contradict existing state laws.
The Justice Department has emphasized that the guidelines are not laws. They are nonbinding, and not following them will not have legal consequences. That said, the document did come with the implicit threat that states which refuse to comply with the recommendations could be putting their federal-education funding in jeopardy, which is why the 13 states sued.
The U.S. Department of Justice released a statement yesterday expressing its disappointment at the ruling and saying that it is exploring its legal options.
Even though the ruling represents a considerable setback for transgender-rights advocates and the Obama administration, it is hardly the last word. O'Connor's decision makes it more likely than ever that a transgender-rights case will come before the Supreme Court. That could shine a spotlight on transgender issues like never before, putting their concerns at the center of the national dialogue about equality and human rights.