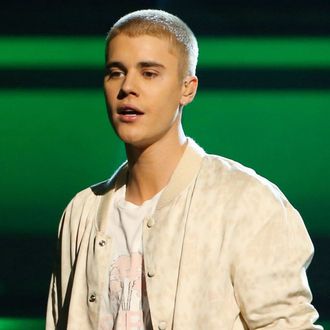 The past few weeks have been a roller coaster of emotions for anybody following Justin Bieber on Instagram. After a drama-filled fight with Selena Gomez, Bieber deactivated his account on the platform. And the teens (and I) wept.
But earlier today, Bieber made his return to Instagram, prompting cheers and headlines like "Justin Bieber is back on Instagram, so everyone can finally relax now," and "Justin Bieber Has Re-activated His Instagram Account, the World Rejoices." Except, at least according to Bieber on Twitter, the whole thing was a mistake.
Close observers immediately speculated that Bieber's dramatic return was an attempt to bring the focus of the public away from the VMAs and back to himself. But in Bieber's defense: It's very easy to accidentally re-enable your Instagram account.
Temporarily disabling your Instagram account is a multi-step process that can only be done on a desktop. Once a user finishes the process, they are informed that the next time they log into Instagram, their account will once again be live. (Note: You have to wait a few hours from disabling your account before you can bring it back online. Which I just learned while testing this process out in the name of journalism.) So while it's somewhat difficult to temporarily disable your account, reactivating your account (like Bieber accidentally did this morning) is, by comparison, quite simple.
Perhaps Bieber was just logging on to take a stroll down Instagram memory lane or to take a screenshot of one of the many selfies he has shared over the years. Whatever the cause, it doesn't seem like we should be expecting the man who once abandoned a monkey in Germany to be posting anything new anytime soon.