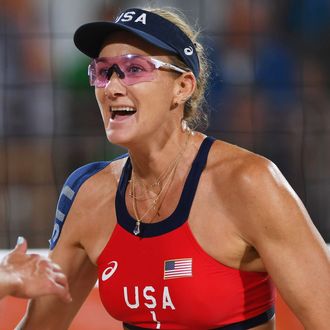 Photo: Shaun Botterill/Getty Images
Tonight, Team USA's Kerri Walsh Jennings and April Ross defeated their Swiss opponents in beach volleyball. (The pair will continue moving toward their gold medal hopes in round 16 later this week.) But as the game heated up, the NBC commentator handling the event briefly forgot what sport he was announcing. Instead, he blurted out "Katie Ledecky!" mid-match as Walsh Jennings and Ross scored a crucial point.
It's unclear exactly what prompted the outburst. It's possible, as some people on Twitter noted, that Ledecky walked into the stands at that exact moment. (Though that seems unlikely given she has the freestyle relay finals this evening.) Or perhaps the announcer was pulling double duty and commenting on something meant for a different broadcast. More likely, the announcer was just so moved by Walsh Jennings and Ross dominating the court that Ledecky's name was the first thing that popped into his mind.
We're still looking for a video clip of this excellent moment. (And when we find one, we promise not to make any GIFs. Okay, IOC?) But in the meantime, please proceed to intone Katie Ledecky's name anytime something good happens to you. Win the lottery? Katie Ledecky! Make the subway just before the door closes? Katie Ledecky! Eat a bagel? Katie! Ledecky!